Keith's Brain Cancer Treatment Fund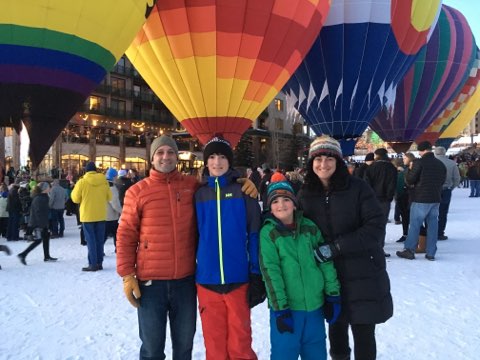 Keith Longbottom has brain cancer. If there is such a thing as slow growing brain cancer, this isn't the kind Keith has. He has a rare and aggressive form of
Glioblastoma
.
What makes Keith's and Gina's story so crazy is, they are
healthy, hard working, regular, fun and happy people enjoying life. And boom, it all went sideways.
This could be any of us, at any time, in any place...the difference is, it's them. Please help us help them, not only for today but even more so for the unknown of tomorrow, the day after and the day after that...because what they are going through...is one day at a time. I assure you these folks will only use raised funds for the sole purpose of his treament and providing essentials for their family. We all remember hearing about the very public and emotional story of Joe Biden's son. His foundation is doing awesome work, unfortunately they haven't found a cure yet. 
Please join us in helping Keith and Gina,  and their two boys, Micah and Caleb. They need all the love and support they can get and paying it forward may just help someone that is near and dear to you in the future.  Thank you for your support!!
He is currently seeking treatment at Brigham and Women's Hospital in Boston. He was at the Mayo Clinic in Rochester, Minnesota, scheduled for emergency surgery with one of the best neurosurgeons and teams in the world.
His insurance company denied coverage because he was "OUT OF NETWORK"
and they didn't recognize it as an emergency.  
Since he was first diagnosed 2 weeks ago his tumor has grown 20% and his motor functions have been steadily deteriorating. Sounds like an emergency to us. Harvard Health HMO is playing God or playing the odds of what and where might cost them less. 
As friends of Keith and Gina, we feel he needs to get the best care anywhere. If that means going "Out of Network", having to pay out of pocket to save his life and insure his life is at the highest level possible...then that's what we are going to do. He and Gina and their two boys need love, positivity and lots of support financially, for today, tomorrow and the long days ahead.
Their Story, Briefly
- Keith is a 46 year old man, in great physical shape with a positive outlook on life and a killer role model for his boys. He has an infectious laugh and a drive for life rivaled by none other. He is married to a beautiful gal , Gina and has 2 awesome young boys, Micah age 12 and Caleb age 9. They arrived in Steamboat Springs on New Years Day this year, for a trip of a lifetime. A 60 day adventure they planned with their family, to enjoy our mountains, powder and especially the Steamboat Springs Winter Carnival. Their boys wanted to be pulled by a horse in the street events. They were home schooling while enjoying what Keith and Gina loved...skiing and riding, passing down that passion to their boys. Our families were out to dinner on January 5th. Keith was explaining this strange tingling sensation in his left hand and how he'd had it for a couple of weeks. He described how it seemed to be on the outside of his left leg as well. In the next 48 hours, his family life was rocked to the core. The next day, after several bouts of nausea, he went to the Steamboat Springs urgent care center, where after many tests had a T scan followed by an MRI. They discovered a 2x2 cm tumor deep in his brain on his right side. 
24 hours later we were on our way to Denver Swedish Medical center, where a young neurosurgeon looked at his MRI and diagnosed it as inoperable because of the proximity to the motor function section of his brain. After finally getting approval from Harvard Health HMO, he recommended a biopsy and prepped him to check into surgery with a stay in ICU...Is your head spinning??...it should be.. All of this in the first 72 hours after first learning of the tumor in his brain.
Nothing at all against the doc at Swedish in Denver, but the surgical staff wasn't going to be able to give him treatment after the biopsy and Keith and Gina weren't ready to have someone drilling a hole in his head without getting a second opinion. We drove back up to Steamboat to asses the situation.
A good friend of mine insisted we get to Mayo Clinic and see Dr. Frederick Meyer, the best neurosurgeon in the land. After overnighting the MRI images to Mayo, Keith and Gina promptly got an appointment to see Dr. Meyer the following Wednesday. 
Please remember they had their 2 young sons here in Steamboat, they were on the trip of a lifetime, which now has new meaning, and they had to pack up and head to Minnesota. They had to explain the unexplainable to their boys, when they couldn't even explain it to themselves.
They saw Dr. Meyer and he said with no uncertainty that the tumor must come out. There is no other choice. Now their choice has gone from inoperable to operable because you have to, you may take the chance of partial paralysis because the alternative is not a better outcome. They set a surgery date for that Friday, only to learn that Harvard Health HMO won't cover his surgery because he's out of network. The doctor, who doesn't schedule surgery on Mondays, rescheduled so they could work something out with the HMO. After many Peer to Peer meetings, phone calls and back and forths, it culminated with a resounding NO!! Meanwhile Keith's conditions and motor skills are deteriorating by the day.
Sad, angry and confused from being rejected, while in the premier facility in the country for the treatment he needs, they head back to their home in Maine to be "IN NETWORK".
Maintaining great spirit and a fighter's stance, Keith and Gina shop for a brain surgeon, focusing on the here and now, all the while strategizing for the fight of their lifetime.
Their story of survival continues!
Please picture in your mind what this would be like for you and your family or someone close to you, every last penny will be singularly spent on help for their medical expenses and living expenses. Whatever your level of help is, please know it means the world. It may be the gift of life !

Organizer and beneficiary
Dave Barnes 
Organizer
Steamboat Springs, CO