Saving Karter-Fight Against Cancer
Hi my name is Karter I am 2 ½ years old. On June 30th, 2016 I was diagnosed with Stage 4 Neuroblastoma cancer.
My daddy and mommy are Karl and Laurie Strand. I have the greatest little brother, Maverick, he is 11 months old. He is my best friend. My mommy and daddy brought me home from the hospital when I was 3 months old and adopted me. They have given me the best life and the biggest family to love me. Our village.

Although I am too little to read or write, my Aunt Jenny and Aunt Kiki (Kerianne) helped me write this message to you.
My favorite things to do are spending time with all my family and friends, playing in the water, going to the beach, boogie boarding with my daddy, singing and dancing with mommy, going to Publix on Saturday mornings with daddy, playing with cars and trucks with my Maverick and waiting for big garbage truck that stops by every few days.
A week ago my mommy took me to the doctor because I wasn't feeling well. I was throwing up, had a fever and my tummy hurt so they thought it was just the flu. They ran some tests but when they felt my tummy it seemed that my spleen was enlarged. So they ran a few more tests including one for mono but it all came back negative. After all the tests were negative, they thought it would be best that they take me to the hospital.
We went to the emergency room at St. Mary's Children's Hospital on Tuesday, June 28th, 2016. They immediately did an ultrasound and told my mommy and daddy they saw a mass on my kidney and we would be staying the night. Those words were scary to them.
That night they ran a CT Scan and they transferred me to a new room. As we were walking through the halls, my parents didn't even realize I was being admitted to a room in the Oncology Unit. They walked right passed the sign not realizing a thing.
The next morning, the Oncologist came in and told my mommy and daddy that the CT Scan came back and saw that my adrenal gland, renal vein were also being affected. They ordered an MRI for later that day. The MRI was a long process. It showed my left iliac bone was also showing spots. I now needed a bone scan and my bone marrow tested.
The next day, the bone scan confirmed the cancer has spread to my iliac, humerus and femur bones, the tumor is wrapped around my adrenal gland and surrounding vessels. The bone marrow tests came back positive. It was confirmed I had Stage 4 Neuroblastoma. One of the rarest childhood cancers.
My mommy and daddy are utterly devastated. I'm not sure what's going on but I know they are sad. They are scared. My village has not left my side. They are all so sad.
Later that day my family had a meeting with all the doctors. They said, I have 4 months or less to live without treatment. However, with treatment I have a 60% chance of beating this. But the treatment plan is scary, intense and a long process.
I need at least 14 months of treatment. 18 weeks of chemotherapy, constant blood transfusions, radiation, bone marrow stem cell transplant, antibody therapies and a surgery to remove the tumor. The cancer is everywhere so they have to localize it before removing the tumor. You know it's just bigger then the size of a golf ball! That will break something if you throw it. Mommy doesn't like when I throw things.
The chemo treatments have to be in the hospital. I'm there for a whole week. Then I get to go home for 2 weeks. I have numerous doctor appointments during that time and pray I don't get sick. If I do, I have to come back to the hospital. So I will probably be in the hospital longer than I'm home. The nurses there really try and make me smile. Then when I have the bone marrow stem cell transplant and radiation, I will be in Miami Children's Hospital for a couple months.
Hopefully during those two weeks I'm at home between treatments, I can play, I can go to the beach to smell the ocean even just for a few minutes, (maybe sneak a quick ride on the boggie board) I can go to my Nina's to play and even sometimes my Aunt Jenny's to swim. But I can't be around any sniffles or I could end up in the hospital. So we have to be super super clean.
On Friday, July 1st, I started my first chemo treatment. This starts week one, day 1 of many. So far have had 3 treatments and I feel OK! I have not thrown up and have still been able to eat a little. I hope this continues. Yesterday, I had my first blood transfusion so I have a little bit more energy today.
I know it will be tough on me but most of all I'm worried about my mommy and daddy. I hope they can still smile through this, I need them to smile, I hope they can be strong because I don't know what's going on, and need them to be okay.
I write this to ask for help to keep them strong. Please pray for me that I can fight this, please love on my parents, give them a shoulder to cry on, tell them jokes to make them smile, call them so they know you are there. They might not answer, but they need to know they are loved too. There will be times I won't be able to smile or laugh, so I need you to help me keep them happy because I need them. More than ever.
The last thing, I want my mommy and daddy to know is how blessed I am they opened their hearts for me and brought me home on March 24th, 2014. I love them so much.
Love, Karter
----This is My mommy, daddy, me and little brother Maverick---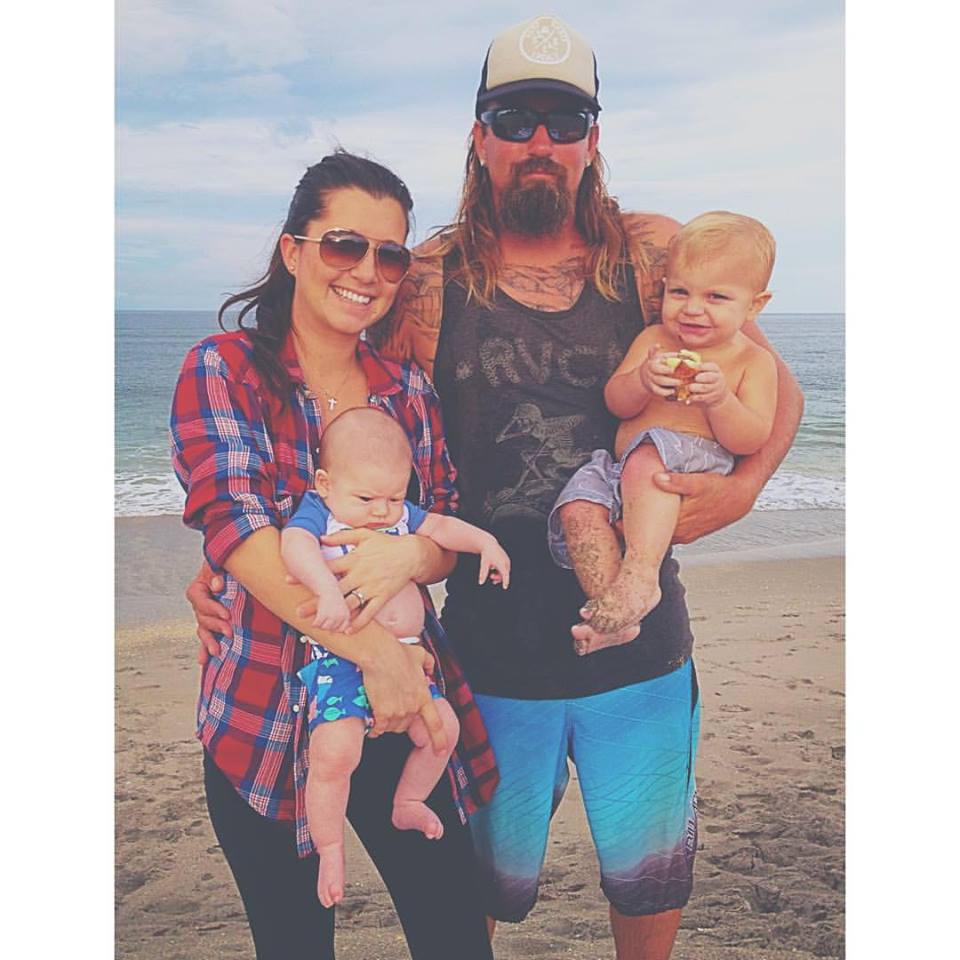 _____________________________________
Please, please help Karter and the Strand Family in this time of need! 
The road ahead for the them is unimaginable. Any donation, even the smallest, would be greatly appreciated and will help Karter in his upcoming battles to beat his cancer.
Karter is a sweet, amazing little boy and the Strands are wonderful parents and deserve all the support they can get. 
In addition to financial support, they will need an unlimited supply of Lysol wipes, Lysol Spray, BabyGanics Sunscreen, SPF Shirts, Hats and most of all prayers. Tell your church and put him on the prayer list.
Oh and NO Flowers. The pollen that flowers have can cause hospitalization.  So smell the flowers for him but you can't bring them.
He does LOVE mail to brighten his spirits.  Do you kids love to color and want to make a card? He would love to see the love!
Karter Strand 
PO Box 14044
North Palm Beach, FL 33408
Please follow our journey on Facebook. www.facebook.com/SavingKarter
Or Instagram #SavingKarter
Thank you for your support, love and prayers!
Love
Aunt Jenny (Jenny Garland)
Aunt Kiki (Kerianne Riley)
Nina (Diane Smith) Laurie's mother

Organizer and beneficiary
Jenny Garland 
Organizer
North Palm Beach, FL
#1 fundraising platform

More people start fundraisers on GoFundMe than on any other platform. Learn more

GoFundMe Guarantee

In the rare case something isn't right, we will work with you to determine if misuse occurred. Learn more

Expert advice

Contact us with your questions and we'll answer, day or night. Learn more