The Kalamazoo College Ultimate Frisbee Team is comprised of the Women's Team, The Queen Beez, and the Men's Team, The Ultimate Buzz. We are a tight knit community dedicated to teamwork, community, and healthy competition. As a club sport with a limited budget, we have been searching for creative ways to garner financial support. This year, our team will be taking the Polar Plunge at South Haven! Your donation will ensure that your favorite KCUF member takes a refreshing February dip in Lake Michigan, and helps make it possible for us to attend our spring Sectionals, where we play against other teams for a bid to Regionals. Thank you so much for your support!

You can submit a general donation, or see the instructions and list below to dedicate your generous contribution to a specific player. All funds go towards getting us to our frisbee tournaments this upcoming season. 

Each Polar Plunge participant is responsible for reaching an individual goal of $100. When you donate to an individual player, please leave their name in the available comments section of the donation page.

Meet the players!!

Erin E- "I love ultimate frisbee because it gets people out and active while instilling a sense of responsibility through making our own calls on the field (no referees) and intra-team coordination (no coaches)."

Theo - "I have grown a ton through this sport and I hope to give back with my Senior individualized project which will provide coaching methods to future Kalamazoo College Ultimate Frisbee captains."
Shannon - "It is a source of support, challenge, and fun and I don't know where I would be without it."

Will - "It is a fantastic sport that keeps you active and physical. It is a great sport for meeting a lot of friendly and awesome people."

Ethan - "I have made lot of friends through this wonderful sport and I don't know where I would be with out it"

Jon - "...it's a community that gives to you with every trip you take and throw you make. It's a family!"

Jackson 

Drea - "What's not to love?"

Abram - "HEYYYYY BUZZZZZZZZ!!!!!!"

Erin R - "It creates a strong bond with people who otherwise might not hang out in the same groups."

Gwen - "Frisbee is my life here at Kalamazoo College. I play because it's a fantastic way to stay in shape and the people are amazing."

Kaitlyn - "Joining the team is one of the best decisions I've ever made and I'm improving every time I play. Ultimate is the best, by far."

Tessa -  "Surrounded by the supportive and dedicated players of KCUF, nothing gives me more satisfaction than mastering throws, bidding in the endzone, and pulling off an amazing D. I love this sport so much I'd swim across lake michigan if it meant bringing the team to one more tournament"

Abe - "Run fast. Cut hard. Bid harder."

Sam M - "The community created from frisbee players is like no other. We all respect each other, and play for the love of the game. It's so much fun to watch and play as well."

Annah - "Everyone celebrates the spirit of the game!"
Emiline - "It's not like any other sport. When a player has a great throw, catch, etc. everyone on the field can recognize that, and that level of positivity is something I have only found through KCUF."

Alex - "A wonderful sport filled with wonderful people"

Indigo - "A short haiku about why i love frisbee: the thudding of cleats, the sun and smell of green grass, run layout frisbee!"

Amanda

Edward - "Frisbee has been a great way for me to stay active and make new friends during my time at college, and is all around an exciting and fun sport. "

Alissa - "It really is a unique sport with an amazing community to back it up. Joining the team here at Kalamazoo College has truly defined my college experience making it one I will never forget."

Ridge - "skying fools"

Liam - "I love the community that Ultimate offers at Kalamazoo College. It's also a great sport that balances competition and sportsmanship. "

Eli - "In the beginning of time, our ancestors had only a tree and a bone knife carved from the skeletal remains of a fallen foe. And from these supplies, the first disc was created, and with it, Flatballers appeared, with nothing more than a flat, wood-carved saucer, and love for one another. These are our origins, known by all who throw the disc. While the it might be plastic now, and the maker Discraft©, the love in our hearts, and the community created by the disc are still the same from the beginnings of time.
 
Pizza - "Because it's the best people on campus, coming together to play a sport we all love!"

Anya - "Frisbee, especially at Kalamazoo College fosters a wonderful social environment that is healthy and supportive for all of its players."

Molly

Greg - "Frisbee is my favorite thing to do because it's something anyone can learn to do and do well, so we have a great mix of people and they're all awesome. This team is how I made 95 percent of my friends, and I wish that was an exaggeration but it really isn't. Anyways, the team needs help, and I'm gonna do what I can by jumping into freezing cold water."

Caleb - "I don't know why I love frisbee, but it's fun so there's always that."

Matt - "It is a great feeling when you throw a clean pass, run your hardest and catch the disc, and to play and hang out with a supportive, fun group of friends. Among other qualities, Frisbee offers what I couldn't get out of any other activity at Kalamazoo College. This is why I play Ultimate Frisbee. In the teams current situation, we need increased funding to keep the team at the level we want it to be at."

Charlie

KCUF at High Tide Week long tournament  Spring 2014

The Ultimate Buzz

The Queen Beez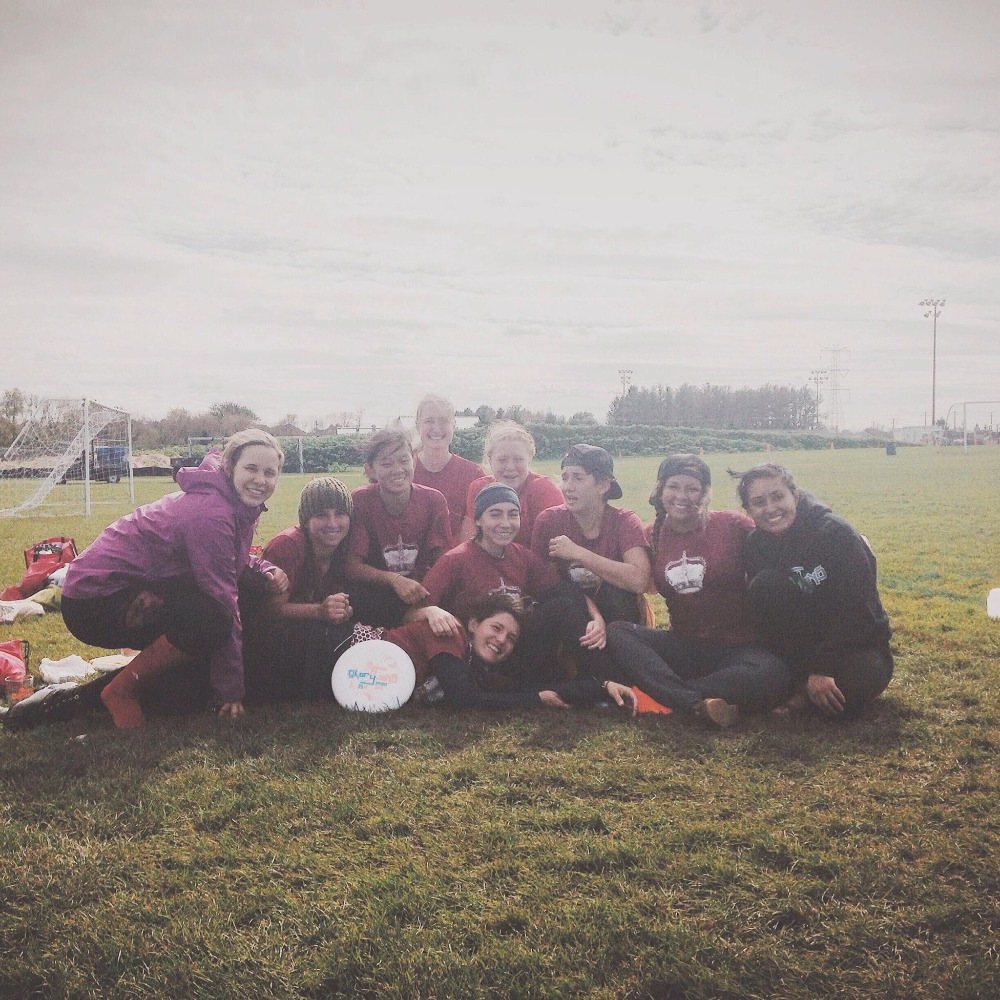 Organizer
#1 fundraising platform

More people start fundraisers on GoFundMe than on any other platform. Learn more

GoFundMe Guarantee

In the rare case something isn't right, we will work with you to determine if misuse occurred. Learn more

Expert advice, 24/7

Contact us with your questions and we'll answer, day or night. Learn more