To all of you who have been concerned with what may be happening to Justin, this is a message from his Mother:
Thank you to all of you who have expressed concern. We wanted to give you an update with all the information we have at this point.
WHAT WE KNOW:Justin Alexander Shetler is missing.
He left with a local holy man on or about the 24th of August. He has not been seen since September 3rd, when he was photographed returning from his trek. According to the accounts of the hikers (whom he knew and met on the trail) he had not eaten in 2 days and was severely underweight & physically depleted. The holy man had passed by the hikers about 30 minutes prior to Justin. Attached is the last known photo of Justin, as well as a picture of him healthy and nourished for contrast.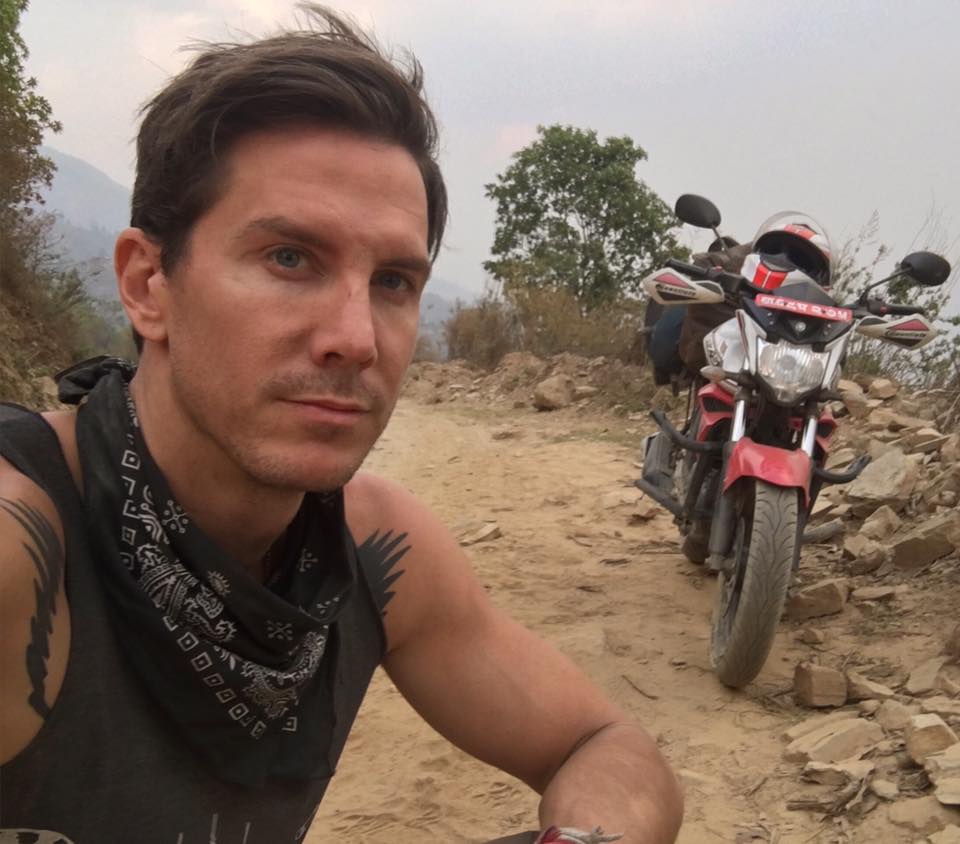 Justin was on his way down from Mantalai Lake in the Parvati valley trek between Khir Ganga and Mantalai. He had separated from the Baba (the Sadhu holy man referred to above) with whom he had trekked up the mountain. He refused an invitation to join the hikers (one pictured in first photo), saying that he wanted to get back to his things and to a good source of internet where he could edit his latest video and rest. The Baba has been questioned, but has a conflicting story.
From the spot he was last seen, it is a two or three day hike to get back to Khir Ganga and an additional 10kms (3hrs) to where his motorcycle was parked.
He never made it.
Justin's motorcycle and some of his belongings have been found, untouched.
MOST CURRENT INFORMATION:
While there are still many open questions, the following captures what we know to date.
Justin was last seen on September 3rd. He was due to be back mid to late September.
We have confirmed reports from multiple sources that a local search party made up of 15-20 people plus 7 police officers has been dispatched to the area. After being reported missing Monday, October 3, the search party was dispatched Wednesday, October 5. Due to the remote nature of area, however, they only arrived to the Khir Ganga area on the afternoon of Friday, October 7. They were seen headed up toward the area where Justin was last confirmed to be seen and the police are in contact with members of the party that last saw Justin.
It takes several days to travel to this location and many places are not accessible except by foot. Although we are in contact with the lead officer heading this investigation through an Indian trekking guide, it might be a number of days before reports come in from the searchers/police on the trail, given the lack of cellular communications in the mountainous area.
Below is a map of the GPS coordinates (31°53'41.9"N 77°45'44.1"E) where Justin was last seen. The hikers he encountered attest that this is accurate within 1000 meters, as of Sept 3 and 1:50pm local time.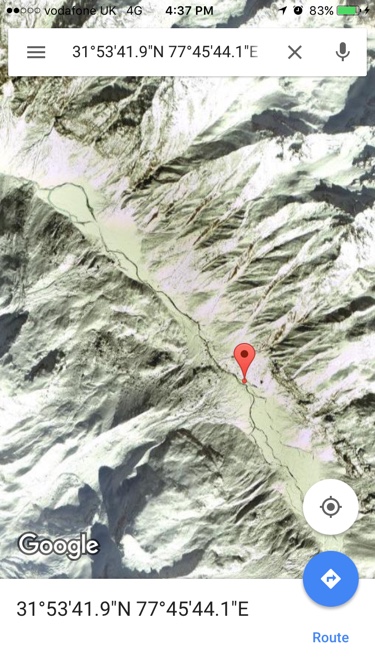 The below picture is of 2 shepherds seen by the hikers (heading East), pictured with their guide, on the same trail three hours before running into Justin (heading West) on September 3. Justin would have presumably passed them on his way down. We are working to identify the shepherds now, and find out whether or not they saw Justin and/or the Baba, which will help us to narrow down the search area even further.
We are facing incredible challenges finding traction with the authorities, including our own US governmental assistance. We have one contact in the embassy in Delhi, and while we have contacted members of the US State Department we are still waiting on a response from them.
Corruption in the area in which he was last seen runs rampant. There are reports of drug trafficking and many cultural differences/language barriers are in play, which makes things more difficult.
We have our own people on the ground spreading the word, shaking the trees, and gathering intelligence as well as searching the most promising areas. We want to thank the hikers, trekkers, embassy contacts, police and locals in the area who have been instrumental in providing valuable information and giving us the latest updates.
HOW YOU CAN HELP:
Please donate to this fundraiser--anything will help--and your generosity is highly appreciated. We are using that money as judiciously as we can and only in the most high leverage, high potential efforts.
We are looking for anyone with influential contacts in India: news channels, politicians, celebrities, etc., especially those from the Himachal Pradesh area.
We have a solid team of people working around the clock on this, and appreciate everyone's help by sending all information to this team and allowing us to put it into action. Please pass all that seems important to the contact address provided at the bottom of this message.
Please join us in helping to raise awareness of Justin's situation. Share this post. Create positive videos about your experience with Justin: tell a story, post it, share it on all social outlets and use the hashtags #JustinAlexanderShetler and #LostInParvati. Our goal is to raise the awareness of this issue, which will help put attention on finding Justin. If you are so inclined, please also reach out to Sushma Swaraj on Twitter. She is the External Affairs Minister and is very active on social media.
In closing, we know how many people around the world love Justin and want to see him brought home safely. We ask that you help us in our efforts by spreading the word far and wide, and we ask for you to focus on collaborating with what is already in motion. Acting as one team is what Justin would want from his friends and family, and we are so moved by what all of you have done so far to help him.
Any unused funds will be spent to ensure nothing like this happens when someone goes missing again. We are making it our mission--no matter the outcome--to ensure meaningful and lasting change comes out of this ordeal.
We thank you from the bottom of our hearts, and pray that Justin is returned to us safely.
May the Blessing Be
Please email
Justin2016search@gmail.com
with any information.
SUGGESTED SOCIAL POSTSHashtags:
#JustinAlexanderShetler
#LostInParvati
Tweets:
@sushmaswaraj can you help locate #JustinAlexanderShetler? He's #LostInParvati, we want him back: goo.gl/OucNTa
Have you seen #JustinAlexanderShetler? He is #LostInParvati - disappeared in Indian Himalayas. goo.gl/OucNTa
Please help us bring #JustinAlexanderShetler home. He's #LostInParvati, vanished in Parvati Valley in India. Info: goo.gl/OucNTa
Have any info that can help locate #JustinAlexanderShetler? He's #LostInParvati, we want him back: goo.gl/OucNTa
Photo to use: