Help Jim (JT) at Harvard University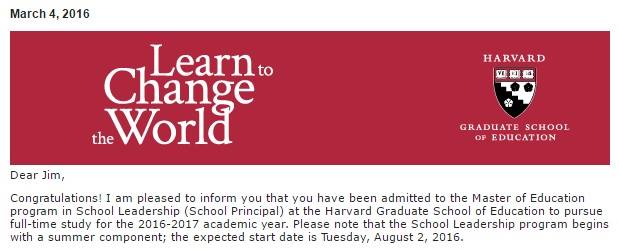 Who Am I?

My name is
Jim Triplett
, and I aspire to earn a Master of Education (Ed.M) in School Leadership, from the Harvard Graduate School of Education. I would initially serve as a principal of an elementary school, in an urban school district. However, ultimately, I dream of one day opening my own gender-based, urban intermediate school that features all-male and all-female classrooms for students in grades 3rd - 5th. 
After a lengthy career in retail, I answered a calling from God to become an educator, and He has been ordering my steps ever since. It has truly become my passion. I earned an Associates of Arts in Teaching from St. Louis Community College, a Bachelor of Science in Early Childhood Education from Kennesaw State University, and then joined Teach For America. I'm now bringing an end to my fourth year as an educator, and three of those years was spent teaching an all-male class of students, whom I looped with from 3rd - 5th grade. My teaching model consisted of me infusing academics and character education into my instruction, through the use of a necktie. I've won awards based on my teaching model, as well as featured in videos and newspaper articles. To learn more about my teaching model, watch one or all three of the videos below, or visit my class website:
www.teamtriplett.org
                         SLPS Stories - "Jim and Devin"
Team Triplett's Class Pledge/Motto                           Tribute to Black FraternitiesThe Opportunity of a Lifetime

I was recently accepted into Harvard University's Graduate School of Education, to pursue an
Ed.M in School Leadership (School Principal)
. The program is only for one full academic year, beginning in August 2016. The type of school that I want to run is groundbreaking, and studying at the best research institution would allow me access to information that will help to ensure that it is run in a way that transforms the lives of all students.
Harvard University is a very, highly selective research institution. Of all the students admitted into Harvard's thirteen graduate school programs for the upcoming 2016-2017 academic year, only 25% are male, and only 28% are students of color. During a recent visit to Harvard's campus (April 2 - 5) for students who were admitted into my program, I was the one and only African-American male in my cohort. Due to these numbers, with my acceptance, I know that God has blessed me with the opportunity of a lifetime. It is an opportunity that will allow me to go from using my teaching model to make an impact on the lives of just one group of young men, and make an even larger impact on an entire school of young men and women.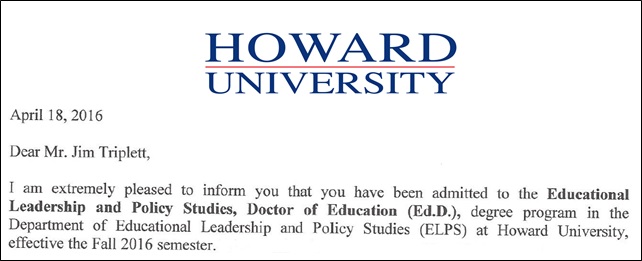 Harvard University to Howard University

Over a month after being admitted into the Master of Education (EdM) at Harvard University, I was admitted into the Doctor of Education (EdD) program at Howard University, in Washington, D.C. They agreed to defer my admissions until after I finish the one year program at Harvard University. Unlike the program at Harvard University, I will be required to work while completing my doctorate at Howard University. The Principal certification that I receive from Harvard University will allow me to work in D.C. as an Assistant Principal during the day, and complete my doctoral coursework at Howard University in the evening. So, I won't need a GoFundMe for school after finishing at Harvard! 
Why I Need Help with Harvard
Harvard University is very expensive, and Cambridge, MA, where it is located, right outside of Boston, is amongst the most expensive places to live in the United States. Between the tuition for one year, and living expenses while in Cambridge, the cost of attending is about $73,500. 
Thank God I've been blessed with a Harvard Grant, AmeriCorps Grant, Work Study, and a Student Loan that totals $48,000, covering the $45,000 tuition! However, due to the rigorous course load for one year, the mandatory, year long practicum (internship), and work study, I won't be able to earn any additional income while studying at Harvard. If time permits between studying and the internship, I plan to do
private math tutoring
 on the weekends, for elementary school students in the Cambridge/Boston area. In the meantime, I still need help with a studio apartment ($1,500/month), Bus/Subway Pass ($75/month), food ($200/month), Health Fee ($1,088), and School Leadership Program Summer Expenses ($2,251).
So....
I NEED YOUR HELP!
I've asked for donations in the past to assist with items needed to educate my students, but I've never been in a position in which I've had to ask for money in support of my own education.
I'm seeking to raise $25,443 to cover the costs/expenses related to my one year program at Harvard University
mentioned above, and that can also be seen in the 12-Month Budget I've shared below.
Every donation, no matter how big or small, is an investment
into improving the lives/education of children, and seeing positive change on a larger scale, if it is God's will. 
Please consider donating to my journey at Harvard University, as well as sharing the link on your social media accounts, so others can consider donating as well! 
With love and gratitude,
Jim Triplett (J.T.)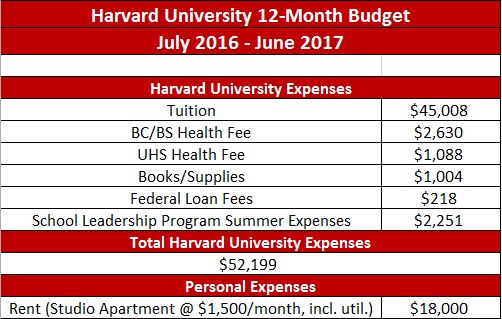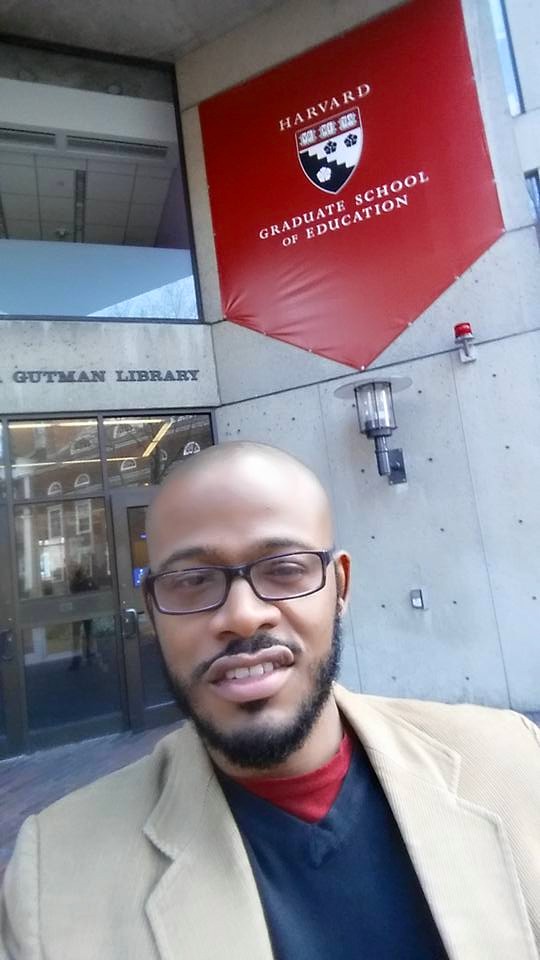 Organizer