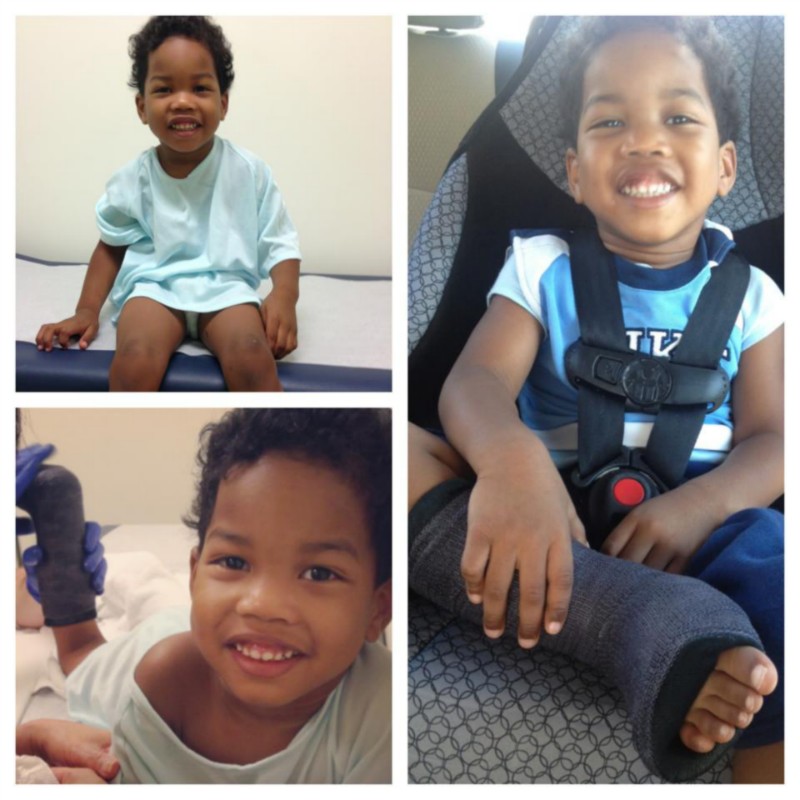 "Jr's Chance To Walk" is raising funds in an effort to give our sweet little boy a chance at a pain-free, independent life and the ability to walk. We are asking that you see it fit in your heart to help make this dream of his a reality.
Jarrod D'Shon Robinson Jr. (Known to everyone simply as "Jr") is a happy 5 year old little boy who LOVES to laugh, tell jokes, and play games. As he was growing up, he was developing as a normal child would. He was sitting up, crawling, pulling up, and everything else normally. One day after receiving his routine vaccines, we noticed that Jr had a very floppy appearance. Shortly after that, he stopped doing all the things he was previously doing. He was unable to sit up on his own, walk in his walker, or pull himself up. That's when all of the red flags appeared. After seeing a neurologist and having an MRI of his brain, we were hit with the news..Jr had Cerebral Palsy and Developmental Delay. I felt as if I was bearing the weight of the ENTIRE WORLD on my shoulders! I started to question myself.."What did I do wrong? Why is this happening my baby? What am I going to do?" I was so shocked. It was a lot to take in as a mother who was only 19 years old. But, as I learned more about the condition, I also learned that it wasn't my fault. We learned that Jr suffered from a lack of oxygen shortly after birth and Spastic Cerebral Palsy was the end result. 
Spastic Cerebral Palsy affects motor function and the ability to coordinate muscles properly because of spasticity and increased muscle tone. Diplegia means that his legs are the limbs that are primarily affected. Jr's muscles continually contract, which results in pain and stiffness in his legs. After researching different treatment options available to treat Jr's spasticity, we've tried several of those options (oral medication, botox injections, leg casting, daily leg braces, body standers, weekly physical therapy, water therapy, etc..The list goes on and on!) to avoid the complications of a major surgery, but none of those methods have been successful for him. After speaking with his physical therapists and neurologists more, we've finally decided to try the "Selective Dorsal Rhizotomy" procedure.

We are hoping to raise approximately $50,000 for the cost of the Selective Dorsal Rhizotomy surgery and for the cost of post-op therapy and rehab.

Approximate fees include:

Professional Fees: $10,000 -$12,000
(Consultation fees, surgical fees, and anaesthesiology fees)

Hospital charges: $28,000 -$31,000

Physical therapy evaluation: $800

Physical therapy sessions: $4,500 -$6,000

Orthotics and braces: $1,850 - $5,500

Special equipment (walkers, braces, etc.): $1,100-$1,800

Total Estimated Charges: $46,250 - $57,600


Jr is extremely motivated and driven and expresses his longing to walk on a DAILY basis; Even more so now that he has started school and is interacting more with other kids of his age who are able to walk and run around. Not only is this operation an opportunity of a life time, but it will also give Jr the chance to experience a skill that many of us take for granted.

We would like to say thank you for all of the love and support that is expressed towards us. Even to those who are unable to help, your words of encouragement are greatly appreciated! To all of our family, friends, and community members..THANK YOU! We are hoping and praying for great outcomes and trying our best to make a little boy's dream of walking finally come true..


Organizer