Help JD, the wonder pup, beat cancer
Hello, thank you for checking out my gofundme page.  I'm raising money to help my little buddy JD fight Spindle Cell Sarcoma, a cancer of the soft tissue.  
JD was never supposed to become my dog, JD stands for John Doe. JD was found walking the streets of Miami, we volunteered at the Humane Society and picked him up with the intention of getting him cleaned up and adopted out.  
Saying he looked pathetic was an understatment.  He had no fur, mange, sun burn, and was rail thin.  I didn't even want to touch him, however his face was so trusting and so sweet, I knew he would make a great pet to someone.  A quick trip to the vet for an exam changed everything.
In addition to the mange, sunburn, and malnutriotion; JD also had heartworms and hook worm.  He could never be given to the Humane Society.  He would be euthanized for fear of infecting the other dogs up for adoption.  
My heart sank, this adorable, friendly, trusting, smart dog wouldn't get the chance to find his forever home, not unless we nursed him back to health first.
Even though we really couldn't take on another animal (we had 3 cats, 1 dog, and 2 feral cats that adopted us already), we decided to take on the task of getting JD healthy enough for adoption. I was firm, we were NOT keeping him, hence the name John Doe.  He was NOT ours!
JD required MONTHS of care.  The hook worm was easy.  Quick few days of meds. Daily bathing with medicated shampoo to cure the demodectic mange. Then, once that was clear, we could proceed with heartworm treatment, BUT since his immune system was already compromised from the mange, the treatment had to be done in REVERSE.  Very dangerous and we didn't know if it would even work. We got lucky, it worked, no serious heart damage.  JD was ready for adoption.......or not. 
Of course, by this time, after all he and I had been through, JD was mine. We had bonded.  He was an amazing dog.  I couldn't let anyone else have him. So, he officially became John Doe Baker-Whiteside, JD for short.
Unfortunately, what I didn't know, is JD's breed, the American Hairless Terrier, is a challenged breed healthwise. The mange, part of thier DNA. They also have compromised immune systems making them succeptible to a wide range of illnesses.  The worst of all, they get cancer.  All sorts of cancer.
JD has had 4 battles with cancer.  He has beaten squameous cell carcinoma 3 times (once at the loss of his cute little rat tail), and a mast cell tumor once.  He's a trooper, he goes to the vet and oncologist and makes the best of it.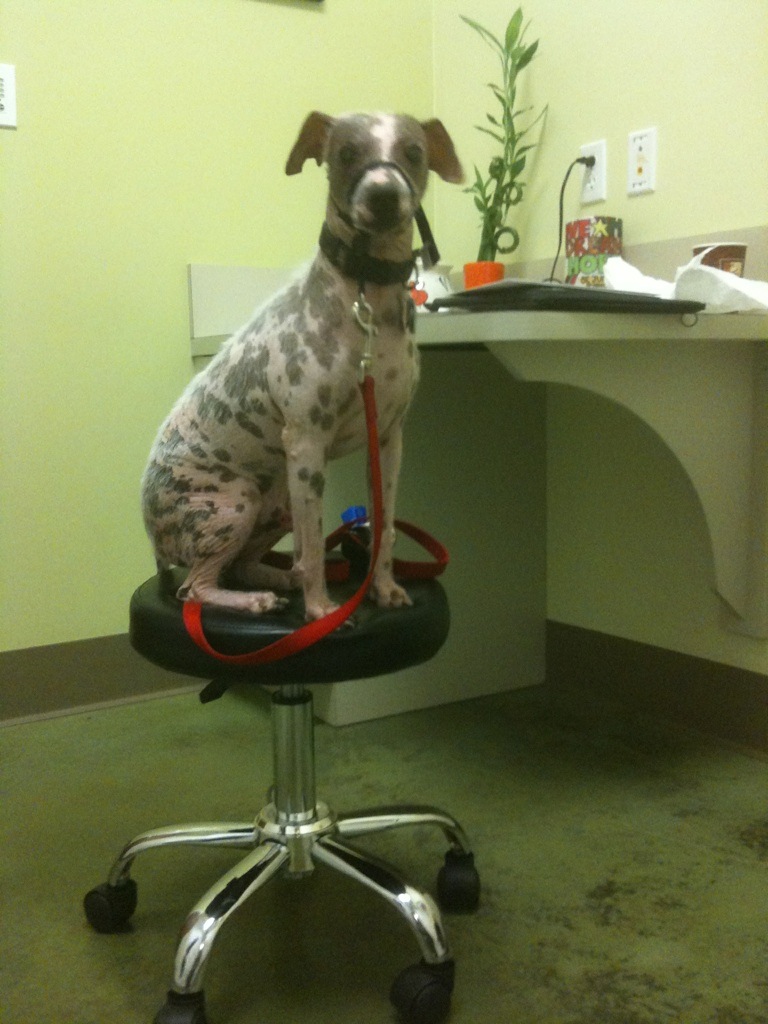 No expense has been spared trying to beat JD's cancers.  I even told the vet I would sell a kidney if I needed to in order to save my dog if I knew he could be saved.
On December 23rd, JD was diagnosed with a new form of cancer, Spindle Cell Sarcoma.  It's a small tumor in the soft tissue, but it can be a VERY dangerous cancer.  Like the roots of a tree, Spindle Cell Sarcoma likes to "stretch out" and get into everything around it.  It very easily invades surrounding bone and gets into the lymphnodes. Once it is there it is a downhill journey with little or no hope for recocery.
There is treatment, but it is extensive and expensive. Blood tests and X-rays to determine the severity of the cancer and if it has spread beyond the local area.  Surgery to remove the majority of the tumor. After this comes rounds of radiation therapy to erradicate any remaining cancer cells.  
So that brings me to you. Although I'm happy to sell a kidney or a lung to save my dog, I hear that's not really an option.  I've emptied my savings accounts, dipped into my 401k, sold stock, maxed out various credit cards to pay for JD's treatments. It's worked.  He's beaten cancer every time he's come up to bat.  He's survived 13 years with the very difficult hand he was dealt.  Unfortunately, I am now at the point where I have no other financial resource I can tap into to help him.  I need help. Your help. Your friend's help.  Any help I can get.
Please help.  JD and I both thank you from the bottom of our hearts.  We're not ready to say goodbye.  He has so much love still to give.
Thank you.

Organizer
#1 fundraising platform

More people start fundraisers on GoFundMe than on any other platform. Learn more

GoFundMe Guarantee

In the rare case something isn't right, we will work with you to determine if misuse occurred. Learn more

Expert advice, 24/7

Contact us with your questions and we'll answer, day or night. Learn more