In the Honor and Spirit of B.D. Bhutani
In the Honor and Spirit of B.D. Bhutani "" A Loving Grandfather, Wise Mentor and Active Philanthropist
                      (October 12, 1926 - August 11, 2013)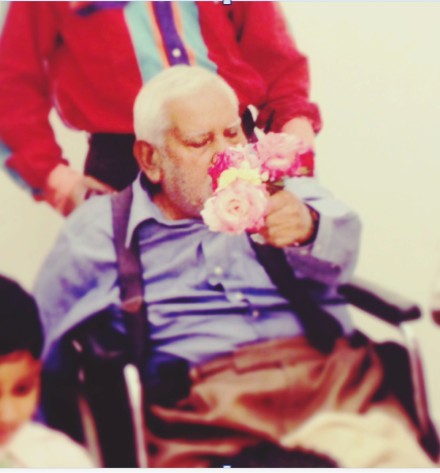 "I shall pass through this world but once. Any good therefore that I can do or any kindness I can show to any human being, let me do it now. Let me not defer or neglect it, for I shall not pass this way again. (Stephen Gilbert)." This was not only a quote often recited by our late grandfather, B.D. Bhutani, but it was truly a way of life for him. B.D. instilled in all of his grandchildren the importance of abandoning materialistic ideals and embracing educational opportunities not only for our personal fulfillment, but as leverage to help others. Our grandfather was passionate about his philanthropic endeavors and devoted his life to charitable causes. Prior to his passing, he was the Chairman of a school for underprivileged children in India, which was founded by his blind brother.  Wheelchair-bound, whether rain or shine, he went to work every day with high-spirits, determined to make a difference in the lives of these young children. The acts of his kindness are endless and the appreciation and respect he received within the community are limitless. As such, the purpose of this page is not to account for all the lives he has touched, but rather, it is a means to continue on his legacy.
One of the charities he was passionate about was, "Netraheen Sewa Sansthan," which when translated means, "The Institution to Support and Assist the Blind." It is a registered institution within India that houses, supports and cares for blind students who are seeking to continue their post-high school education. We recently received a letter from the President of the Institution, who is also blind, praising the efforts of our grandfather, who used to give and seek donations on the Institution's behalf, and also asked for our help (please view the
original
 and
translated
 letters by clicking on the links).
Most of these blind students come from poor villages in India and have been disowned by their families due to cultural and social stigmas unfortunately associated with having a "disabled" child. When speaking to the President of this Institution last week, we were informed that these students rarely have visitors, not even for holidays or birthdays, and the living conditions at this Institution are sub-par due to financial constraints. There are presently 25 blind students that are housed within the Institution's compound; however, there are only 5 bedrooms""that is, there are 5 students per room. They each have a cot to sleep on, but the Institution cannot afford adequate bedding, such as pillows or blankets, for each student. Upon asking what the students' needs are, we were told that each student's personal belongings fit in just one bag, which they store under their cot, and although they just received a donation of jackets a few weeks prior, they are still in need of shoes. 
This Institution represents a combination of what our grandfather stood for: the pursuit of knowledge and helping others in need. 
These students have the bare, but often inadequate, necessities. They are deprived of the basic essentials that many of us take for granted, such as a sturdy pair of shoes, adequate clothing, winter coats, and blankets or pillows. After receiving the letter mentioned above and learning of the poor living conditions and neglected relationships of these blind students, we are determined to help facilitate the objectives and pursuits of these students. Their efforts to obtain an education, despite the various financial, medical and familial obstacles they face, should be applauded and whole-heartedly supported. Therefore, 100% of the money we are seeking to raise from this page will go directly towards the lodging, food, transportation and other needs of these blind students.
Please help us carry on the giving spirit of our grandfather and support this cause!
With Love and Sincerest Gratitude,
Sabrina and Shawn Kumar
Simi, Pooja and Sarina Bhutani 
All grandchildren abroad
Donations received from Shawn and Geeta Arora's Puja