Aaliyah Miranda Mitchell came into this world at 636am on September 11th, 2004. On January 28th, 2015 Aaliyah earned her Angel wings. She went peacefully in my arms on the flight home from Texas. Fly free and high my beautiful girl. Momma misses you sooo much already and although I don't know how I'm going to continue to live without you I will do it because you asked. You were the most beautiful baby and always such happy little girl. So full of love and always thinking of others. You fought hard my princess and I couldn't be more proud to call you mine. I know you are now healed and dancing in God's Kingdom.....I love you through the sky, around the stars, to the moon and back
http://www.firstcoastnews.com/story/news/features/2015/01/29/10-year-old-loses-her-battle-with-rare-cancer/22546645/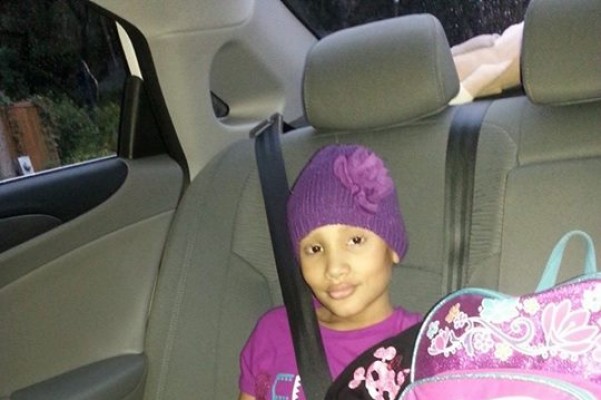 UPDATE:  01/26/2018:  My heart is in a million pieces right now and it feels like it will never be whole again. The Doctor here at MD Anderson performed new scans today and the news was not what we expected and certainly not what I wanted to hear. The cancer has continued to spread rapidly. Aaliyah's left lung is now completely filled with tumors and she is only able to breathe out of the right lung. The right lung has also been compromised and will continue to get worse. Her airway has also moved due to all the pressure. Due to the amount of disease progression Aaliyah will not qualify for any clinical trials. The only option Dr. Hughes had to offer is palliative radiation therapy to the T12 spinal tumor to alleviate some of the pressure that is causing her feet to be numb and the loss of feeling in her legs and lower body. After sitting in his office and reviewing Aaliyah's scans from Dec and today I was told Aaliyah had anywhere from a few days to 2 weeks to live. I am not giving up, however I do intend to take her home to be with family and friends. We will be flying back to Florida first thing Wednesday morning. I will continue to make the best of every single moment and kindly ask that everyone respect our privacy while we take a few days to digest it all. Please continue to keep Aaliyah in your prayers <3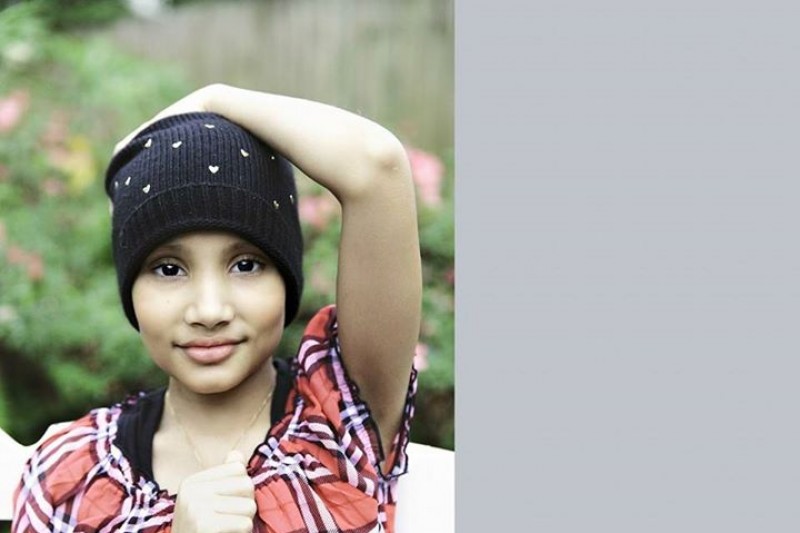 UPDATE
:  As of 12/24/2014 Aaliyah was placed on hospice care and given an estimated 1-2 months to live. Scans showed a new spinal tumor and too many tumors in her lungs to even count.... The Drs. here in Florida have told us there is nothing else they can do other than make her comfortable.  I (Mom) have made an her an appt in Texas with MD Anderson on 1/26/2015 and will be traveling with Aaliyah and her newborn sister Isabella for a 2nd opinion and to see if there is anything they can offer my "baby girl." We are not giving up and continue to pray for our miracle.  Aaliyah is not done fighting.....it's not over until God says it's over.  Aaliyah is now on around the clock pain medication to remain comfortable and has lost her ability to walk. Throughout it all she remains in good spirit, never complains and keeps that courageous smile. Our days are mainly spent at home now and filled with small activities, lots of family time and making memories.   I am not currently working due to maternity leave and at this point I am not even sure I will be able to return to work as scheduled in March due to Aaliyah's deteriorating health.  Below is her story from diagnosis (please continue to read and share)
.......Our family was turned upside down when Aaliyah was unexpectedly diagnosed with metastatic Ewing's Sarcoma on 08/15/2013.  Before diagnosis (I) Mom worked a full time job and attended school full time to provide for my family, all as a single Mom. I've since had to completely drop out of school and cut way back on the hours I can work to be there to support Aaliyah.  I didn't wake up one day and say I don't want to work or go to school. Cancer made that decision for me.  Without the love and help of family members and friends there are times I am not sure how we would have made it.   I realize things could be worse and I feel awkard asking for any help, however, with the upcoming strain of the holidays I am worried about my ability to continue to provide.  Honestly, it is both embarrassing to ask for help and humbling at the same time.   For those of you that are unable to donate all we ask is that you  take a moment to say a prayer and share Aaliyah's story. Please recognize that Childhood Cancer is REAL and it DEVASTATES families! I have watched my youngest daughter fight for her right to live and endure "adult" treatments no child should ever have to endure all while holding her tiny little hand as she vomited uncontrolably.  I have watched her have to relearn to walk short distances, seen her put to sleep for numerous tests and been there for every blow of bad news to tell her it's ok, WE WILL WIN SOMEHOW.  I have watched my sons get on their knees and beg God to heal their sister while my oldest daughter asks God why it couldn't be her instead and I have given up my life to help her win the battle against this horrible disease.  We will all continue to stand right beside her until the battle is won and we beg you all to stand with us........
Please see below for Aaliyah's story:
On August 15, 2013 the Drs found a softball sized inoperable tumor wrapped around Aaliyah's left pelvic bone and 7 tumors in her lungs.  She was admitted to the hospital that day because the pain was unbearable and subsequently endured 14 rounds of rough inpatient chemotherapy, 31 rounds of proton therapy and 10 rounds of whole lung irradiaton.  She spent 6 months in a wheelchair unable to even walk without pain or discomfort.  She has gone through numerous unexpected hospitalizations all while maintaining a postive attitude.  In April of 2014 she finished her initial chemotherapy.  Although we prayed for her healing and clear end of treatment scans by May of 2014 a new tumor was found in her lung.  Aaliyah had lung surgery in June of 2014 and began a new chemo regimen the following week, Unfortunately scans in August showed another new tumor so the medication was discontinued. She began ANOTHER new trial medication in August and her recent scans showed 2 new tumors in the lungs. We are now looking into yet ANOTHER clinical trial as an option and will begin next week. It is the worst feeling in the world to wake up daily and question whether you've made the right decisions and whether or not your baby is going to live or die.  I have spent the last 3 weeks researching options available to her for relapsed Ewing's while the other medication is allowed to clear her system to make way for another toxin.  THERE IS NO CURE and very little information available on relapsed Ewing's trials therefore any decision made is all "gut instinct."  While I have made that decision, it was far from easy.  We are praying for our miracle and that she live may a long healthy life.  Any and all money donated will go directly towards medical, living, or daily expenses <3.  Please follow her journey and updates by following her FB page. The link is posted above.
Heather
(Aaliyah's Mommy)
Organizer