Luca is a 6 year old boy who lives with his parents, older sister and younger brother in Calgary.  Luca is a gifted child who loves all things space and astroscience.  
Luca was 4 years old when, in February 2013, he was diagnosed with Anaplastic Medulloblastoma; a brain tumour.  Within a couple of days he underwent over 6 hours of brain surgery to remove the tumour.  The surgeons felt that they got out 95% of it out.  This was just the beginning of Luca and his family's journey in 2013.
Luca was still determined to realize his dream of being accepted at a local school for gifted children.  He went through the interview and testing process soon after his surgery.  Amazingly to all except those who know him best, Luca was accepted for the fall semester.  
The oncolgists and family decided to go with a very agressive treatment of 6 rounds of chemotherapy including 3 rounds of high dose chemotherapy and 3 stem cell transplants.  They decided that they would not use radiation treatment for many reasons, but especially since the treatment protocol was very aggressive and successful in past cases.  Radiation would likely cause brain damage threating Luca's ability to continue his dream of studying astrophysics.    
The treatments were hard on Luca and his family.  Luca was very ill during his treatments.  His mother was with him the whole 7 months and spent many days and nights away from the rest of the family.  His father continued working and being with Luca was much as possible.  His sister wanted to be with him all the time as they are the best of friends.  His brother was still too young to really understand why their family life had changed so drastically.  This is the sacrifice of families who have a child with cancer.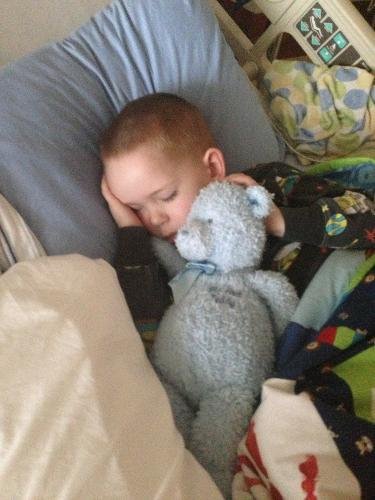 Luca received his final treatment in early August. Then on August 29,2013 the family received the wonderful news that Luca was now cancer free.  This battle was won, but the war is far from over.  Recovery would be long and Luca would still be subject to scans every three months to ensure that he was still cancer free.
Luca is a true warrior, he was able to begin school in the fall.  The treatment was not without side effects.  He lost a majority of his hearing and required hearing aids.  He was still very weak but getting stronger.  The trauma of the last seven months affected Luca greatly but he was home with his family and they were beginning the process of healing. 
His mother Amber began volunteering with a foundation to help other families that will go through what they endured.  The family wanted to give back the support they received.  Luca even grew a little, to the surprise of many.  He was able to play soccer again in the spring.
Every three months the family would go through what they called scanxiety. November 2013 and then February 2014, the results were clear.  Then the unimaginable happened.  On May 20, 2014 the scan showed the tumour was back in the exact spot.  The cancer was back.  The family was devastated by the news.  Amber and Ernie were told that Luca was only 1 of 50 children who were treated with this protocol at the ACH who had relapsed and only one of a very few in North America.   
Luca will now undergo a second brain surgery in late June to remove the tumour.  Once inside they can also determine if a second shadow is another tumour in his young, vibrant brain. The dreaded radiation is a must this time.  Through consultation and research, they have decided that Luca's best chance of beating the cancer and saving his intellect is the experimental Proton Radiation Therapy offered at MD Anderson in Houston.  It is far less evasive than traditional radiation and gives Luca his best chance to come out of treatment without devastating intellectual and organ damage.  It is not offered in Canada at this time.
Ernie, Luca's father, has taken an extended leave from his work and all five of them will travel to Houston together. They will fight the beast as a family.
They have secured a majority of the funding for the actual radiation treatment , however, there are many expenses the family will have to cover on their own.  The consultation for the treatment alone is $23,000 USD and not funded by health care. Then there will be living expenses, car rentals, travel expenses and other miscellaneous costs.
It is so hard to know what to do to help a family like Luca's in a time like this.  Donating any amount of money will go a long way to remove the added financial stress fighting Cancer can cause a family.  Please donate what you can and please share Luca's story with your friends, families and colleagues.  It takes a village, or in this case an army!  Please join Luca's Army so that we can win this war together.  Luca has so much to offer this world as do all the children facing deadly illnesses.  
If you do not want to pay online but still want to donate, please contact me using the email link and I can give you information on a fund that has been set up for Luca as well.
UPDATE JUNE 20,2014
The support for Luca is so amazing and still going strong. The whole family is so grateful.
They now feel that enough money has been raised and greatly appreciate the support. If you would still like to make private donations you can still do so as any help is still appreciated.
I started this fund as a way to help the family ease some of the financial burden caused by this disease. I had no idea how many people would be moved to donate. Thank you, thank you, thank you.
If you so desire you can also donate to Helping Families Handle Cancer Foundation in Luca's honor. This foundation is very close to the family's heart as they were there for them from the first diagnosis. It is a local, volunteer run registered charity who helps families financially who have a child with cancer. Donations are tax deductible. Their website is helpingfamilieshanflecancer.com.
No family should need to go through having a child with cancer as well as suffer the financial stress associated with it.

Organizer
#1 fundraising platform

More people start fundraisers on GoFundMe than on any other platform. Learn more

GoFundMe Guarantee

In the rare case something isn't right, we will work with you to determine if misuse occurred. Learn more

Expert advice, 24/7

Contact us with your questions and we'll answer, day or night. Learn more