Please help save Thor !!!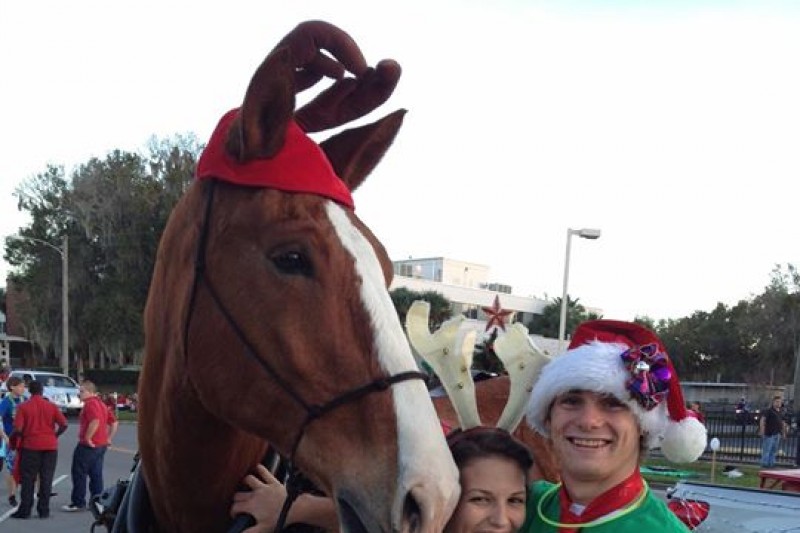 Hello, this is Thor, many of you know him as the carriage horse in Sanford, Florida,  the big boy in the Christmas parade, or the big fuzzy "carrot vacume", pulling the carriage and giving kisses at the annual Christmas party. He also has done jousting, mounted combat, civil war reenactments, and is the most snuggly baby sitter to the kids at the barn. He is 12 years old, and a treasured member of our farm family and our community.
  
Today,Dr Rocky Esposito diagnosed Thor with cancer.  He has a squamous cell carcinome in his left eye.

He needs to go to the University of Floridas Equine hospital for surgery and treatment.  Unfortunatly, we have come to learn that eye cancers are common in draft horses.  The good news, is that surgery alone, if done soon enough, usually cures this disease!!!

We don't know how much his treatment will cost, we estimate it could be anywhere from $1,000-$5,000 depending on how far the cancer has spread. Only the surgeon at UF can tell us that.  I will be posting updates, reciepts and vet notes as we go along.

Larry & June O'Donnel own Thor, he is brother to my horse Loki, and they are stabled together in a large double paddock.  They are very bonded, and Larry, June, all the other horse owners,  and I, love them both dearly.

Larry agreed for me to make this page, on the condition that every penny goes directly to Thors care.  Any excess funds. not spent directly for Thors medical expenses. will be donated, and a complete accounting will be posted here.
Please forgive any typos & grammatical errors. It's been a hard day, I'm a disasterous typist even when I'm not upset, and I'm afraid I can't wait to find someone to proof read for me. Thor needs us, and every day spent waiting lessens his odds of a full recovery. 

Thank you so much for your time, and please know that every dollar helps.   So many people love horses, and so many know & love THIS horse.

Please, won't you help us save Thor ?

Donations may also be mailed to:
Thor O'Donnell
c/o  J. Ragno
1948 Deerview Place
Longwood, Florida 32750


Organizer
Jodi Ragno
Organizer
Longwood, FL