EMPOWERING THE YEZIDI COMMUNITY
Some of the best ways we can help a community to recover from oppression and massacre are:
SUPPORT MEDICAL RELIEF CAMP
Help Children like Dilleen
Yezidis International ties up with Lantos Foundation and Sewa International to Help 3 year Old Dilleen with funding for her surgeryDilleen Tarq Khedr is a three year old in camp Kabarto, Kurdistan, Iraq. On early August 2015, a surgery was set that her parents couldn't afford but that could mean a difference between life and death for a child of three. She has brain tumor but the family cannot afford such amount after fleeing their homes in frenzy from ISIS. Her situation sums up the story of nearly half a million Yezidi who lost everything and in many cases even relatives and loved ones.
$2000 was donated. However by the time treatment is completed, it can cost more than $15,000. She has gone through chemotherapy, lost sight in both eyes, and the brain is swelling.
Being taken outside of Iraq for treatment was suggested but so far, does not appear a possibility.
Also see this article
http://www.breitbart.com
SUPPORT STUDENTS  IN COLLEGE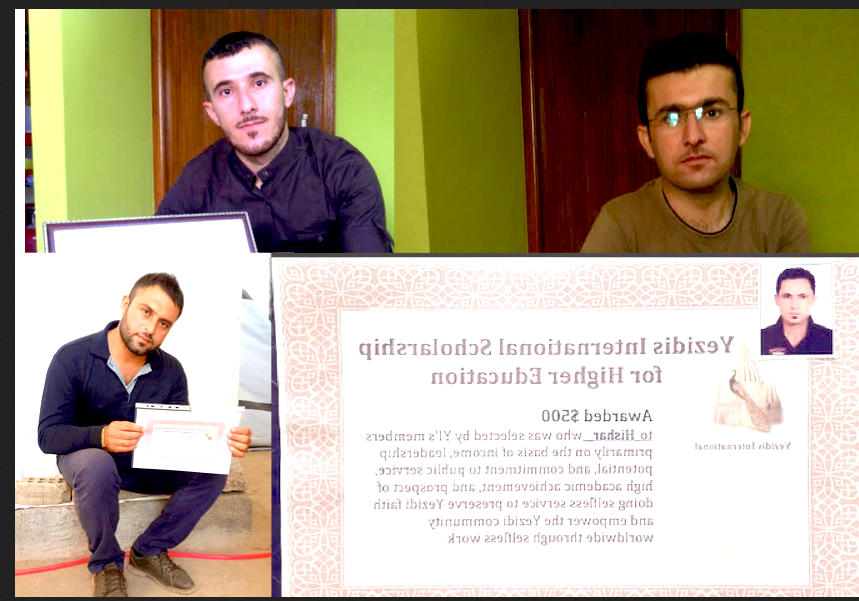 YI is committed to helping and finding every meaningful way of helping the Yezidis and education is the greatest help we can offer to start people on a greater path which will lead to an empowered community and a better future. Yezidi students are unable to fund their education anymore. Many  lost everything due to ISIS, many of them have opted to leave school. These students are the beacon of light, the beacon of hope for the Yezidis generations to come.
The few Yezidi students who are in India studying Bachelors in Pharmacy are one of the brightest hopes for the Yezidi community worldwide since Yezidis  in Iraq have been kept away from pursuing higher studies for decades
The students YI wants to help  were so far being supported by their parents back in Iraq. However, because of ISIS attacks, they are finding it difficult to pursue studies. Some of them have even gone back to Iraq discontinuing their schooling. If they are helped then they will be more empowered to support the Yezidi cause worldwide.Each student needs $2200 as tuition fees and $3600 for food, housing and other expenses. Even if a small amount is raised, it will go a long way in supporting the cause of the Yezidis as these students are the brightest hope for the community, globally.
Helping the Yezidi students is one of the many projects YI is planning on undertaking, but we need your support
We all know how important education is. But for someone who escaped the hostile environment in Iraq and started studying in India, education is a lucky gift. Lets join hands and donate to help support the Yezidis students to continue their education. This will ensure a good earning, so that they in turn can support their families and community who are unfortunate victims of the genocide that happening with the Yezidis in Iraq.
SUPPORT GENERAL EDUCATION IN CAMPS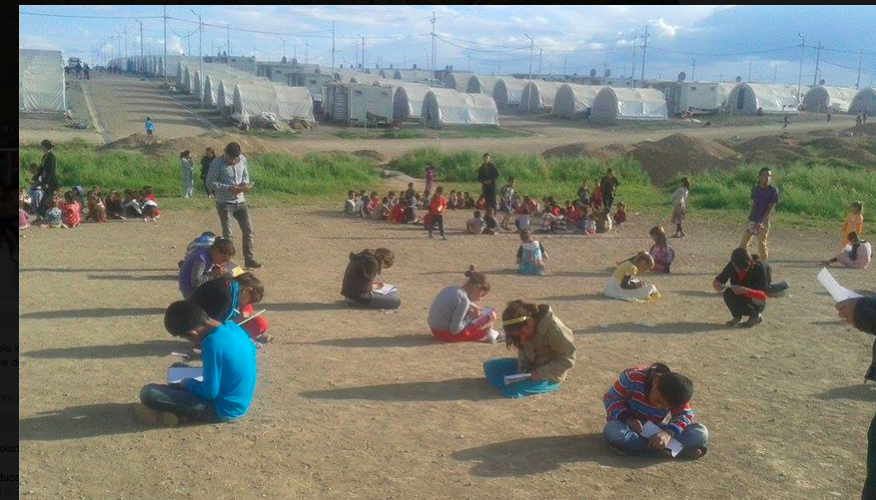 The kids in camps are consumed by the tragedy that took place in their homes. YI wants to help students to continue their education and provide them with a positive distraction from the dire situation they are in. For these young kids education is the answer to an empowered community.
PROVIDE HUMANITARIAN RELIEF AID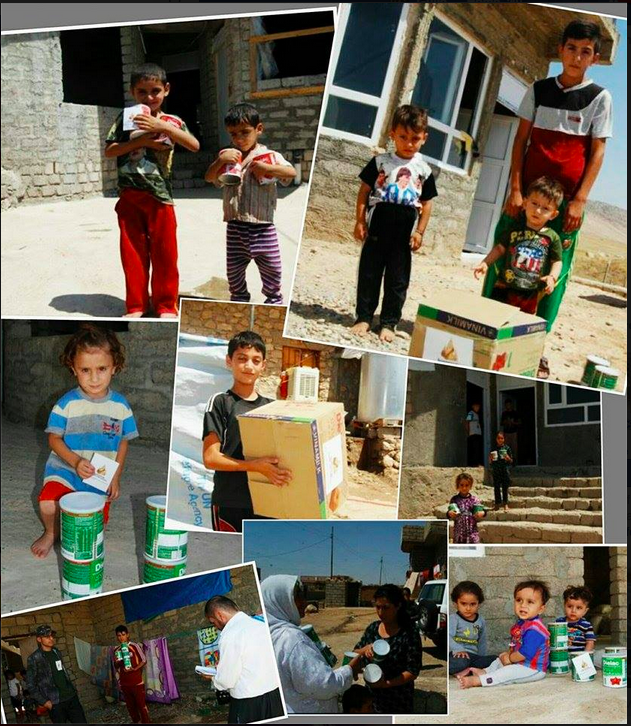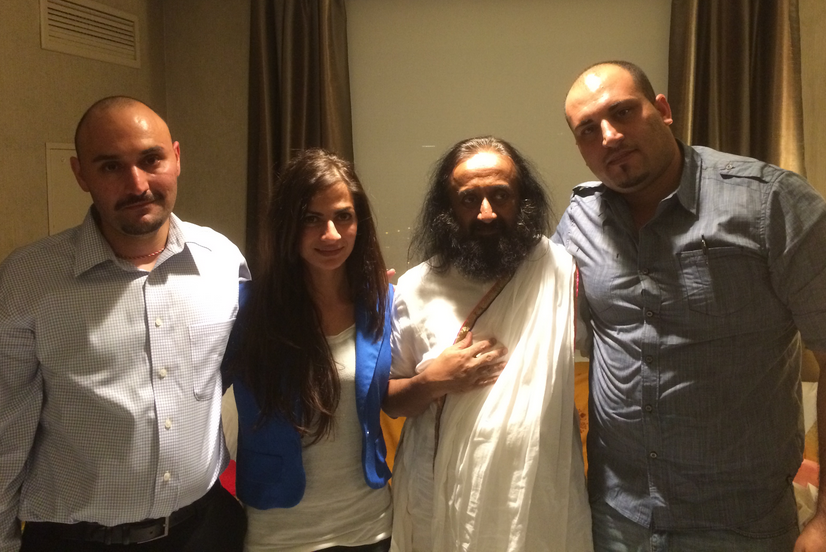 Shortly after YI members met with with Sri Sri Ravi Shanker, Founder of Art of Living and Spiritual from India,100 tons of relief material (Food, water, winter clothing and other supplies) was collected for Yazidi refugees by IAHV with help of international and local NGOs (NPA, POA, LDS Charities and Higher council for women).
Currently there is a shortage of basic necessities wherever Yezidis have taken up shelter.  Most of the displaced families have few  clothes, and are, in general, woefully unprepared to face the extreme weather whether its cold of winter or the heat of summer. There is also shortage of  basic needs such as food . The government is too occupied to be concerned with corruption that is going on of the aid already sent.
  MOVE PEOPLE AWAY FROM SCENE OF THEIR MASSACRE
When ISIS attacked Sinjar, within days, hundreds of thousands of Yezidi families became displaced and scattered over three different countries.  Those were the lucky ones.
 Nearly 6,000 women and children have been taken hostage where the women are used as sex slaves and children as jihadist.  Some were massacred immediately.
- in the Yezidi village of Kojo where the terrorist militia  massacred over 600 Yezidis and abduct 1,000 women and children a few days later.
-At 6 a.m., over 100 Yezidis in the village Til Ezer
  were massacred
- Hundreds of elderlies and children died on Mount Sinjar where Up to 60,000  Yezidis searched for protection in their. They  had to endure for days at temperatures above 45 ° C without water and food.
- It is estimated that over 5,000 Yezidis have been slaughtered so far. More than 10 mass graves have been discovered.
 EDUCATE THE PUBLIC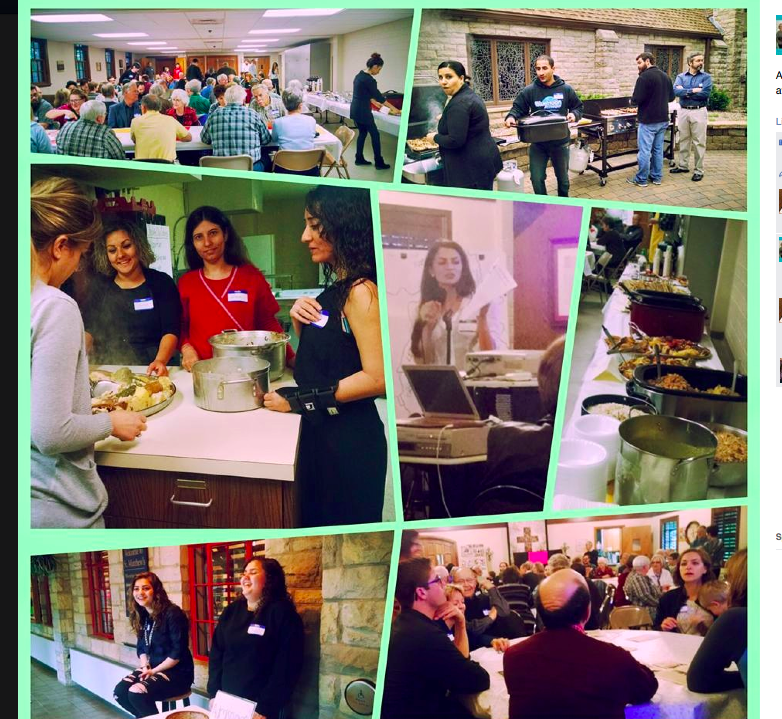 YI is also devoting time to raising awareness, educating the public, and preserving Yezidi faith.
Click here 
to see a partial list of Yezidis International's press and media appearances. We've been honored to speak throughout the globe through media to create awareness and stir American's hearts to action.
We have also spoken during events in six different countries and in different states in Canada, USA, and Sweden.
for more information and how to be further involved visit our website
http://www.yezidisinternational.org/volunteer/
Follow us on facebook or twitter
https://www.facebook.com/YezidisInternational?fref=ts
https://twitter.com/YezidisIntOrg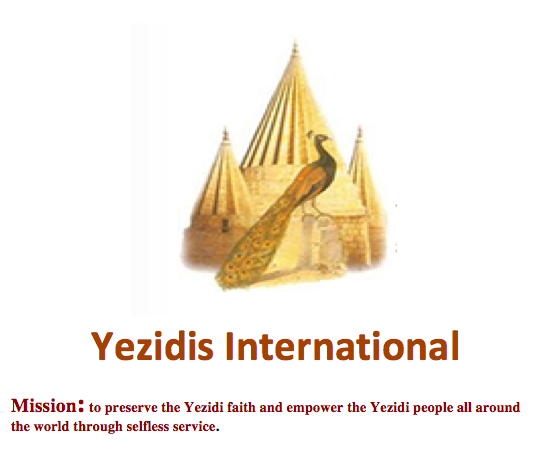 Yezidis International (YI) is a 501 (c) 3 organization headquartered in Lincoln, Nebraska. YI staff has partnered with other nonprofit organizations such as IAHV.
When donating, please note which of these projects you are donating toward.
Thank you for your support
Yezidis International