Let's Help Ron Beat Cancer Forever!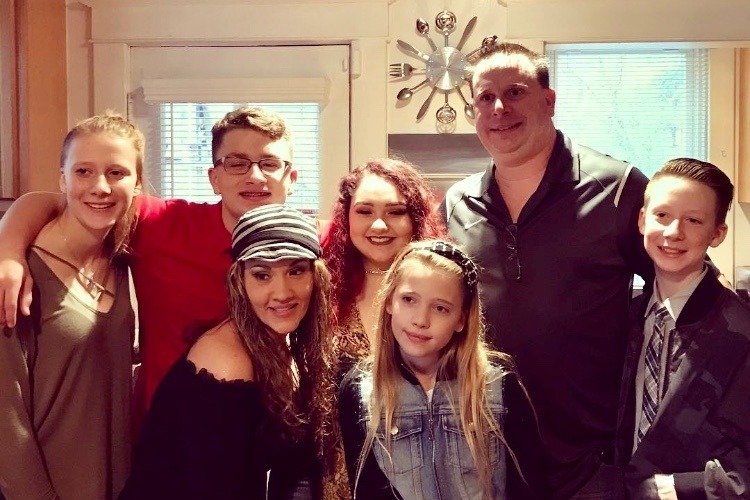 I think it's ironic that this main picture of Ron (Ronnie) Hall has a Superman logo on it because those that know him definitely can agree, he is one who can do just about anything he puts his mind to. I know we all believe that this battle of cancer will be no different.
Anyone that knows Ron would be as saddened and devastated by the shocking and sudden news that this family received on the day before Thanksgiving last year, 2017. Ron was diagnosed with a highly aggressive, rare form of metastatic germ-cell cancer. For family, especially his dear wife, Andrea, and his young children, the blow has been nothing short of heartbreaking & has had far-reaching effects.  
Ron has always been super creative, a talented entrepreneur and business owner from a young age. He has thrived in several varying business fields from sales of cellular, bailbonds, car unlocking services, cable, and most recently had built a new business with his wife in the field of auto repossession. All the while, he formed a huge family of friends, clients, relationships, and has made long-lasting connections with incredible people in Maryland, Kentucky, Georgia, and many other places. To those that know him well, Ron is a jokester, sometimes the life of the party, always there for his friends to lend a hand, a job, and more than anything....a smile or laugh. He lives in the moment, enjoying each day as it comes, and doesn't appear to be afraid of anything. He is a person that you just love being around, for his positivity, a shoulder to lean on, his vision, his energy, and definitely for a good laugh.
However, with this recent diagnosis, and a discouraging prognosis, he has become unable to work or continue operating his business. Most of all, he is unable to financially support his family, much less handle the immense amount of medical bills that continually pour in. All of his previous hard work, drive, and ambition are futile when the everyday reality of fighting cancer is at stake. 
Loved ones, friends, colleagues, acquaintances, and many more have reached out with concern, love, and support for this family. I, too, reached out, and on behalf of all of us who know and love Ron, are praying for his healing, and that want to make a difference in a dear friend's life, I started this campaign. I asked Andrea to share their story with me so I'll retell it to the best of my ability:
**Their story is a bit of a fairytale when you consider the chance meetings, how life takes you down different paths, and their eventual reunion. Ron Hall and Andrea Reeley met back around 1993 while attending Perry Hall High School.  He was a senior and she was a freshman. She initially was naive in regards to her feelings for him. They hung out with the same peers and had run-in's at the infamous bowling-alley frequently. During that time, Andrea would get butterflies whenever around him, but ignored the signs. Ron eventually graduated, and although both of them had gone their separate ways, they kept in contact occasionally, checking on one another and their kids and family. After more than 20 years later, a casual check-in and conversation led to Andrea revealing feelings for Ron she had held secretly back for over two decades! As she tells it, "That's when the Cinderella story began". They began a long-distance relationship for awhile until Andrea relocated back to Baltimore. By this time, they had grown to be soul-mates, building a business together, moving into a new home, blending their beautiful families together, and beginning a whole new life of hopes & dreams for their future. 
One day during the recent summer of 2017, Ron, who had been experiencing bouts of fatigue for a few months, began experiencing back pain. Doctors had started treatment for kidney stones unaware of what future scans would reveal. By September, Andrea admits that her hard-working husband could barely get out of bed. He had seen the doctor regularly and nothing had been revealed as of yet. In October, after some weight loss, some new tests revealed that he had an enlarged pelvic lymphnode. This led doctors to perform more testing. The day before Thanksgiving they received a call that would change their entire lives. Andrea shared that the doctor called and said, "Andrea I am so sorry to tell you this, but we have found several tumors in Ron's belly and they appear to be malignant". She went onto explain that the hurt, the disbelief, the chest pain was unbearable as her knight in shining armor was just diagnosed with cancer. Days literally seemed like weeks waiting for answers that would only reveal more disturbing news. 
Lastly, Andrea shared that it has been one trial after the next, being that she has been trying to care for and help her dad who has been in poor health also, and the news regarding Ron's health has continued to change daily in regards to the cause/origin of the cancer, rate of growth, the severity of the cancer, the treatment measures involved, unexpected surgeries, and the outlook at the difficult road ahead.**
The last thing that anyone facing a possible terminal illness should have to worry about is the stress of how will they pay for treatment, medical procedures, surgeries, tests, and how their wife and children will afford to live. I know it must be so very difficult for Ron, who has always been a driven hard-worker to have to lay it all down to focus on solely his health.  I also know we all would love to help ease the burden on them, and help take some pressure off of their family, especially his wife Andrea, who has had to take on so much due to his declining condition, to be the main caretaker, supporter, and has the weight of providing for the household, while trying to ensure Ron receives the best medical care possible. 
All of the responsibilities have fallen to Andrea as Ron fights to beat cancer for himself, his wife, and his five children who are of the ages: 21,17,15,12, and 11. Thinking of this family and their journey ahead breaks my heart, but trying to imagine what his wife and poor young children are going through is too much for any of us to envision.
The road ahead is scary. Ron is scheduled for months of hard-hitting chemo infusions, and a huge risky surgery in the weeks to come. The pain from the cancer alone has been unrelenting, and all that family & we friends can do is sit and pray that God works through this situation to bring healing, relief, and all the support that this family deserves. In a span of less than a couple months, Ron and Andrea's life have become a whirlwind of doctor appointments, scans, tests, biopsies, and fear and apprehension for the days to come. What a blessing it would be to present them with this extra help during their time of need.
I know that it is possible to make an impact in their life at this critical time. I am standing with all those that love this family, believe in miracles, hate cancer, and just want to make a difference. Please help us reach our goal to try and ease their financial burden over the next year of medical bills, relieve some stress/worry from Ron so he can focus on what matters—getting well, and free up more of his wife's time & energy so she can focus on him and family. This year, 2018, will prove to be their most difficult year yet, but I know we are able to offer hope, comfort, and support to them. Thank you!  #TeamHall #LetsHelpRonFight #HelpRonBeatCancerForever #PrayforRon
Please share this with all who want to bless this dear family, and that stand in support of all who are fighting this horrible disease.

Organizer
Hall Family & Friends Team