R Ruane and B Duquette Recording
Richard Ruane and Beth Duquette's new Recording - "Notch Road"
We are Richard Ruane and Beth Duquette and we are hoping you'll be part of finishing our new recording. It's called "Notch Road." It's our first recording since 2011 and our first as a duo.  
We've been involved in the Vermont music scene in for quite a while, performing as well as presenting shows of other artists, running sound for concerts and festivals, and publicizing shows. We've always split our time being on the stage with working behind the scenes. We love helping to sustain Vermont's vibrant and welcoming musical environment. For the last several years the balance tipped more towards presenting and helping other musicians find their audience. We're co-directors of the Ripton Community Coffee House, a twenty-three year old concert series held in Ripton's Community House.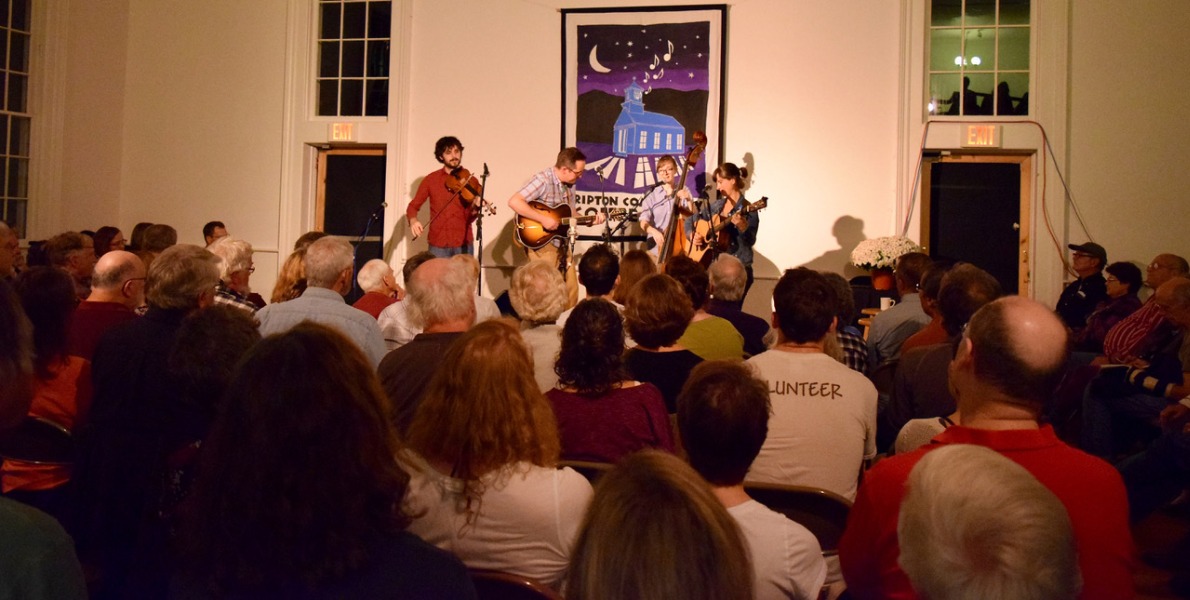 We're also deeply involved with the Middlebury Festival on the Green, a week-long series of concerts regularly chosen as one of Vermont's Top Ten Summer Events by the Vermont Chamber of Commerce. Richard is the current president of the festival and Beth chairs the programming committee.
Helping other musicians has always been important to us, but this time we need some help, too.
Vermont has played an essential part in our lives and our new recording has a number of songs with a strong sense of place. The bulk of the songs were inspired by places, people, and things in Vermont. There's one song based on a late-night walk on a street in Burlington, another inspired by a cabin on a road in Lincoln, Vermont, and even a song conceived of as an open mic performer's listing in the "I Spy" personal column from our weekly arts newspaper Seven Days. Still another song took its inspiration from a bus shelter on Hennepin Avenue in Minneapolis, and one more from a factory job Beth once had in Exeter, Rhode Island.
As performers we've had a long history in Vermont. When Richard first moved to Vermont he was part of the band Feast or Famine. They toured throughout the Northeast and Midwest and released the album "Brecon Beacon" on the Philo/Fretless label. After that, there was a stint with the world-beat band Sundog. Later Richard released a solo album, "Things That Strangers Say" and formed a band to support it called Richard Ruane and Friends, which included Beth. Beth had performed in a few other ensembles before that, including Womensing and the Michelle Fay Band. Richard Ruane and Friends soon turned into Bread and Bones, a trio of Richard and Beth with bassist Mitch Barron. We released two CDs, one of which was named Vermont Traditional Album of the Year by Vermont's Times-Argus newspaper.
Richard's songwriting has won awards from the Songwriters' Association of Washington's Mid-Atlantic Song Contest and the SolarFest Songwriter Showcase. He has also been a Kerrville New Folk finalist.
For this album we've recorded thirteen songs, eleven originals plus an arrangement/rewrite of the traditional Jazz standard "Saint James Infirmary" and an arrangement of "Harbor of Typee," a song attributed to the great Ewan MacColl.
We've been joined by ten wonderful musicians on this recording: Mitch Barron on bass and vocals; Matt Flinner on mandolin; Michael Chorney on electric guitar; Phil Henry on banjo and vocals; Allison Norton Henry on vocals; Patrick Fitzsimmons on percussion and vocals; Wendy Sassafras Ramsay on accordion, clarinet and vocals; Rick Wilson on electric bass; Alice Weston on tuba; and Stephen Rooney on trombone. It's exciting and heartening to have so many great musicians involved in our project.
Using our own equipment, we've almost finished the recording part of the project.  However we still have much work ahead. We need to go into a professional studio to mix the songs and then master the entire recording. We also need to get the cover designed and the CDs replicated. Finally, we need to roll out a publicity campaign.
We're looking at about $5,000 to finish it all up, but our resources are pretty much exhausted. We truly do appreciate any help you can give.
And we've come up with some interesting rewards.
What's our timeline?
Wednesday, February 21, 2018 - the official start of our GoFundMe campaign.
Friday, April 20, 2018  our pre-release items should become available. 
Friday, May 4, 2018 - our album's official release date. It's the day before our official release party/show at the Ripton Community Coffee House with our extended band.
Where will the funds go?
Mixing and mastering will be done with the amazing engineer Lane Gibson at Lane Gibson Recording and Mastering in Charlotte, Vermont. Lane Gibson has about the best ears in the state and beyond. He mixed and mastered the two Bread and Bones CDs.
Our album cover photograph was taken by Beth Duquette in October, 2016, on the Jerusalem Road in Bristol, Vermont. Even though we have a great photograph, we still need a professional designer to put everything where it should be, make it look good, and make it fit just right. Win Colwell did the design work on the two Bread and Bones CDs and is our go-to person for being sure things get done right.
We'll be making physical copies of the CD, getting download cards, and also making it available online from all your favorite download locations. The actual layout of the CD will be determined in part by our fund raising efforts. We haven't yet confirmed which manufacturer we're going to use.
We hope to have enough funds to hire a rep for CD distribution and promotion to Folk Radio DJs. 
If there are any funds left over they will be shared among the wonderful musicians who helped us on this project.
In addition to the rewards listed we are also selling off some of Richard's musical instruments. Visit our website,
www.richardruane.com
 to learn more about that. You can also go there to see videos of our music and learn more about all our recordings.

Organizer
Richard Ruane
Organizer
Ripton, VT