Help Lawrence Rebuild His Life After Being Conned
Here is a story of greed and heaviness that needs to be brought to light - I hope you will find it in your heart to join "Team Lawrence" and help him out.


Lawrence Mopsik is an elder autistic man who grew up in Broadmoor neighborhood. In 2015, his parents both passed away from illness and established a trust for him with their property and inheritance monies. The intention was for Lawrence to be set up for life, but the universe had other plans.
When I met Lawrence in 2017, he was disheveled, dirty, uncared for and always seemed really nervous. But he loved my animals and had a cat of his own, so we started talking. I cooked hearty meals, watched the Saints games, took him for outings, and picked him up groceries.
As his neighbor, I felt a duty to care for him - even though there was no way I could tell the depth of trouble he was in.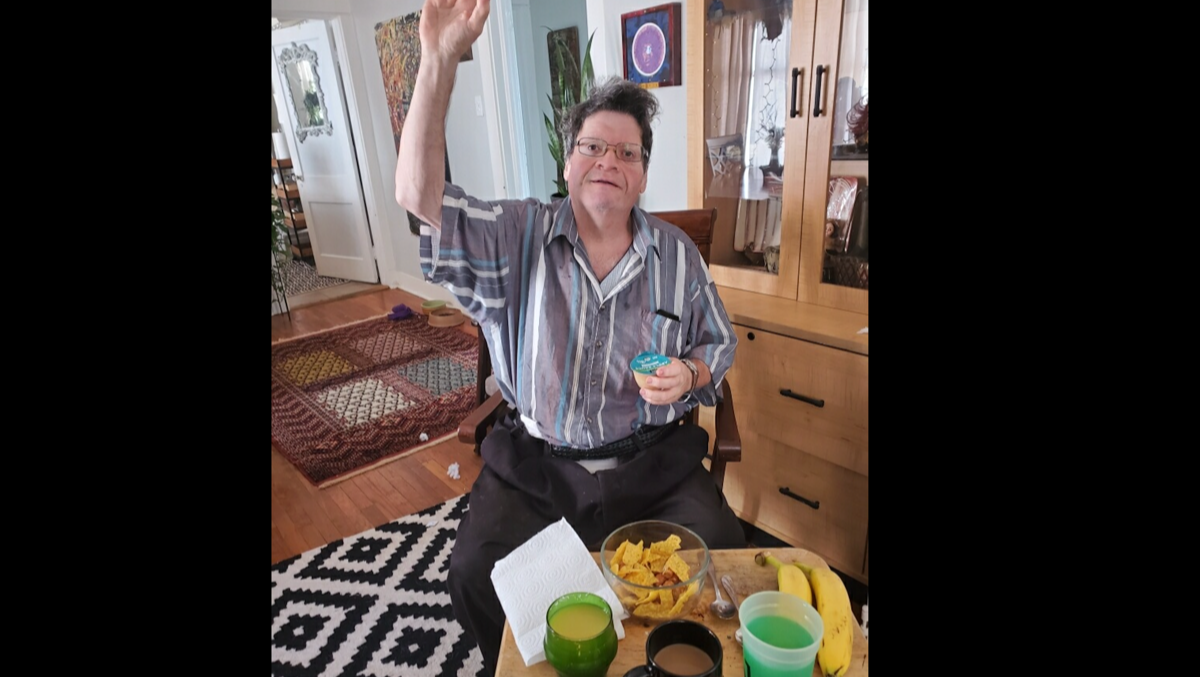 (Lawrence sometime in 2018, game day at my house and a healthy breakfast) 
From 2017 to 2019, my feelings about Lawrence grew from concern to alarm, but he wouldn't tell me what was going on. When I asked him who took care of him, he would abruptly end the conversation. In late 2019, I became more concerned as his mental and physical health went into major decline: he described how much trouble he was in, how his bank account was empty, and how there were "two lawyers fighting over him." 
With the help of some friends, I did research which confirmed my worst fears: 
(Kristina Sawicki Galjour, Jewel of the Nile for Krewe of Cleopatra – 2018 –  part of Lawrence's inheritance was used by Galjour to sponsor parade rides, throws, parties and purchase gifts for the krewe.) 
Kristina Sawicki Galjour was an employee of the Metairie law firm which dealt with Lawrence's parent's estate. She told Lawrence she was a lawyer and quickly befriended him.  Still deeply bereft from the loss of his parents, she promised she would take care of him. 
What Lawrence couldn't have known was that Ms. Galjour was a con artist who went under several aliases.  Galjour quickly established herself as Lawrence's power of attorney. Over time,
she conned him out of his entire inheritance (nearly $2 Million)
, coerced him to donate his grandparents' home to her for no money, created a $65K+ tax debt by taking large amounts from accounts, and got him into massive credit card debt. 
In 2019, Lawrence was so broken, to the point of having poor health, no food, backed up utility bills, and would express to me that he wished he wasn't alive. 
 (Lawrence Halloween 2019, prior to reporting the abuse.) 
Abusing Lawrence for years, Galjour spent Lawrence's money to fund lavish New Orleans parties, sponsor LSU (now pro) football player's families' entire travel budget for away games (reportedly, she hoped to become their sports agent when they went pro), vacations, membership dues for her friends to a Mardi Gras krewe, cars, dogs, artwork, and more. There was even a Jaguar in Lawrence's name (he doesn't drive). 
Galjour was flying in high New Orleans' wealthy social circles, spending money Lawrence's parents worked so hard to save for him
so he would be safe after they passed
.  Money he will NEVER get back from her.  For Lawrence though, every day became more devastating than the last.  He became isolated, withdrawn and more hopeless.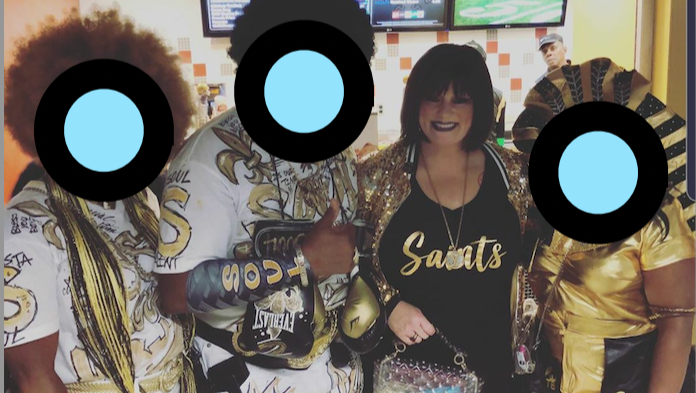 (lots of people benefitted from Lawrence's money without his or their knowledge.) 
With the help of friends, Lawrence summoned the courage to report the crime to JPSO in December 2019.  The incredible Detective Lexie Bradberry in the Economic Crime Division and the district attorney Meghan Carney really helped piece together this atrocious crime.  Shortly after, Galjour was arrested and charged. This represented a hard stop to the abuse. 
An Uphill Battle:
The complexity of this case coupled with COVID has been incredibly hard to navigate.  COVID itself caused a massive delay in the court system.  However, as Lawrence's friend and care giver, I am happy to report that we have made significant progress. Lawrence's mental and physical health has improved greatly over the time since we freed him from Galjour. 
On November 15, 2021, Kristina plead guilty to theft of over $25K
a deal that reduced the suggested sentence. She is sentenced to 20 years and ordered to pay $1.3M in restitution to Lawrence.  While that sounds like justice, Kristina spent the entirety of Lawrence's money – therefore to get restitution, small amounts will be garnished from her paycheck when she is free and gainfully employed.  Lawrence was in such bad condition, and Galjour was showing no sign of stopping her abuse -
I cringe to think what would have happened had we not put this together in time.
I am putting the call out for good people to join together and help stabilize Lawrence. Help him replace some of what was taken from him and give him faith in people again. 
(Lawrence now has a Special Needs Trust - to protect any assets he might recover from going into the wrong hands again.  Proceeds from this GoFundMe will go into this trust account and only be used for Lawrence's benefit.  The account is at Gulf Coast Bank.) 
Please consider giving below and sharing this campaign to support Lawrence. For those of you reading this who knew Galjour - between 2015 and 2019, if you attended one of Kristina's parties, she bought you a gift, or otherwise treated you - it was most likely with Lawrence's money. Please help pay it back and forward if you can - Lawrence needs our help. 
All funds donated through this Go Fund Me will go into his Special Needs Trust bank account. Here are some of the things a fund can do for Lawrence:
-  
pay his property taxes off
at his family home (where he has lived since the age of 13). They will be 3 years overdue in February.
-  Purchase
new clothes
for him
-  
Fix his fence
which was badly damaged during the hurricane and accomplish outstanding
home repairs
-  Purchase
diabetic friendly food
beyond his SNAP allocation ($250/month) 
-  Engage someone to care for his
lawn
. Right now our incredibly kind and amazing neighbor does it at no cost.
-  Take his beloved
pet to the veterinarian
for a wellness check, feed and support it
-  Pay the
unmet need on his utility bills
which exceed the stipend given to him by a support agency (energy bills and sewage and water board bills are extraordinarily high right now)
-  Engage a
certified music or art therapist
who can help Lawrence process his trauma and the grief from losing his parents through nonverbal therapy modalities
-  
Engage an estate sale company
to help organize Lawrence's home and liquidate the evidence he will receive back from the Galjour trial (her lavish purchases need to be sold so Lawrence can keep his house) and Lawrence has beautiful vintage Mardi Gras collectables going back to the 1960s.
-  
Treat him to the occasional meal
at a local BBQ joint
-  Keep up with the ongoing costs of care giving 
I also have this
target wishlist
full of household & pet items that aren't covered by foodstamps – he has lots of unmet needs and there are so many ways to be involved:
https://www.target.com/gift-registry/gift/lawrencemopsik
NEXT STEPS:
We are working on a long-term sustainability plan for Lawrence that will give him a new and happier life. With the time it has taken for the courts and the amount of shame he feels from his victimhood, we are going very slow.  
With the help of incredible lawyers (shoutout Rick and George!!!) we are attempting to overturn the donation of his grandparents' home and the malpractice lawsuit against the lawfirm which employed her is now in appeals.  An angel is now engaged to help resolve Lawrence's tax issues, and some incredibly kind neighbors are pitching in to help pick up the pieces. Lawrence has great caretakers, friends, and developmental disability programs who are looking out for him. He has no immediate relatives that have helped. 
I know this all seems like something you only see on TV, and sometimes I wonder how I got myself in the middle of this.  The only explanation I have is that I saw something bad happening to my neighbor and I committed to doing the right thing – and it has taken a lot of effort, but with her guilty verdict at least Lawrence no longer thinks that people believe her over him.  This validation is so important to begin the healing process. 
I'm confident that Lawrence's life will get better and we can open a new chapter.  Although the judge has ordered restitution, the reality is that Lawrence's money has been spent, Kristina is going to prison, and we may or may not succeed in our civil pursuit.  It may be hard for Lawrence to ever be restored. We just have to manage expectations and be grateful for each day.  My mantra is:  "the only way out is always through" and all I can say is that we haven't stopped hoping for a positive outcome and surrounding ourselves with helpers– now we just need to ask others to join the team. 
Thank you for your time, your prayers and your love.  I hope you will pass this GoFundMe on and consider contributing.
Erica 
P.s. I've shared a few images of Lawrence and Kristina throughout this story, but also thought you'd like to see the original NOLA.COM article.
https://www.nola.com/news/crime_police/article_a20e70e6-1d3a-11ea-a08a-6b639d8110e9.html
(Lawrence on his first trip into the courthouse, 2020, to try to begin to fight for his life back.)
(Me and Lawrence waiting at the court house.  I'm so grateful for the opportunity to serve my neighbor like this - and for all of the blessings we've received so far. Please send energy and luck for this continued journey, and for Lawrence to have a stable, happy life in the future!!!)
Organizer
Erica Dudas
Organizer
New Orleans, LA