Help little Ava get healthy
Our daughter, Ava Wade, is a four-month-old infant and the love of our lives. In August 2014, Ava became very sick. She was not acting like the happy, smiling, energetic baby that we knew. She could not keep down fluids and became very dehydrated. She was lethargic and would not smile or respond to our attempts to get her to react to us. She was rushed to the local hospital for observation.
She was not responding and her symptoms worsened. At this point, our world turned upside-down. A CT scan showed that Ava had a cerebral hemorrhage. There was blood in her brain and Ava was in critical condition. The doctor ordered a helicopter to transport Ava to the Pediatric ICU at WakeMed hospital. We weren't allowed to ride in the helicopter. We felt awful leaving Ava to ride in the helicopter without us, but she was in good hands with the medical team. Brian and I hurried to Raleigh in our car as soon as the helicopter took off. Family members came in from SC and NJ to support us through this scary time. Ava was admitted into the PICU and children's hospital and we didn't leave her side.
She underwent a large number of tests and evaluations in order to investigate the cause of this subdural hematoma. Watching a child so small go through all of these tests is heartbreaking. She was so dehydrated that it was extremely difficult for the staff at both hospitals to draw blood or put in an IV catheter. Daily, the poor baby had so many needles stuck into her arms, hands, and legs. It was traumatizing. A few of the tests included a 24-hour monitor for seizures, full skeletal X-Ray, Upper GI, Venogram, MRI, Ophthalmic exam, and blood tests. When Ava was stable enough to be discharged from the hospital, we still didn't have any conclusive answers on why there was blood in her brain, how it got there, and what it means for the future.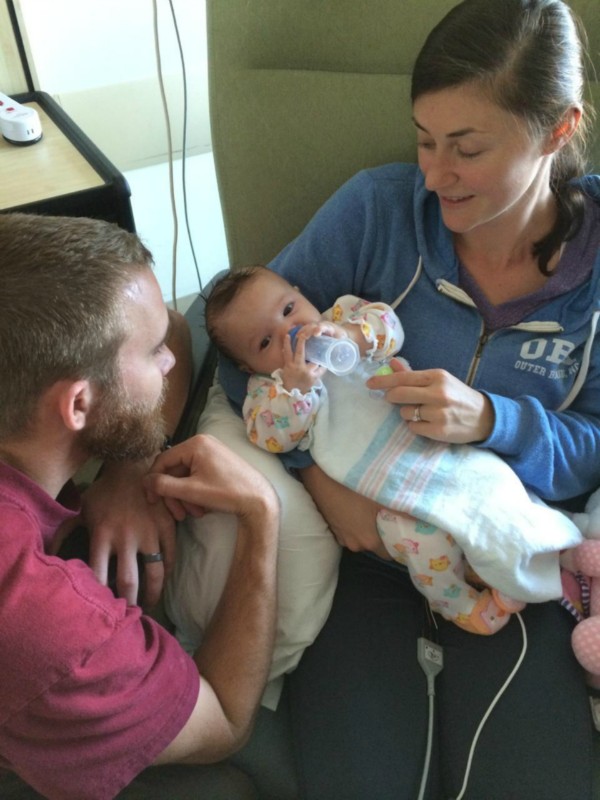 Since we left the hospital, Ava has regular weekly appointments with various specialists at Duke Children's hospital and in Raleigh, NC. Her team of specialists includes neurology, neurosurgery, hematology, genetics, general pediatrics, and an additional team at a separate Duke children's clinic. At every appointment, the nurse measure's Ava's head to make sure it is not swelling. At her last pediatric appointment, her head circumference had measured larger than would be expected in a week's time. The neurosurgeon ordered a CT scan and the results indicated that the blood was healing, but there is more fluid in her brain than in August. He moved her follow-up MRI from November to October. In the meantime, we measure Ava's head every day at home and we take her to the local pediatrician regularly to have her head measured. We watch Ava very closely every day. We have to check the soft spot on her head to look for swelling and watch for any increased fussiness, vomiting, or lethargic behavior. It's really scary and overwhelming to be on such close watch for any signs or symptoms. At this point, the doctor's are still unable to tell us why this bleeding occurred. In addition to the various scans and X-Rays, there have been both metabolic and blood disorder tests ordered. We have appointments scheduled through March at this point. We are exploring every avenue possible and waiting on results. Ava requires such close watch,that I had to leave my job in order to give her the best possible care. Brian continues to work at Fort Bragg as a government contractor. It's a blessing that we live so close to some of the best children's hospitals in the country. We've been able to get Ava in to see all of the specialists very quickly because I'm staying home with her. When scheduling appointments, we are able to take whatever openings they have available. When we are not going to doctor's appointments, I am making phone calls at home to make sure that all of the specialists are receiving the various tests results and to consult with them in order to hear all the different opinions of each doctor.
Ava is such a brave little baby. She has been through more than she should have at such a young age. Since coming home from the hospital, she has started to act more like herself. It's been about a month now and her appetite has returned and her activity level has increased. Her first tooth is coming in and she's started to try solid food. She smiles and has even started to laugh. The continuous medical appointments are exhausting for her, but we make sure that she gets good rest and a lot of cuddles throughout the whole process. The medical bills are overwhelming, but we will do everything in our power to keep fighting for her to have the best specialists in order to figure out what caused the injury and to ensure that Ava gets whatever treatment is needed in order to regain full health. We have a long road ahead of us, but we remain hopeful.
When budgeting for healthcare before Ava was born, the additional monthly premium cost to cover Ava under our work insurance was very high. We went with a basic private healthcare plan that had a lower monthly premium. We never anticipated that Ava would have these serious medical issues. Although we do have health insurance for Ava, the deductible, co-insurances, out-of-pocket maximum and additional travel costs incurred to seek ongoing medical care are all very expensive. Unfortunately, in January 2015, the insurance will reset and we will begin to pay the deductible, co-insurances and out-of-pocket all over again. These mounting expenses are the struggle we face, especially as a single income family.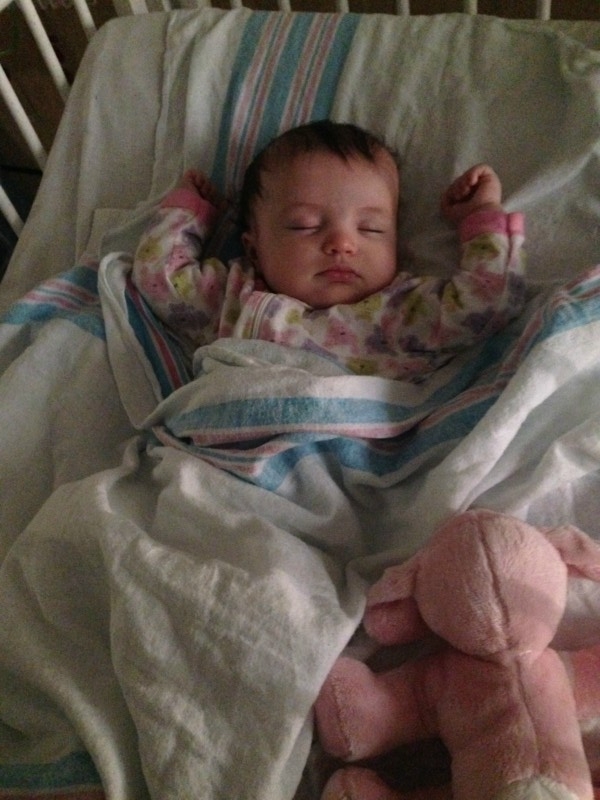 John, Sue, Mike & Kevin Keenan 
Organizer
#1 fundraising platform

More people start fundraisers on GoFundMe than on any other platform. Learn more

GoFundMe Guarantee

In the rare case something isn't right, we will work with you to determine if misuse occurred. Learn more

Expert advice, 24/7

Contact us with your questions and we'll answer, day or night. Learn more