My name is Edward but everybody calls me Mariano, which is my middle name. I'm 19 years old, from Caracas, Venezuela, and I moved to New York in November of 2014 after graduating from high school. I always dreamed about studying music at
Berklee College of Music
, despite the fact that my family didn't have the means. However, after becoming the victim of an armed robbery in front of my house, where I was kicked multiple times and almost got killed, my parents and I realized how critical the situation in our country was. A few days after that horrifying and disruptive experience, my parents pushed me to leave Venezuela for my own safety. With the little savings they had, they bought me a ticket to New York. On one hand, it was an opportunity for me to follow my dreams and pursue my musical career in the United States, even though we didn't know how we were going to afford it. On the other hand, as an only child and having such a wonderful and close relationship with my mom and dad, it was very painful to think about leaving them. Although the decision to leave my home country was heartbreakingly difficult, I left with the emotional support of my family, mentors and friends.
Once in New York, I was given a scholarship to join the performing arts program at The Boys and Girls Harbor, a nonprofit conservatory in Upper Manhattan. The program there has allowed me to take piano, percussion and voice lessons, as well as a variety of ensembles. The relationships I formed with the teachers and students there have been invaluable to me, and gave me so much strength as I began the next steps of my journey. While attending The Harbor, I was encouraged by my piano teacher to apply for a scholarship to attend the Five Week Summer Performance Program at Berklee. Upon doing so, I was accepted.
During the Five Week program, I was able to audition for scholarship for the
undergraduate program
. Satisfyingly, I was accepted and granted a $20,000 annual scholarship, which is half of the annual tuition, to start in May of this year. I owe so much of my musical development to the National System of Youth and Children's Orchestras of Venezuela, also known as "El Sistema" in Spanish. From a young age the program taught me the benefits of discipline and collaborative work, and it was during these years that I began to dream bigger and bigger about my musical future.
I'm so grateful for the generosity of the school and the faith that they've put in me, but there is still one thing standing in the way of me taking this huge next step. I need $25,000 to complete the first year, because I'm confident that with hard work, dedication and commitment I will be able to increase my scholarship award. This is why I'm asking for your support. I've had this dream for too long to give up now. Thank you for your time and for giving me a chance to achieve my full potential as a musician.
Mariano Escalona
Decision Letter: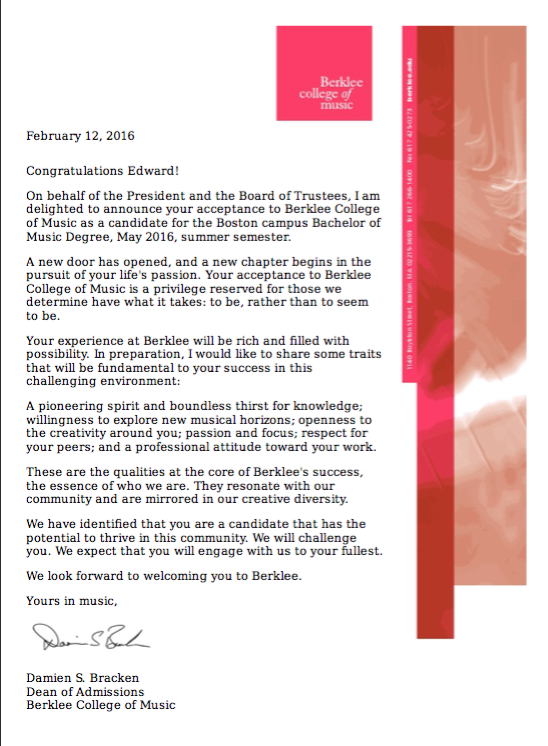 Scholarship Letter:
Facebook:
https://www.facebook.com/mariano.escalona7
Instagram:
https://www.instagram.com/marianodrums7/
Youtube Channel: 
https://www.youtube.com/channel/UCSr6GXvboOOl4oXphlg1AnA
Organizer and beneficiary