Help Us Connect People to Play Perform Learn Grow
In April 2018 we organized the first Play, Perform, Learn, Grow (PPLG) conference in Thessaloniki, Greece to build new communities in response to the dehumanizing conditions of the refugee camps (learn more in the section "What inspired PPLG?" below).

The first PPLG brought together 130 people from 30 countries, mostly but not exclusively from Europe, who are using play and performance to engage social issues, heal trauma, stimulate imagination and possibility, generate community, and create new possibilities. 

Video: A glimpse of PPLG 2018.
 
Today people from diverse cultures, histories, backgrounds, religions and ideologies are living together in Europe. How do we respond—creatively, collaboratively, playfully, performatorily—to this diversity and to the many other concerns arising in this historical moment? How do we go beyond analysis, critique, and advocacy to collectively (re)creating our daily lives, our relationships, and our pedagogical, educational and political assumptions and practices?

Responding to the success of the first PPLG, and the challenges we are currently facing in the world, we are now organizing "Play, Perform, Learn, Grow 2019: Bridging Communities, Practices and the World" to find and bring together creative changemakers - educators and researchers, psychologists and therapists, social and youth workers, medical doctors, artists, activists and community organizers - refugees, migrants and locals – and anyone (you?) who, at this historical crossroads, are seeking new - and often creative/playful/performatory - ways to address the pain and alienation of our times, build bridges, and re-create our lives, our communities, and the world.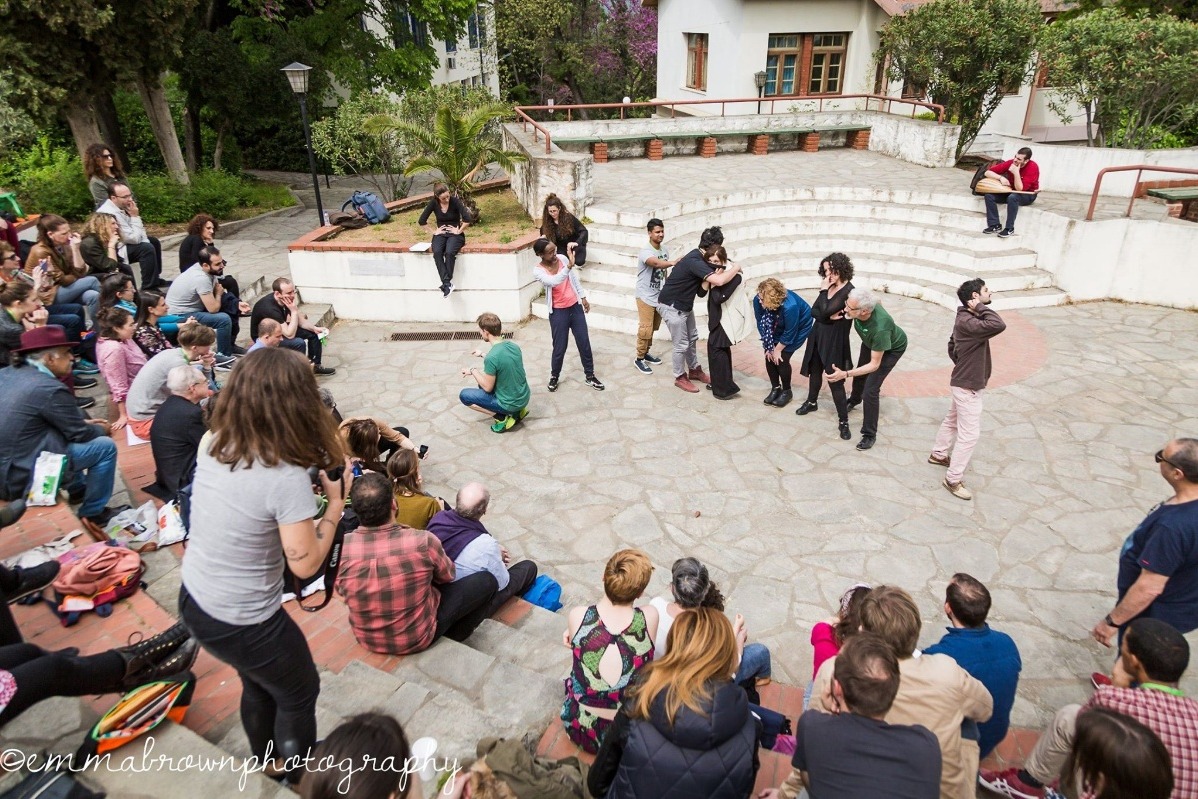 So far, we have received 150 proposals by 190 presenters from more than 30 countries who all want to share their work at PPLG 2019, setting the stage for a creative, diverse and powerful conference. We will continue the outreach in the months leading up to the conference and we expect at around 300 people to attend the conference, more than doubling the size and impact of PPLG compared to last year! PPLG continues to be a grassroots effort produced by and for our emerging community and it is fueled by the discovery that we can and must create new opportunities to play, share, and connect with each other and our humanity in response to dehumanizing conditions, pain and alienation. 




We want PPLG to be radically inclusive - to make it possible for people from very different disciplines, countries and circumstances to meet and this is where we need your help!

We've made the conference low-budget and volunteer-driven - but people still need to get here! We have already received several applications for scholarships from powerful changemakers, and for each €300 we raise, we will be able to cover the participation costs, the flight tickets and the accommodation for 1 more person to boost their work, build new communities and help people grow in the midst of crisis! Your donation of €5, €25, €50, €100 or more will go towards these scholarships. It will not only make a huge difference for these people, but also impact everybody they present their work to and everybody they work with after the conference. Any donation - small or large - will help people who are working in the midst of crisis to connect with each other and discover the power of community, creativity and performance for recreating the world. 

Will you join us in building a community of hope?
Then click here to give your support of €5, €25, €50, €100 or more!  (Remember: Any donation helps)

If you want to know more, check out the following sections below:
1) What Else Can You Do to Help Us?
2) What Happens at PPLG?
3) Why Donate? The Impact of PPLG and Your Donation
4) What is New Compared to the First PPLG Conference?
5) What inspired PPLG?
6) Who is organizing PPLG?

Performatorily yours,
Elena, Francesco, Eleni, and Esben
(on behalf of the PPLG 2019 International Organizing Team)
===============================================
1) WHAT ELSE CAN YOU DO TO HELP US?
===============================================

1) Come! Go to www.PPLG.org  to learn more and register for the conference. If you care about play, development, community building and/or social change, this conference is for you!

2) Talk to people: Reach out personally to people (friends, family, colleagues, inspirators) in your community and tell them about PPLG. Invite them to donate and attend the conference with you! You can use this email template if that makes it easier.

3) Spread the word on social media:
           a) Like our facebook page  and meet the powerful community activists who are creating change in Europe and beyond in our featured posts!
           b) Invite your friends to join the page.
           c) Share this fundraiser on your social media (just click on the sharing tools at the bottom of this page). Remember to write why you think people should support PPLG.
           d) Make your own posts about PPLG and why you think it's important. To get more views you can use the hashtags #PPLG2019 or #PPLGcommunity.

Questions or comments? Please contact us via this page and our fundraising team led by our Director of Fundraising, Esben Wilstrup, will be happy to respond ;o)

Remember to SHARE! Click on the tools below to share the fundraiser on Facebook, on Twitter, and via Email to people in your community who want to make a difference. We can only do this with your help!

===============================================
2) WHAT HAPPENS AT PPLG?
===============================================

PPLG is a wonderful creative melting pot of performances, workshops, conversations and community. Among the invited presenters and performers this year will be Dr. Lois Holzman, the co-founder and chair of the Performing the World conferences, which inspired the launching of Play, Perform, Learn, Grow. Together with Fred Newman, she also co-founded the East Side Institute, the international home of performance activism and social therapeutics. There will be also the renowned community theater director, David Diamond, founder of Theatre for Living, who will create a 'Power Play' premiering at the conference.  Check out all the amazing offerings in the program here!

Also to give you  sense of what it might look like, here is a few of the highlights of last year's conference:



- The initiator of PPLG, Elena Boukouvala, led a plenary conversation, Creating New Performances with the Refugee Crisis, which featured a panel of community organizers and artists: Ahmed Ghadab from Syria; Morteza Jaari from Iran; Shoaib Shaeik from Pakistan via Afghanistan; and Mohamed Sulaiman Labat from Western Sahara – sharing powerful lives and stories.
- Later on, Morteza showed his film Dreaming of Life - an intense documentary on the refugee crisis; and Saturday evening featured a powerful dance piece called Acts From the Desert, performed by Smail Kanouté, sharing his father's journey from Mali across the Sahara and the Mediterranean to France which received a long standing ovation from the audience. All of this was only possible because people like you decided to donate, so that we could pay for the travel, participation and housing of these amazing people.
- Most of the presentations at PPLG are experiential workshops where participants can explore practices from many different disciplines including movement/dance; political theater and theater created with the community; clowning; 'how to earn money doing what's needed'; 'self-care for activists'; 'collaborative research', 'improvising with(in) the school system'; new forms of relational therapy; 'human rights through art' and much more (Click here to see all the presentations at the first PPLG conference ). 
- The ending of the conference was a powerful performance in itself as Mohamed led us in a Western Saharan tea ceremony, which transitioned into a choir concert; a playback theater performance; a reading of poetry created by participants at the conference; a dance performance; and culminated with the entire conference improvising frozen images to reflect/continue their experience of building the PPLG conference/community together in an open-air amphitheater.

Some of the most powerful presenters at PPLG 2018 were only able to come because of the generous support of people like you who decided to support our scholarship fund.

Click here to donate and make it possible for more creative changemakers to come to PPLG 2019! 



===============================================
3) WHY DONATE? The Impact of PPLG and Your Donation
===============================================

PPLG 2018 ignited among its participants and their communities a collective movement, nourishing homegrown initiatives and creating new spaces of belonging across borders and cultures. It was a unique opportunity for practitioners, scholars and activists from 30 countries to share and develop their work in order to create something new together.  Taken together, the participants have impacted hundreds of people all over the world, and new international partnerships and practices have emerged as a direct effect of PPLG, like the French director of Acts from the Desert, Bruno Freysinet, who met Myrto-Helena Pertsinidi from Jugend- & Kulturprojekt, Germany, and engaged in a big arts project together sponsored by Creative Europe. 



For 2019 we will double the size and impact of the conference. And there is more: Our plan is to make PPLG a regularly scheduled mobile conference that will travel around Europe in the years to come. Each time PPLG will be created anew to respond to the local contexts and create opportunities for new leaders and new communities to emerge. We are already scouting locations for future PPLGs. Just imagine what we can create together! 

Now, the question is: Can we make PPLG sustainable so that the conference in the coming years can continue to connect and support people to develop and connect their communities and the world? We need your help to do so!

Your donation will allow powerful changemakers to participate at the PPLG conference; it will impact the people they present their work to and everybody they work with after the conference; and it will help us build the PPLG conferences in the years to come. Remember: Any donation - small or large - will help activists who are working in the midst of crisis to connect with each other and discover the power of community, creativity and performance for recreating the world. 

Click here to join us in building a community of hope! 


===============================================
4) WHAT IS NEW COMPARED TO THE FIRST CONFERENCE?
===============================================



Back in 2017/2018 we were just a handful of people organizing, doing outreach, fundraising, production etc, and still the first conference became a huge success. Now we have a more experienced leadership team, an international organizing team, a strong local production team, good local connections, and an international event producer, so that we can build a PPLG conference that has an even greater and lasting impact both globally and locally. 


=============================================== 
5) WHAT INSPIRED PPLG? 
===============================================

In 2016 'Play is Hope' was created by Elena Boukouvala. Play is Hope organized psychosocial support activities, multicultural events, online performance events and a series of poetry and art exhibitions that travelled across Europe.



In March 2017 two young people committed suicide in the camps of Greece. Four people from Greece and Syria that were all community organizers and met in the refugee camp in Thessaloniki had one of their regular video call meetings. They said to each other that they lost hope and that as painful as what happened was, it was important to focus on the people who were still alive and do something together with them. One of the Syrian organizers that had recently relocated from Greece said that he would come back to the Greek camps to help, and asked the group to reach out to our international community for them to join us. Elena invited the international community that has been supporting Play is Hope and others to gather in Thessaloniki and create together the beginnings of what became PPLG.

In November 2017, 40 community organizers, scientists, academics, artists and therapists from more than 20 countries responded to the invitation to come together in Thessaloniki and invest their time, skills and money to develop the PPLG conference and community (see picture below).



And then, the dream came true: On April 13-15, 2018, 130 changemakers from 30 countries came together in Thessaloniki, Greece for Play, Perform, Learn, Grow (PPLG): Exploring Creative Community Practices. Thanks to our international organizing team, the wonderful presenters and participants, and our generous donors we were able to make PPLG happen.



PPLG has also been inspired by and builds with the history of the conference Performing the World (PTW) , which since 2001 has been a biannual gathering in New York of performance activists and scholars from around the world.

Will you help us make PPLG happen again? Remember: Any donation - small or large - will help activists who are working in the midst of crisis to connect with each other and discover the power of community, creativity and performance for recreating the world. 

Click here to join us in building a community of hope! 


===============================================   
5) WHO IS ORGANIZING PPLG?
===============================================   

Play, Perform, Learn, Grow (PPLG) 2019 is organized by an international group of performance and scholar activists in collaboration with the East Side Institute , the Aristotle University of Thessaloniki , Lesvos Open Solidarity Refugee Camp , and the Epineio Institute . 




A snapshot from one of the meetings of the PPLG2019 International Organizing Committee:


Make a donation

Fundraising team (8)
Esben Wilstrup
Organizer
Milan, Metropolitan City of Milan
Francesco Argenio Benaroio
Beneficiary
Elena Dina Boukouvala
Team member
See all