Chicha's 2nd Chance At College
My name is Chicha Romain. I am 18 years old. I graduated from Medgar Evers Prep. , a NYC public school in June 2020. I worked hard - so that, as a young black man - I could have the chance to go to college and make something of myself.
During high school, I was accepted to the Upward Bound college program at Pace University, and admitted to the Arthur Ashe Academy at Downstate Medical Center. I took seven AP classes and the SAT test, and got a score of 1330. All the signs for me were green for go. I was going to college! It was on my horizon – or, so I thought.
COVID/Foreclosure
But, my life changed in the spring of 2020, in the early days of the pandemic.
An aunt and her extended family, who were living with my grandmother, decided that they couldn't take care of her anymore. My grandmother suffers from dementia and sciatica – and, now was living - alone.
(My Grandmother as she is today 2021)
So, my mom (a nurse and a single parent) made the hard choice. She moved us out of Brooklyn to Far Rockaway, Queens to be the sole financial and emotional support for my grandmother - a decision that changed my life. It was not easy to suddenly move in with my
grandmother. The house was covered in trash – it was so bad, my mom even had to rent a dumpster.

(Me, after a hard day's work cleaning up at my grandmother's house)
(My mom cleaning up the yard)

My grandmother had been getting more and more confused. After we moved in, we found out that the bank had begun the process of foreclosure. That, and piles of unopened bills on the kitchen counter dealt a heavy blow to my mom's ever shrinking pocket-book. The money my mom had saved for college (for me), had to be used instead as emergency funds to pay the overdue mortgage (plus interest and penalties) to the bank.
All of a sudden, my college plans ground to a halt. College, might not be on my horizon, after all. But, I wouldn't give up. I kept in regular contact with my college counselor. But, because of the pandemic, grants and scholarships became harder to win.
My mom's finances were tapped out. So, when my high school classmates started college - I didn't .  I told my friends, (and myself ) that I
was taking a "Gap Year." That's when I made a decision. I would go and get a job – any job. I quickly found out, with only a high school
degree, how hard it is to get a steady job. The first job I got was selling knives online for Cutco. Most people didn't buy the knives, (they're expensive) but, if they watched a video, I got paid. I actually ended up selling some knives, too.
Yet, I couldn't stop thinking about college, (where I wanted to be ).  I enrolled in an online course that looked interesting, Introduction to
Philosophy. I didn't even know I would like philosophy. The course gave me something else to think about besides our financial woes. 

And, I  earned an A.
I proved to myself that I could do it; I belonged in college.

And, I fell in love with philosophy. (lol )
Hurricane Isaias
Earning an A, gave me hope. Working for Cutco allowed me to save enough money to pay for one college course while helping my mother out. The people who bought the knives, did more for me than they will ever know; I will always appreciate them for it.
Unfortunately, Hurricane Isaias destroyed my online sales business by wiping out the internet in the Rockaways, cutting off power to my grandmother's house for three weeks , and Cutco had to let me go.
(Tree and power line that went down in front of my neighbors house)
(https://abc7ny.com/tropical-storm-damage-tornado-video-tropica-isaias-nyc-hurricane-track/6345637/).
An older cousin set-up a job interview for me. If, I got the job, I would be helping individuals with intellectual disabilities in group homes
 around New York City – (during the pandemic). I got hired part-time and still function as an on-call direct support personnel.
(My first day of work)
My job is to help the intellectually disabled live a fulfilling life within their own limits. Depending on their level of independence, I may
bathe them, help them eat, or even help them use the bathroom. I like it better than selling knives – because I get to really help someone.
(Breathing life into my grandmothers home)
Thankfully, my grandmother's house was pulled out of foreclosure; We've planted flowers around my the house to bring it back to life, but my mom is still paying $1600 a month toward what's left of my grandmother's mortgage - $132,000.
Expected Family Contribution
I still can't save enough to afford the Expected Family Contribution (EFC).
https://www.thebalance.com/what-is-the-expected-family-contribution-795100
Most people don't' know about the EFC (the required fee to pay for college based on income tax) until they have to fill out the FAFSA (Free Application for Student Aid). I learned about the EFC when I started Upward Bound, so my mom put money aside, but stopping the foreclosure in 2020 – the same year I was supposed to go to college - wiped my mom's savings out.
I am proud of my mom. And, together, we saved the house and my grandmother. I'd do it all over again because this experience has changed me – for the better – it's made me more grateful for what I already have, and made me a stronger person.
(My mom and me in 2019)
Taking that college philosophy class made me realize that I'd be a good college student, too. But still, I began to wonder, was I ever going to get the chance to prove what I could do in college? I began to doubt it. My "Gap Year" was turning into Gap Years.
But then, I got – A Second Chance. My Upward Bound college counselor nominated me for a scholarship:
And, I won!
The Community Partnership Scholarship
St. Michael's College in Colchester, Vermont. (pictured below) smcvt.edu
The St. Mike's scholarship helps a lot, but it's not a full scholarship. I'm taking student loans; so by law, St. Mike's isn't allowed to cover my
EFC $. Going to college, these days, is complicated! The fundraising goal of $31, 128 is toward all four years of college. 
If I ask my mom, (who is still paying off her own student loans) for The Expected Family Contribution $, I know, she'd sink into more debt,
and risk losing the only home we have left. And then, what would my grandmother do; what would we all do?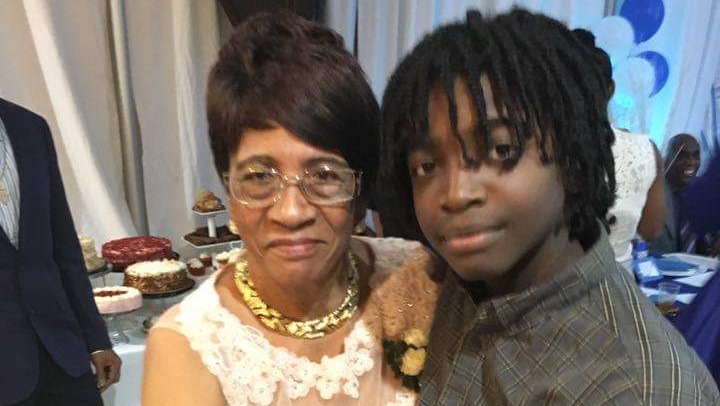 (My grandmother and Me on her 72nd Birthday, 2015)'s 
That's Why I Am Turning To You For Help, so that I can start St. Mike's in August 2021.
With your help, this will change my life. Thank you, for your support. I will keep you updated.
Sincerely and with gratitude,
Chicha Romain
Class of 2025
"PLEASE share the link to your Facebook Timeline!"
Fundraising team: Brooklyn Boyz (2)
Chicha Romain 
Organizer
Raised $596 from 4 donations
Far Rockaway, NY