On Friday November 10, 2017,  my dear (great) nephew Hassan Ya'Qub Reynolds grew a new set of wings.
Sadly, our family and community lost a quiet, sweet, gentle soul after his long and courageous struggle with depression.
He was 22 years old.
Hassan was a gifted artist who often found strength, solace and inspiration from his love of drawing and music. 
 Creating original art was his way of communicating his brave philosophy of life with it's multitude of contradictions. He shared his profound awareness quietly, subliminally, often with exquisite symbolism throughout his works of art, spoken word, and way of life.
To those whom he allowed close, he was caring and attentive, generous and thoughtful, loving, emotional, and compassionate. He loved deeply and felt everything so immensely but so often struggled to express these things.
Hassan will always be remembered for his courage during difficult times. He was a beautiful, complex, intelligent human being.  So talented... and loved more than he understood.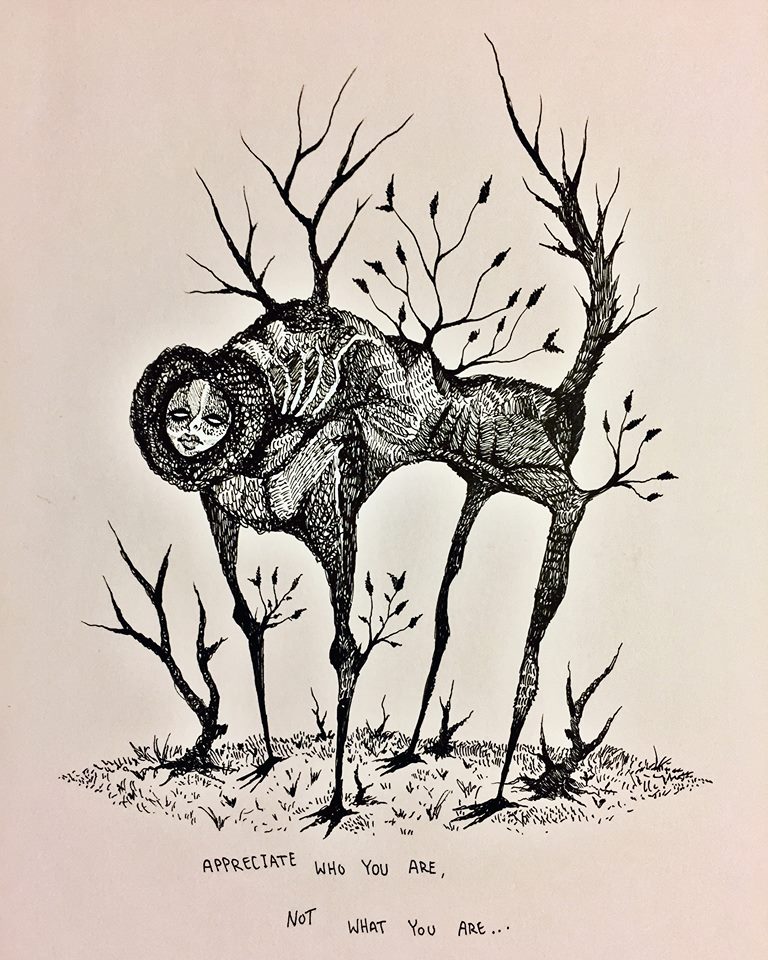 No parent should ever have to endure the unbearable grief of losing a child. But we know deep in our hearts, Hassan did not want to hurt anyone. He only wished to end his pain. We respect and honor that this was Hassan's Choice and trust that this was his Perfect Timing  between he and his Maker.
Godspeed Dear Hassan.
DONATIONS:
Hassan left behind quite an extensive body of raw original artwork which he had asked his father Jacob, " to keep safe, to preserve, and to keep it going" before his passing. 


An undertaking which will include hours of digitizing, making prints of more fragile peices, and otherwise preserving and cataloging his entire collection for safekeeping and continued sharing.
I was Hassan's (great) Auntie "Cleo".  In honor of Hassan's life, I have set up this Go Fund Me as a gift to  help assist with this endeavor.

It is my hope that your financial support can help Jacob honor Hassan's last wish's with this project...
and to help lift some of the weight being endured during this very difficult time.


Any amount is humbly appreciated.  No donation is too small.

Additionally, any exceeding funds raised will be donated to Gaia Democratic school
(formerly 2nd Foundation) where Hassan was a student and where his artist skills were so lovingly nurtured, encouraged, and supported. 
Gaia Democratic School
http://www.gaiademocratic.org/our-community-1.html
If you are unable to make a financial gift, please help us spread the word by sharing on your Facebook or Twitter.
MEMORIAL SERVICES:
For all those who were touched by Hassan's life, there will be a community gathering to celebrate his Life: 
Sunday December 10,  2017 @ 5pmGaia Democratic School900 Mount Curve Ave, Mpls, MN 55403
more info here:
https://www.facebook.com/events/157746248166168/
We are looking forward to seeing family and friends to share happy stories, receive hugs, and embrace his sweet memory together.
GRATITUDE:
We wish to thank you all for the support, encouragement and hope you offered to Hassan during his journey.
Please continue to keep our family in your thoughts and prayers as we mourn the sudden loss of Jacob's Son Hassan ... a HERO to so many.
RESOURCES:
Anyone out there with thoughts of suicide please don't give up. People love you and want you to be alive.  No one's story should end so soon;  please reach out; someone's listening!  #suicideawareness 
Suicide Prevention Lifeline:
https://suicidepreventionlifeline.org/
NAMI (National Alliance on Mental Illness):
http://www.namihelps.org/support/crisis-resources.html
A handbook for grief/ survivors of suicide:
http://www.sprc.org/resources-programs/sos-handbook-survivors-suicide
SEE MORE OF HASSAN'S ART WORK:
INSTAGRAM:
https://www.instagram.com/h.exe.r/?hl=en
REDBUBBLE:
https://www.redbubble.com/people/Nonne/portfolio
Organizer and beneficiary
Laura Patrie
Organizer
Minneapolis, MN
jacob reynolds
Beneficiary