Bobsled National Team Funding
Website: Hakeem USA 

Why Fund Me?
In October 2015, I competed in the 2-man race with Olympic Gold Medalist, Steve Holcomb, in the 2015 National Team Trials to earn a spot on the 2015-2016 USA Bobsled National Team.  I am extremely humbled and honored to be named to the National Team in my rookie season as a bobsledder.  
The United States National Bobsled Team does not completely fund all of its athletes.  I am aspiring to compete in the North American Cup tour and the Europa cup tour to gain valuable experience as a first-year bobsledder.  I will need funding for flights, housing, equipment fees, gear, meals, etc.  Your donation will go directly towards these funds.  It is extremely important to compete in these tours so that I may have the opportunity to show how much of an asset I am to the team.  It will also increase my chances of becoming a member of Team USA on the World Cup tour for the 2016-2017 season.  These tours are vital to my progression as a bobsledder and achieving my goals within the sport. Please help me pursue my Olympic Dream!  Any amount counts and will be a huge help!
Visit 
my website
 for more information about sponsorships and donations.
My Story


I developed a passion for competition and speed starting at an early age.  My early childhood was spent in East Orange, NJ, where I began my athletic career as soon as I was old enough to play pee wee football, basketball, and run track.  My teenage years were spent in Powhatan, VA, where I devoted most of my time to both track and field and football.  After a successful athletic career at Powhatan High School, I accepted a scholarship to play running back for the football team at The University Of Virginia's College at Wise.  My senior year ended abruptly with an ACL injury which ended my hopes of pursuing a professional football career.
Shortly after my college career ended, I moved to Knoxville, TN, to become a personal trainer and Speed-Agility-Quickness coach for Performance Training Inc.  This past March, I decided to test my own speed and strength by competing in the next combine for USA Bobsled.  After earning extraordinary combine results, I knew I was meant to be a bobsledder.  This gave me all the confidence I needed to quit my job the very next week and devote all of my time and strength into the sport.   After several months of intensive training, I travelled to the Olympic Training Center in Lake Placid, NY, to join a group of bobsled hopefuls to learn the mechanics of pushing a bobsled .  After a week of training and learning about bobsledding, the group competed in the Preliminary Push Championships at the Olympic Training Center on the push track.  I pushed the fastest of this groupwinning by .16 seconds.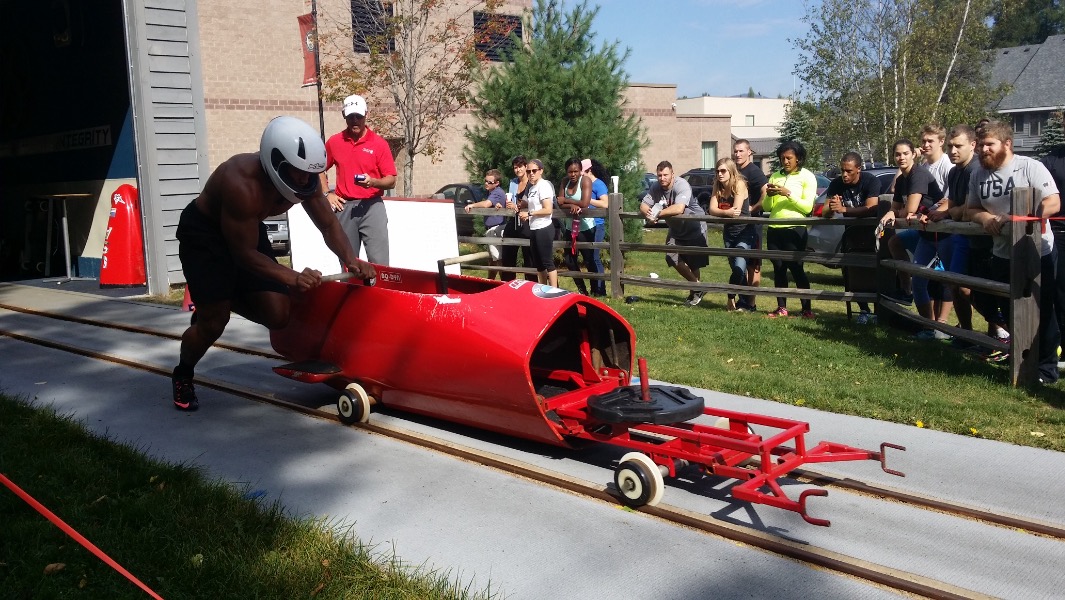 BMW then sponsored fifteen athletes from this group, nine men and six women, to compete in the National Push Championships. After a couple more weeks of hard work and training at the Olympic Training Center, I competed against twenty-six extremely talented and extraordinary athletes in 2015 National Push Championships.  These athletes were composed of a combination of both rookies and veterans including the previous National Team members. On September 26, I became the 2015 National Push Champion.  The top push athletes from the Push Championships were then selected by the bobsled drivers to join their teams of push athletes in hopes of creating an ideal team for the 2015 National Team Trials.  
After a few weeks of training on the track at Mt. Van Hoevenberg, National Team contenders competed in the 2015 National Team Trials in hopes of being selected onto the National Team.  I competed in the 2-man National Team Trials with Olympic Gold Medalist, Steve Holcomb.  Steve and I placed 2nd in the trials which helped me land a spot on the National Team.  This is the first big step towards making it to the 2018 Olympics and following my Olympic Dream!
Your contributions will have a direct affect on the outcome of my career.  Being able to compete this season will give me extremely valuable experience as a first-year bobsledder.  Competing will give me the chance to show that I am a valuable asset to the team, and will help my chances of being a member of Team USA on the World Cup Tour for the 2016-2017 season.
If you are interested in sponsoring me, visit
my website
 for details.
Thank you for your support and for taking the time to learn about my journey!  
Hakeem Abdul-Saboor
Become the first supporter
Your donation matters
Organizer
Hakeem Abdul-Saboor
Organizer
Lake Placid, NY