Hello everyone. I am setting up a first kick-off fundraiser for Kalia (amount is set in $USD). I met Kalia during one of my trips to Jamaica. The objective of this fundraiser is to provide financial support for Kalia's immediate medical needs. Kalia is only two-years-old and was born with a rare condition known as VACTERL that presents itself with several malformations, in her case she is born without an anus, heart complications, a kidney disorder and a limb deformity. Her intestines are "cut out" from her stomach and wrapped around her in the diaper that you see in this picture I took. She is highly prone to infections and the slightest cold, cough or fever could put her life at risk.


She lives in one of the most volatile ghettos of the island's capital. This neighbourhood at times is subject to gang-violence. The father is unemployed and the mother is a student with limited financial means. Her family are GOOD people but are caught in a vicious cycle where the system does not help support their cause.

I posted her story & picture on my Facebook profile with the objective of building awareness and gaining any form of support. In less then a week her photo was shared by over 2000 people who were all equally touched by her story. She also caught the attention of Jamaica's leading newspaper "The Gleaner" and was published in the Sunday 19 Jan 2014 issue as a lead feature on page 2. You can access the article by clicking here .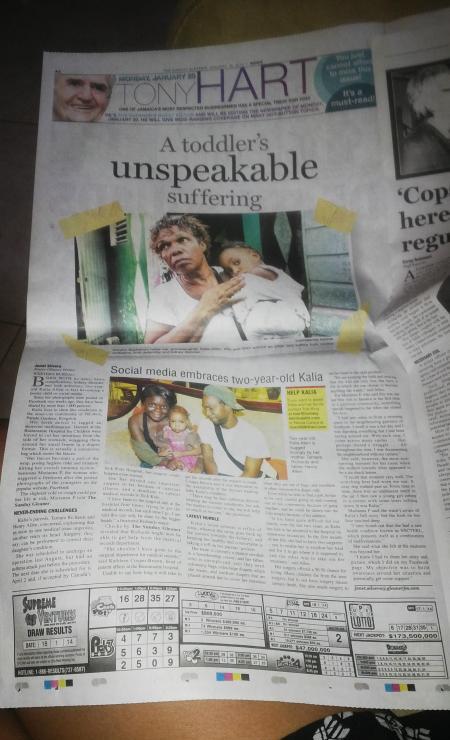 I am a firm believer that technology & social media can be a powerful tool in supporting difficult cases such as Kalia's. I am working with a small team of people in Jamaica that I have strong trust in. They are committed in providing help & relief for Kalia & her family.

Kalia's condition is a complex, delicate one and cannot be solved overnight...

Until surgery can be operated, there are MANY day-to-day needs that she needs. These include:

Colostomy bags
Diapers
Medicated creams to treat rashes
Medication for cough,colds,fever, etc
Sanitary & hygiene items
Specialized medical consultations
Transport & access to hospitals
Etc.

We are asking for financial donations to help with these day-to-day needs so that Kalia can be in the most optimal condition until surgery.

Please donate if you can- whether it is USD$1 or more... every cent can help make a difference.

Thank you in advance for your support, sympathy and love.

Marianna

* Please note that gofundme takes a 5% fee from each donation. You can read more about their policy by clicking here . I have already used gofundme in the past for other causes and have had a positive experience to date.


* Gofundme is able to accept payments from donors around the world. Donors will not be charged any fees. You can read more about this by clicking here
.

.
Organizer