Gro Huntington Healing Urban Farm
GRo Huntington
is a nonprofit urban farm, coming soon to Huntington, WV! Our mission is to connect community members and individuals in addiction recovery to nature-assisted therapies.
Over the next five years, GRo plans to expand into a specialized agricultural and rehabilitation operation, with a counselor on staff to attend to the needs of the volunteers, a meditation room, and the accumulation of additional land. We hope to expand to five additional cities over the next ten years.
Click here to see our full business plan.
West Virginia's drug abuse problem is no secret. According to a study by the Trust for America's Health and the Robert Wood Johnson Foundation, there were 33.5 drug overdose deaths per 100,000 residents in the state from 2011-2013. This is nearly triple the national average. West Virginia has the highest rate of overdose deaths in the nation.
Where will the money go?
This start-up campaign will fund us for the first six months of operation, as we prepare the land and begin writing grants for sustained operation. Here is where your money will go: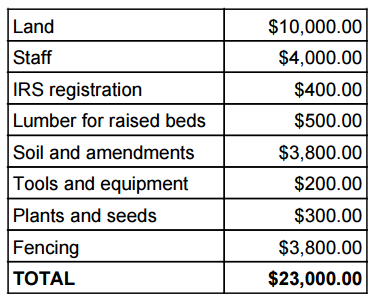 Meet the team


Jeannie Harrison, President and CEO
Jeannie Harrison has ten years of experience in the nonprofit sector. She began her career as the Student Coordinator of West Virginia SADD, Students Against Destructive Decisions. She spent five years managing the organization, spearheading a 500% increase in membership and annual conference attendance. She earned her M.A. in American Government from Georgetown University in 2014, after graduating Magna Cum Laude from Marshall University.
Today, Jeannie is a non-profit consultant, specializing in strategic planning and public relations. She also runs a small botanic shop online, Uphill Climb Botanics, where she makes herbal teas, soaps and beauty products with herbs she grows herself. Huntington is the only place where Jeannie has felt at home, and she wants to use her passion to help to revitalize the city's blighted areas and empower its citizens.
Jeannie will lead the day-to-day operations of Gro, spearhead fundraising, and strategically manage growth.
Beau Evans, Director
Beau Evans has been working with nonprofit organizations for the past 12 years, such as West Virginia Students Against Destructive Decisions (WV SADD) and the WV RAZE program. These two programs are youth based prevention programs to encourage and empower youth to make the right decisions and stay away from drugs, alcohol, tobacco, and other substances. His work now allows him to serve on many committees and boards for prevention efforts in the Cabell County, WV area.
Beau is currently the Region 2 Governor's Highway Safety Program Director, and has been in this position for a little more than two years. Beau served as the Financial Director for WV SADD until 2015, and he remains passionate about keeping his community clean and drug free.
Beau will oversee financial decisions, advise on retail operations and purchases.
Lindsey Good, Director
Lindsey Good is a local food enthusiast with a keen interest in local aggregation and distribution within the tristate region. She began her farming adventure in 2013 with the Sustainable Agriculture Entrepreneur (SAGE) program in Charleston WV. SAGE is an extensive one year program designed to provide members with the necessary tools to become inspired and successful in the field of agronomy. Urban gardening techniques, foundational economics for entrepreneurs, and networking are just a few of the key principles Ms. Good was able to add to her tool box. After completing her Hudson Farms internship, Lindsey graduated from We Are All Farmers Permaculture Institute, in Union Grove, NC 72 hour course certificate in Permaculture Design.  
Lindsey will bring her agricultural expertise to the practical operations of the organization.
Thank you so much, in advance, for your donation.
Organizer
Jeannie Harrison
Organizer
Huntington, WV