Treatments for Alain Haddad
THANK YOU FOR HELPING US REACH OUT GOAL, PLEASE STAY TUNED FOR UPDATES !!!!!!!
Alain Haddad was diagnosed with a
Rare
Auto-Immunity disease  called
Limbic Encephalitis with the Anti-Ma2
that is attacking his nervous system and causing swelling of the brain.  He went misdiagnosed for 18 months because doctors in Canada didn't know the signs.
Since  being diagnosed in September 2016 he has done every treatment in protocol and had surgery in hopes of removing a germ cell tumor to stop the source of the antibodies being released by his own immune system.   After years of treatments ( 2 x Chemotherapy rounds, IVIG, Plasma Exchange, Steroids) , tests  ( every single one you can think of) , ER visits, multiple hospital stays including 2 weeks in the ICU last summer we are searching for alternative care.
**Taking his blood out of his body, cleaning it and putting it back in***
Alain's sister Danielle who has helped us along the way and I  are asking you to assist us in taking Alain to the states to try and get him treatment we cannot get here. Life with encephalitis means daily seizures sometimes up to 25, slurred speech,  Semi paralysis on his right side which causes chronic pain in his ankle, knee and wrist,  almost complete loss of use of his right hand, extreme exhaustion where he sleeps 14 hours a day, Short term memory loss , anxiety , depression, and the list goes on. This is not a quality of life he lives, he is suffering every single day.  He hasn't been able to work in 4 years. His passion for anything he use to have has gone.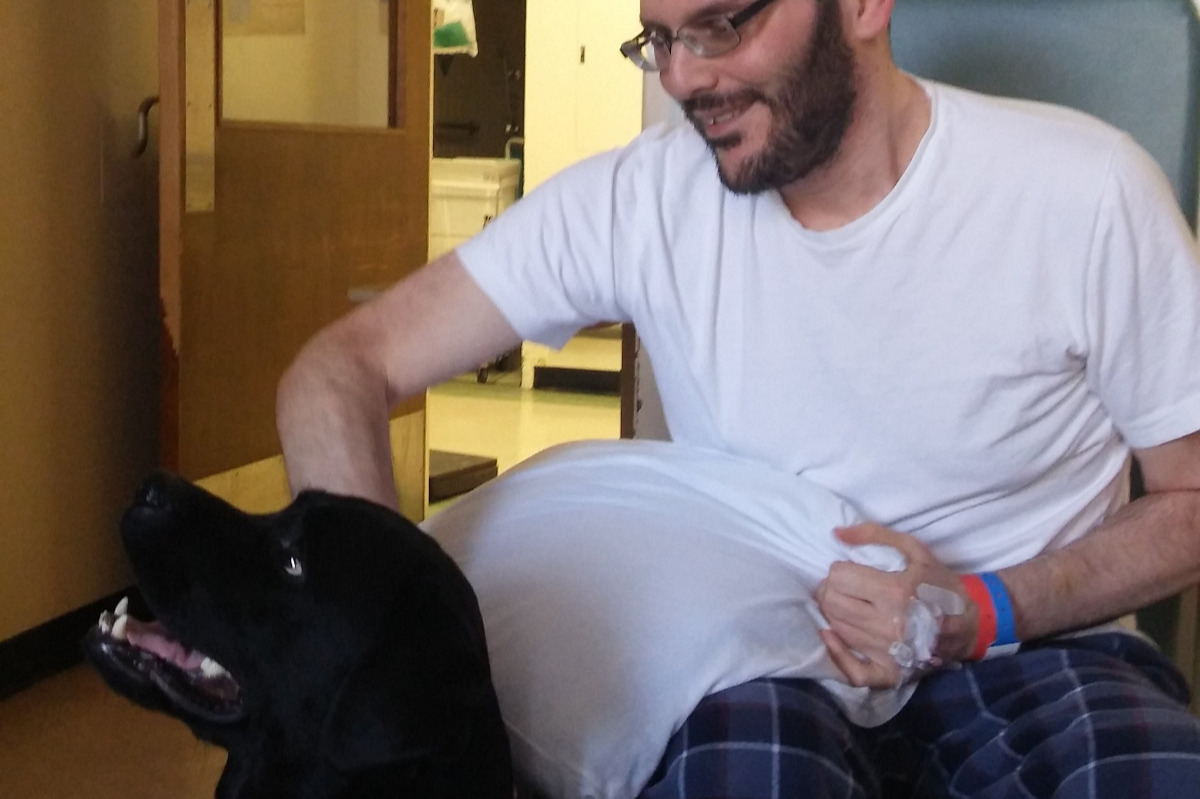 On December 23 2018, Alain was sent home from the hospital after a 1 month stay. They  told  us  all treatments have been done and the disease is starting to progress.  I didn't accept this and begged that at 40 yrs old the journey was
NOT
over. So we have started over with a treatment we did 2 years ago, the first 2 months stabilized him but things are getting worse again.
But what is that next treatment ?
A clinic in NJ has helped people with Encephalitis, we would like to go for 2 weeks and do the 10 day treatment that isn't available in Canada. The funds raised would help pay for
Transportation
Lodging
Food
The  treatment
and any tests that needs to be run by the clinic.
** receiving chemo**
Alain is a child, a husband,  a brother,  a uncle, a friend to us and we want to give him a fighting chance at a healthy life just like anyone one of you. 
** Our wedding before he got sick **
We are so blessed and thankful for the Canadian health care system and his doctors for keeping him alive,  but due to this being rare they are only going by research and no actual experience.
Lets get Alain back to the smiling happy hockey obsessed Canadien's fan who loved going to games but doesn't have the strength to anymore 
We Thank You from the bottom of our hearts  for anything that you could donate, every dollar counts and will help us reach our goal.
Kim
** Any left over money will be donated to the Montreal Neurological Hospital  in Alain's Name. He always says if he ever gets better he wants to help others and donate to the hospital who has fought for him the last 4 years. **

Organizer
Kim O'Donnell-Haddad
Organizer
Saint-Constant, QC