On the 6th January 2016, following a month or two of George being poorly on and off, we received the devastating news that every parent dreads, our 3 year old has Leukaemia.  Acute Lymphoblastic Leukaemia to be precise.  You can
read more about his diagnosis on my blog
  and follow our journey via our 
Facebook Page - Acute Rooza Life.
The diagnosis turned our world upside down and at times, things have been very difficult to get used to.  George is regularly having chemotherapy and a whole host of other drugs - he gains weight, he loses weight, he feels sick, he feels tired, he has regular theatre trips for spinal chemo and bone marrow aspirations.  He gets pains in his joints but still tries his best to walk when he can.
Most of the time George is so brave and happy.  He is sad however that he doesn't get to enjoy days out with his friends and brother and sister anymore, or that he's no longer as mobile as he used to be.
George's older brother and sister, Oliver and Harriet, have had to learn what cancer is and how it, and George's treatment, will affect him.  They've had to learn that they can't always visit the places we used to visit due to George's immune system being compromised.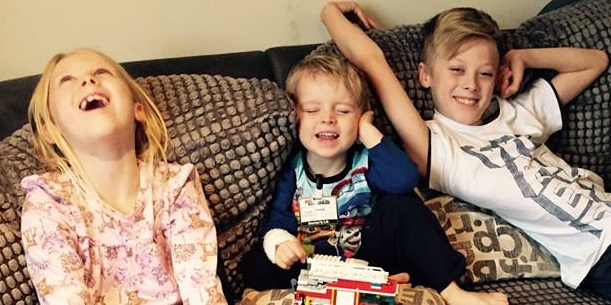 We had plans this summer to go on our "familymoon" which is now obviously not happening.
We've had lots of our friends and family who have said they really want to help us, they just don't know how! people have sent cash in the post, bought George gifts and paid for treats for the older children etc.  We hope to raise money for something that would really make a difference to all of us as a family!
We want to raise funds to sort out our unkempt back garden.  To create a safe place and escape from the house when we're restricted during the harsher phases of his treatment.  George's treatment is planned for a minimum of 3 years.
Since we can't head out to busy public areas we want to be able to be able to bring our friends to us as and when it's possible during George's treatment.  
At the moment the space is not being made the best of.  It floods and is boggy in the rain, several fence panels need replacing, the "grass" is more "moss" and you can't tell where the flower beds begin and end!  I am no gardener so would be quite happy to see the back of them.  
We'd like to install decking at the same level as our back door so that George can move more easily into the garden.  
George's treatment means he shouldn't be out in the direct sun so we want to install some kind of canopy over part of the garden.
We back on to an open field with a children's play area on it.  It would be great if we could install a stable-door style garden gate so that George can play in the garden safely and Oliver and Harriet could play on the park with us watching.
We'll be keeping the trampoline as the older children love it but were going to box it in.  We could also do with a seating area.
Donations will be paying for - proper drainage, new fence panels, a new back gate, lighting, sleepers to box in the trampoline, a canopy, gravel, turf, decking area and a seating area.
Ideally we'd like to get work started on the garden ASAP so that it is complete before the Summer kicks in.
This project means so much to all of us.  It's not just the practicality of having a garden we can use to it's full potential, but it would also provide a means of escape when we need it the most.
Thank you so much for helping our children have the Summer they deserve with your events, runs and more - 
The little knights of the St George's Day Toddle for the Bravest George we know! - find out more here Dawn Cotton, Sarah Osborne, Beth Jones, Yvonne Donohue, Carly Hunt, Claire Martucci and Katherine Beddard - 
for facing your fears, gorge walking and  
abseiling off the 90ft Millers Dale bridge in Derbyshire!

All those in "Team Georgie Roo"
that have entered
Gung Ho! Manchester

Warrington Collegiate & students for their coffee morning for George

Karyn Melvin 
doing a muddy run!
Playdays Preschool, Woolston

Like our Facebook Page  and follow on Twitter @MummyRooza
Organizer