Dental Implant Support Needed
Dear Community,
I'm raising money to pay for my implant surgery for teeth lost in a bicycle accident. The funds cover the surgery, the follow up procedures to build the teeth; dential and medical costs, not covered by insurance.
(**Please note, I've lowered my ask from $20k to reflect both a discount from the surgeon and offline donations. Thank you!)
Please give $20.00 today if you can. No amount is too big or small! Please also share this link via your email or FaceBook. Thank you! 
On the evening of April 19th , wearing my helmet, I woke up pushing myself off a sidewalk with one hand and catching blood and teeth with another. And, while I was a bit disoriented, I also remember being kinda giddy and happy. I was so glad to be alive. I had a serious bicycle accident. Halfway up, now trying to lift my bike, my teeth and blood with me, a police offer grabbed my bike and told me I didn't have to worry about it. I gave them some information while we waited for the ambulance, and though can't why, I do remember us laughing. This really is typical me.
I'm grateful to be alive and loving, that's such a glorious thing!!
And, that was the beginning of a painful and expensive event from which I'm still recovering. 7 stitches in my lip are healing and the scar is slowly being massaged smooth. My back and neck are still stiff and over-all my body is still finding it's grounding.
I was fortunate to score some temporary teeth, and they are temporaries. They don't fit well, are uncomfortable, and are absolutely beginning to affect my self esteem. I'm totally now careful to smile smaller and have a strong urge to cover my mouth with my laugh, because they don't match my gum color (a manufacturer thing). If you know me, this is no match for my personality. It's hard living with these, which is why I need your help.
The accident left me with 3 front teeth to replace with implants, an ambulance bill, and numerous doctor and continuing dental co-pays; bills for medication, bandage supplies and so on. According to the surgeon, I'd have to take approximately 8 days off for procedure and recovery, over the next 6 months. These days will all be unpaid, because I've used up all my sick days at work.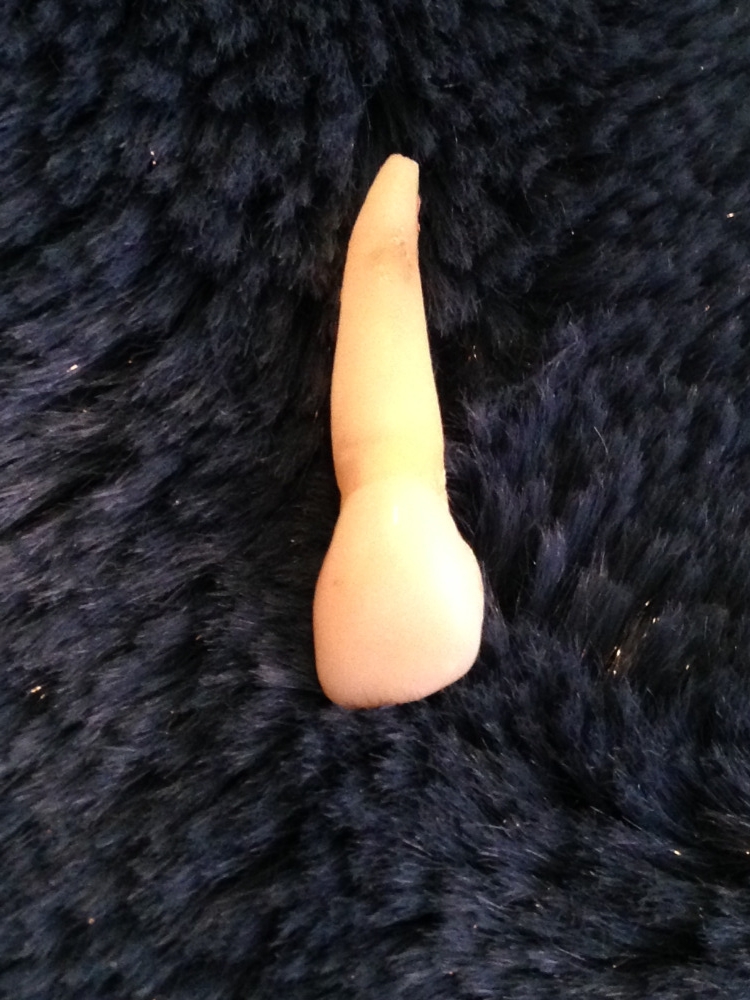 (Lossened by the accident, this unfortunate baby had to be pulled.)
Replacing my teeth are my #1 priority at this time
, along with my mindfulness study, and my work and job, all of which really feed me. The implants alone, will be just about $6,000.00 each, adding the items above, I'm at an estimate of $22,000.00, covering almost everything. There is no way I can afford to get my teeth replaced without your help. Dental insurance does not cover implants and I don't have family to support me.
Please give $20.00 if you can. If I can raise $20.00 from 1000 folks, in the next 2-3 weeks, I will schedule my implants for August and get the 6 month process started. I've used up all of my sick time so these funds will also help cover unpaid time off for the surgery and recoveries, medications, and co-pays. Again, my insurance doesn't cover implants and maxes at $1,000.00 which I've almost reached with cleanings and getting the temporaries.
In this moment, I give thanks; I am so grateful for the support of those who initially helped me, who have laughed with me along the way. My sangha who covered my emergency room fee and one who has helped me get started to adjust my back and neck.
I could not have made it without the first responders, my friend who met me at the emergency room, another friend who spent two nights on my couch making sure I was safe; those who cared for me, brought food and drinks, made calls, sent texts & emails; my job for allowing me negative time off, people who have lent me their cars, or driven me to appointments; and my Dentist, who fit me with temporary teeth so quickly.
I love to smile!! Please give $20.00 if you can.
This ask is a total stretch for me. Thanks to all those who have helped and encouraged me to do this, I'm holding faith we can make this happen!! I just have to get really close to this figure.
Thank you so much for considering; I can't do this without your support.
For those considering giving, and want to know more about me, I invite you to visit my 
https://www.facebook.com/freshwhite
page where I always try to give back by offering inspiring words on self-love, self-compassion, hope, faith, and the magic one for me and many – self-worth; which is what's stretching and pushing me to do this fundraiser.
Thank you in advance for your consideration.
Please feel free to share this post or link with your family and friends.
May you be happy, safe and feel loved!
Thank you in advance for your support,
Fresh! - P.S. Prefer PayPal: fresh at Affirmative Acts .org is my address. Thanks!

Organizer