Give The Cuts Back to Swasey School
NOTE: This page closed to new donations on June 21, 2015.  On July 1, at a special hearing, the School Board voted unanimously to accept the funds raised.  Huge thanks to all that contributed to this effort!


Final 'offer' letter to the School Board: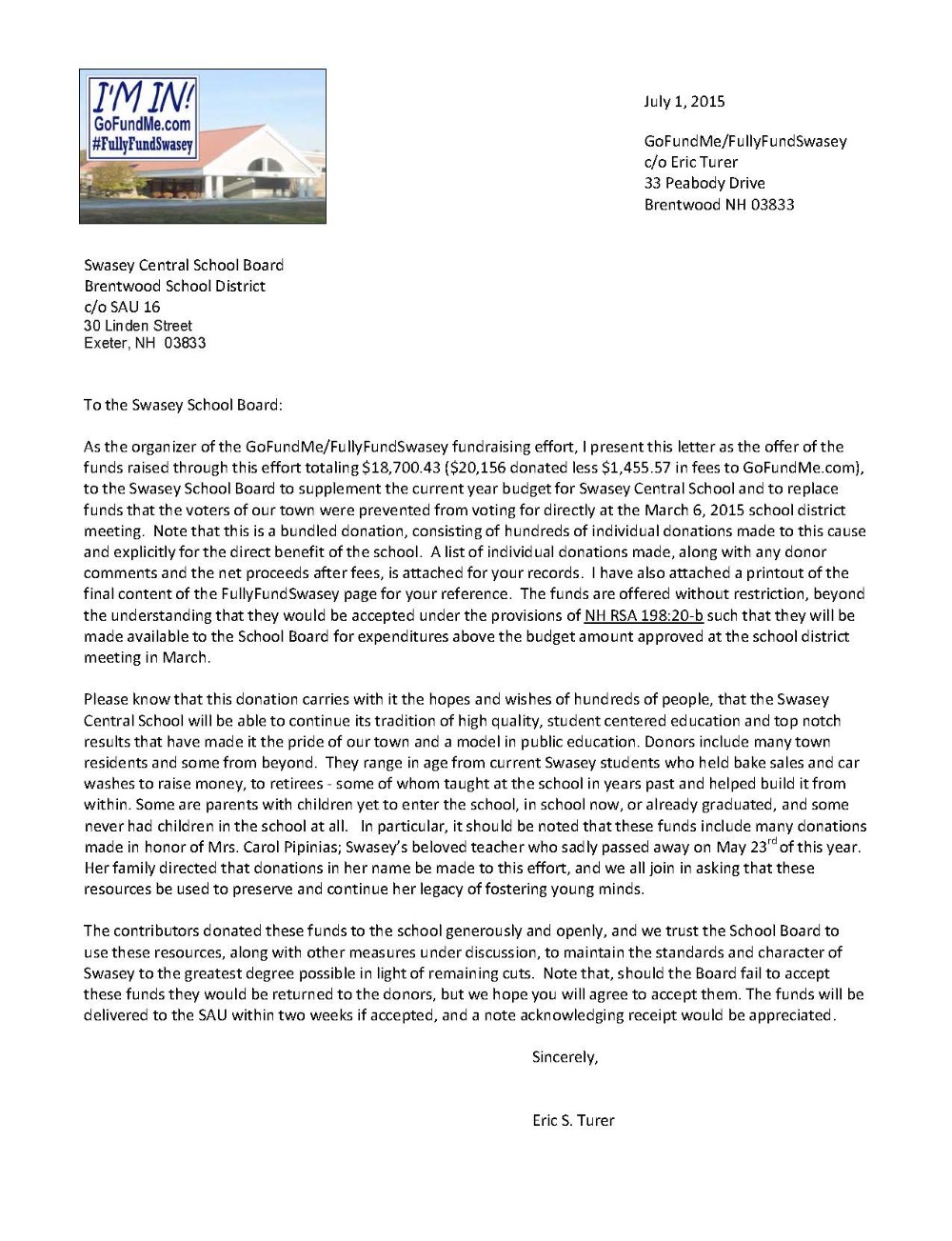 Something truly unprecedented and unjust happened  in our little town during the school budgeting process this year.  A few people found a way to subvert the normal democratic process and overrule the clear will of most in our community to fully fund our school.  We don't have to let that stand.... and it's important that it doesn't.  Important not just for our school and our town, but for the precedent it sets for public education and the local governance process overall.  
We have an amazing grade school here in Brentwood.  Swasey Central School consistently produces top results in the state at a cost per student that is consistently lower than 80% of grade schools in NH (see charts below).  It is the reason families move to this town and it defines our community in many ways.
For a few, however, that wasn't good enough.  Some on our town Budget Committee proposed a $1M cut to the school's budget ($5.36M), and eventually pushed through a recommendation for a $650k reduction. They based their cut on a crude and erroneous calculation which, combined with flawed logic and a flawed committee process, produced a budget recommendation that made no sense and would cause real harm to the school. Though a required public hearing on their proposal was held, they refused to revisit this decision, even after being informed of their error and hearing hours of public input against the cuts (and none in favor).  We even learned that their budget recommendation had already been submitted prior to the public hearing, resulting in a lawsuit.
At our March 6th School District budget meeting, Brentwood voters overwhelmingly rejected this recommended cut (by over 4 to 1), but under state law we could only raise the budget by 10% over what the Budget Committee recommended.  By limiting the amount of funding that voters can restore in proportion to the depth of the cuts, this rule rewards and insulates irresponsible budgets - the Budget Committee knew this.  The result left the school  $211,492 short of what the school board had asked for and what most had wanted to vote for - a very responsible budget that was already a reduction of $86,477 from the prior year.
For those that don't think the school should absorb a still-sizeable cut that the voters didn't want, but were forced to accept, the answer is simple -
Let's at least give back what we would have paid if we had been allowed to vote for the full budget, and ask others to show their support by contributing as well.
The tax impact of the final cut is $0.40 per $1000 valuation less than we would have paid under the school's budget, so you can figure that out for your home if you live in town ($120 for a $300k home).  Any smaller or larger amount is welcome.  For those outside of town that hate to see a great school's budget cut for no reason, or hate to see the clear will of the voters thwarted, or just want to show support for public education the way it should be done  - please consider contributing any small amount to help. The contributions of supportive town taxpayers alone likely won't cover the gap, and this fundraising service (gofundme.com) takes a fee of about 8%  out of contributions made (see FAQ for discussion and an alternative option that does not incur the 8% fee).  
Everything collected will be donated to the school and your contributions are tax deductible. 
  You may keep your identity hidden on the public site if you wish, but seeing who is participating helps build momentum.  (also, see note about donations made in the name of
Carol Pipinias
under FAQ at the bottom)
A
public hearing is required for the school board to accept the funds, under the provisions of
NH RSA 198:20-b
(funds raised, less fee, will be returned in the unlikely event they are not accepted ).  This hearing will take place on Wednesday, July 1st at 6 p.m. in the Swasey library.  
TIMING IS IMPORTANT
- while the funds cannot actually be given until the next fiscal year in July or later (to avoid being considered excess funds this year and transferred to the town), it is important that the school and teachers can see the level of donations coming in, even as cuts based on the existing budget are announced.  Seeing the amount raised here will let the staff and the school know that these funds will likely be restored and plan accordingly (though unofficially until accepted).
Note that this is not meant as a permanent way to fund our school, or a way to avoid cuts that the people of Brentwood feel are needed and have voted for.  As in the past, the school must, and should, absorb any cuts that the voters of our town approve.   This is just a one-time, one-year bridge to
avoid reductions that the voters didn't want or approve
, until next year when we will likely not be forced into this position and can vote freely.  It's also a way to
send a message that we won't stand for this approach
.   Participation in this effort is purely voluntary, will not cost taxpayers anything now or going forward, and is not intended to establish any precedent for future school budgets.  
Also, note that this is my own initiative, though it is based on the frustrations expressed by many.  I was not asked to do this by anyone, including the school, the school board, any teachers, or any other individual or group.  My 2 kids have already graduated from Swasey, where they received a fabulous education that engendered a true love of learning.  I just want the next group of kids to have the same opportunity, and don't want to see baseless and unsupported cuts to an already efficient school jeopardize that.
Spring is finally coming - consider this a little care to nurture the emerging sprouts!  Thanks for anything you can give and please share this site widely by email and social media.
See
FAQ's
 at the end - updated as they come in.
Sincerely, Eric Turer
Does this look like a school that needs big cuts??Low Cost:

Top Notch Results:
...and our Cost/Student has NOT increased relative to other schools, even as enrollment has dropped from it's peak in 2008-2009: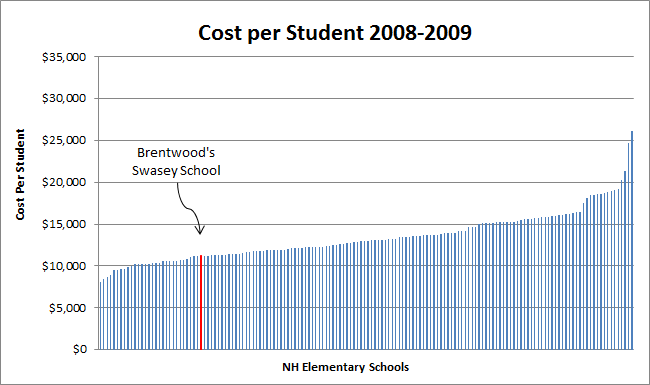 Media Coverage:
For more details, see this great letter by another Brentwood resident, under the headline
Not This Time.
A full summary of events as they took place can be found in this letter by a member of the school board who's husband serves on the budget committee:  
Brentwood: Setting the record straight
 .
This article ran in the
Exeter Newsletter
:  
Parents turn to GoFundMe after school budget cuts
(Note that there is NO question about whether, or how, the school can legally accept and expend these funds - reaffirmed with NH Dept of Revenue after article)
WMUR TV News
ran this spot: 
Brentwood parents turn to crowdfunding to close school budget gap
The Union Leader
(NH statewide daily) ran this article: 
Parent raising money online to restore Brentwood school budget cuts Frequently Asked Questions (FAQ's):
•
Is it legal to donate to a public school?
o
Yes
, there is a specific legal provision for this. Under
NH RSA 198:20-b
  (adopted by our town in 2004) the school district can receive and expend unanticipated revenue over $5,000. They must hold a public hearing to accept the funds and the meeting must be posted 7 days prior in a newspaper by the school board.  The NH Department of Revenue Administration was asked specifically about this fundraising effort and affirmed that it would be treated this way.
•
Isn't it too late for this - some cuts are already announced?
o
NO
 – The School Board must plan their 
spending based on the budget approved at the School District meeting, so the cuts they are announcing can't consider anything that might come from this effort at this point.  Once we can offer these funds, and assuming they accept them, they will be able to put back items (hopefully teachers if we raise enough) that they must cut without the extra revenue.  If you don't want to see those cuts, this is how you can avoid/reverse them.
•
Isn't this overriding the will of the voters?
o
No
– This situation is different. The voters never got to express their will for their preferred budget, as usually happens, because the School Board was limited to proposing a budget that could not exceed +10% of the BudCom's unfounded cut. The school board said as much at the  School District meeting, and magnitude of the vote showed that there was support well above the number we had to settle with.
•
Won't this set a precedent for future budgets being set low so that others will contribute?
o
No
– here are a few thoughts as to why. 1) This is a unique situation in that the voters didn't get the choice to vote for what they wanted...it wouldn't work for a cut voted for in the normal course of budget setting and I wouldn't support such an effort. 2) The judge's decision in the lawsuit specifically said that a BudCom purposefully low-balling their proposed budget, hoping others would add funds back, would have been illegal. 3) The more dangerous precedent is the one set by the BudCom, where an irresponsible budget proposal overrides the voters and secures the largest cut they have ever been able to enact, even though their budget was voted down by a large margin. If the school absorbs the cuts we will not only lose good staff now, but next year any attempt to regain the lost budget will be portrayed as a proposed increase.
•
Did you check with the school and/or the SAU to see what they thought of this?
o
Yes
– Both the school principal and the SAU Superientendent were contacted in advance to be sure they didn't object, and to get feedback, before posting the page.  While they had nothing to do with starting this effort, they also had no objections and were supportive. Mr. Morgan agreed that this is a unique circumstance - as evidenced by the lawsuit he filed. Mr. Kew noted that the budget was already tight, so these would be difficult cuts to absorb.
•  
Why did you use GoFundMe? – they take an 8% fee
o This is a well known fundraising site and they provide a range of services which I can't do personally. They take credit cards, set up the web page, hold/distribute the funds, etc. This fee is far less than the fundraisers hired my many major charities take. Also, keep in mind that your donations are tax deductible now - if this had been included in tax (as it should have been!), that would not be true. If you itemize your taxes this likely means you are already saving well above 8% on your donation.
•
Is there a way to participate without GoFundMe taking 8%?
o
Yes
– As the administrator of this page I can enter an "Offline Donation" that records direct contributions to the effort not made through on-line payment. These donations will appear along with the on-line contributions and be added to the total raised. Because this is an extra step for me, and I don't want to handle/hold funds sent directly, I am setting a couple of parameters for this. Use the contact link below the DONATE button to send me your name, your preferred email address, and the amount you 'pledge' to donate when it is time to transfer the funds to the school, and I will record the donation on the site. I will not accept 'anonymous' pledges in this way ... because I won't have your funds and this is a promise to the school, I need these to be identified pledges. When the time comes to transfer the funds I will send you a message asking that you send in your checks and telling you where to send them. I won't be collecting the checks personally. I am happy to do this, but it is extra effort and somewhat less 'certain' than an on-line donation, so please consider the on-line option first.
•
Why do I need to make my donations now when the funds won't be transferred until later?
o Any money given directly to the school now will be considered part of the current fiscal year resources and will be swept into the Town's reserves if not spent, so the funds can't be transferred now…BUT, the teachers must be notified by mid April that the school can't offer them a contact for the following year. This 'non-offer' isn't binding and can be reversed if funds become available.  By donating on the GoFundMe page
NOW
, the school and teachers can see that resources will likely become available in the new fiscal year once funds are transferred, so they can be expecting this and not seeking other jobs or making cuts that are harder to reverse. (Note that the statement on the timing of funds has been updated slightly since the page was first launched to reflect this)
•
Can't I just send in a check to the school directly?
o
Yes, of course – but remember
 if you send the check in now it will be applied to this year and not help when the cut goes into effect. 
•
Is my donation really tax deductible?
o
Yes
– see
this summary by TurboTax
•
How Do I Donate in memory of Mrs. Pipinias?
o
Carol Pipinias
, one of Swasey's dearest teachers, passed away on May 23rd. Her loss comes as a blow to the school and all that knew her. The link to her obituary is included below. In an act of great generosity, her family has asked that donations in her honor be directed to this site. If you are making a donation in honor of Ms. Pipinias, please be sure to note this as a comment on your donation. If you elect to make your donation anonymously, note that comments are not displayed externally on anonymous donations, but please include a comment with her name so that it can be noted internally. We will be sure to convey the inclusion of these donations to the town and School Board at the July 1 hearing to accept the funds. We are all holding Ms. Pipinias, and her loved ones, in our thoughts at this difficult time.
Her obituary can be found here:
http://www.seacoastonline.com/article/20150528/NEWS/150529084
• 
What's the story with the lawn signs?
o  These signs are being produced using separate funds given by some supporters - not using any funds donated through this site.  We will deliver them to donors in town automatically as long as funding permits. Out of town donors can also request one too,  but they won't be sent automatically due to logistics and visual impact. Put them on your lawn to raise awareness, show your support, and post a picture with your reason for donating!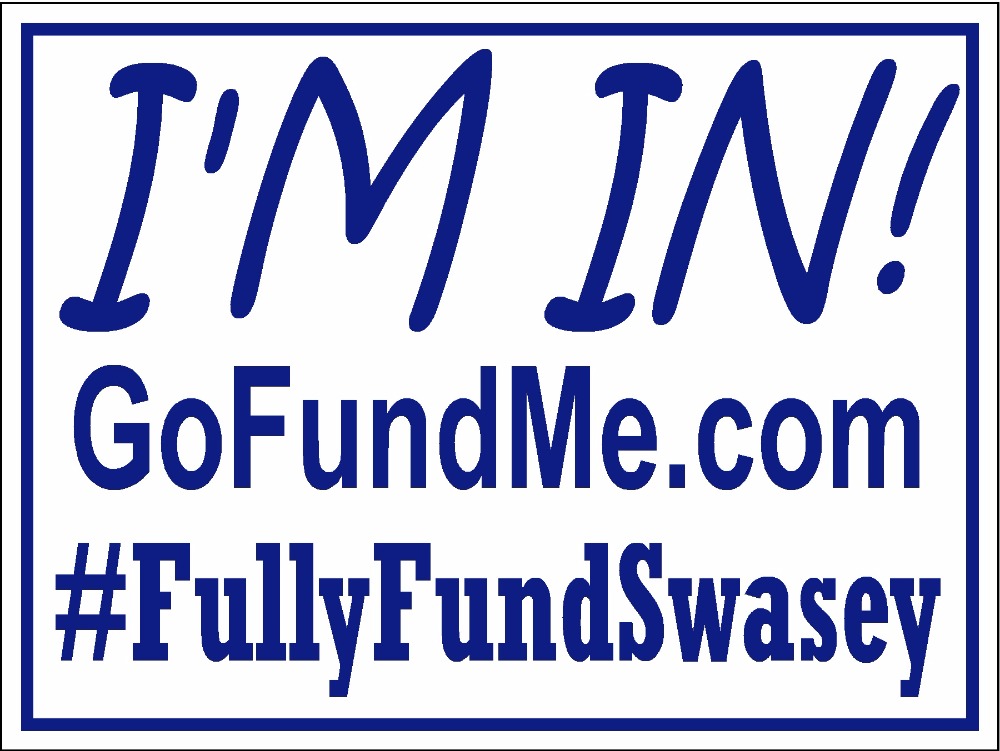 LASTLY:
My son George (now age 15 in this picture) with his wonderful kindergarten teacher, Mrs. Wills (now retired - in 2010 after 21 years)  at the School District budget meeting.  She taught my daughter Sophie as well and helped make Swasey the school it is.
#FullyFundSwasey

Organizer
Eric Turer
Organizer
Exeter, NH