Eclipse Glasses for the Troops
UPDATE #4:
"Once again, the Midlands showed why we are one of the friendliest military communities in the country," said R.J. May III. "I'm glad we were able to share in this event with the brave men and women who answered the call to serve."
______
On Monday, over 8,000 recruits gazed skyward as Fort Jackson fell dark when the moon passed in front of the sun.
We were able to raise $2,310 through GoFundMe and purchase thousands of glasses from a NASA recommended supplier. We also received help from the Columbia Chamber of Commerce, Senator Wes Climer, Senator Katrina Shealy, and Congressman Ralph Norman.
The South Carolina State Museum, Total Eclipse Columbia, BI-LO Supermarkets, and Senator Tim Scott provided additional glasses to the effort.
We delivered those glasses to the Morale, Welfare, and Recreation building on Post Saturday. Those glasses were distributed Monday to the basic training brigades who then distributed them to their battalions in time for the eclipse.


UPDATE#3:
Donations closed. Though we fell short of our fundraising goal, we may still reach our eclipse glasses total with the help of corporate sponsors. Additional updates forthcoming.


UPDATE#2:
The number of glasses needed has dropped.


UPDATE:
We found a vendor that will give us a deal for $1.50/pair!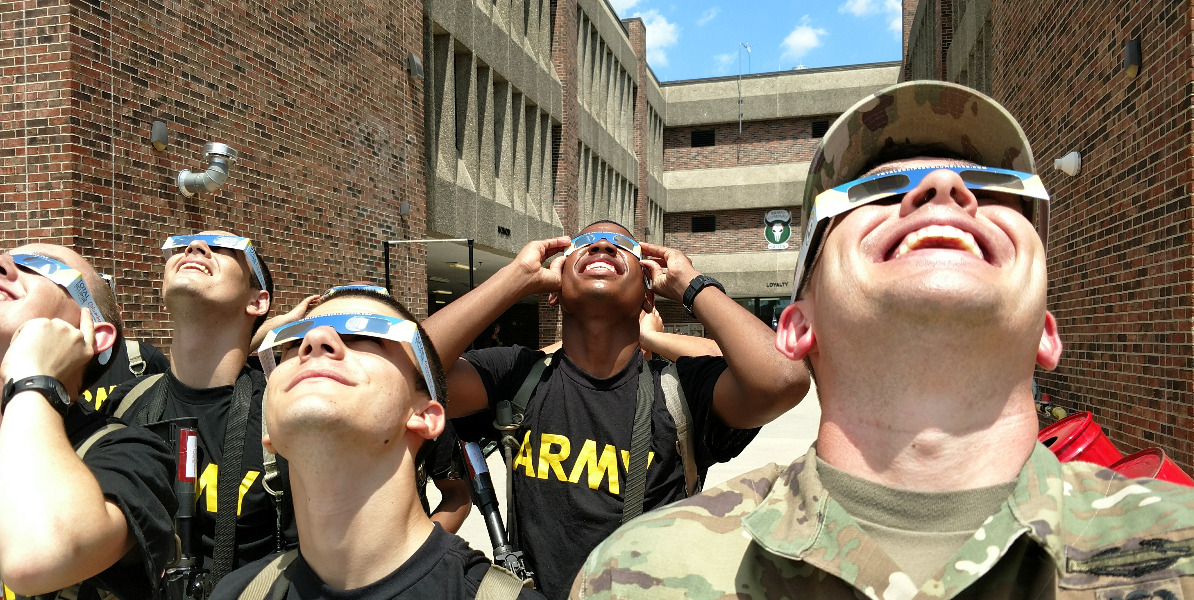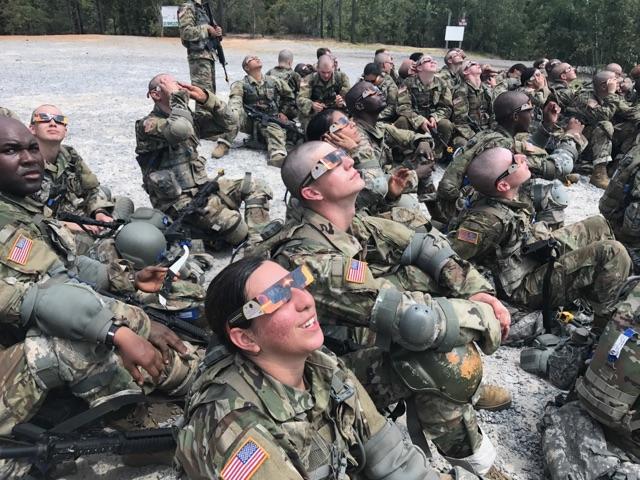 Local Political Consultant Raising Funds for Fort Jackson Recruits to View EclipseCOLUMBIA
– Community members are raising funds to purchase solar eclipse glasses for the basic training recruits at Fort Jackson. The glasses are required to view the North American solar eclipse on August 21, for which South Carolina is in the path of totality.
Local Columbian and political consultant, RJ May III started the fundraising campaign after May's lifelong friend, a Captain in the US Army, came to him for help.
"People from across the U.S. are traveling hundreds of miles to witness this event. I want the recruits to have the opportunity to be able to view it too," said May.
A bulk order of eclipse glasses would be too expensive for any one unit to afford. May has set an aggressive fundraising goal of $32,000 to provide a set of glasses to all 8,000 recruits on base.
"This celestial phenomenon occurs once in a lifetime," said May. "These young men and women at Fort Jackson have answered the call to serve and the least we can do is show them a little South Carolina hospitality while they are here." 
May has launched a GoFundMe page and, in addition to soliciting donations from members of the community, will be mobilizing his political network for buy-in.
"I'll be contacting our elected officials, chambers of commerce, local governments, and others to see if we can get this done," said May. "I don't know if we can get every recruit a set of glasses in such short time but we'll give it a try."
A $20 donation will provide 5 recruits with approved eclipse glasses.
Any organizations or persons with extra glasses are encouraged to email May
at [email redacted] for drop-off and mailing locations.
###
Photo by Spc. Chelsea Baker, Army National Guard
Organizer
RJ May 
Organizer
West Columbia, SC