Folly Theater: This Grand Lady Needs Your Help
The Folly's Fire Sprinkler System Burst!

In Early
November of 2018
, the Folly's tech crew found a rapidly
growing pool of water in the Folly's basement
. After quick work to shut off the pipe and clean up the area, an investigation by the city and
Kansas City Fire & Sprinkler
found that the fire sprinkler system has a deteriorating pipe. That 100-year-old pipe resulted in over
$100,000
of work to replace!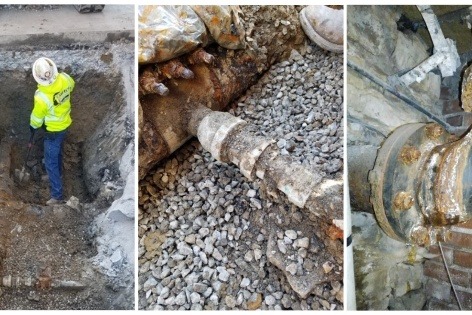 Why So Expensive?

- Between the pipe repair team and the City of Kansas City, it took 33 days to finish the project.
- Numerous city permits, inspections, and approvals had to be ordered
- A new sprinkler pipe, meter, and  back-flow valve had to be installed
- City sidewalk & street had to be torn up and then repaved
- A 24/7 "Fire Watch Crew" had to be in place walking the theater every hour for 33 days

What's the Damage?

After 33 days of construction crews, inspections,  paperwork, and a month worth of 24/7 Fire Watch Crew wages, the Folly Theater's bills  totaled $111,712.

This Grand Lady Needs Your Help!

The unexpected pipe replacement and crew costs have depleted our building maintenance funds used to maintain this 119-year-old piece of Kansas City History. 

The Folly that has seen names like the Marx Brothers, Gypsy Rose Lee,  and Humphrey Bogart to more modern names like Roseanne Cash, The Hot Sardines, Oleta Adams, and Joyce DiDonato.


Who is The Grand Lady of Twelfth Street?

We'd like to introduce you to the Folly Theater. A theater built in 1900 that has survived over a century of Kansas City's ups and downs. The Folly has been home to opera, burlesque, vaudeville, classical, and jazz.


Sir James Galway aptly described the Folly as "Kansas City's Carnegie Hall."  This richly ornate and intimate theater holds a unique and vital place in Kansas City's arts ecology as a vibrant meeting place of creative ideas.  We take great pride in the quality and cultural diversity of the Folly's programming and the venue we provide for many of our City's important mid-sized arts organizations.  

Unforgettable, transformative arts experiences give the Folly its unique vitality.  Watch a thousand kids spellbound by children's theater actors one second, and rollicking with laughter the next; be transported by the lush chords from a concert pianist; or immerse your soul in the sensuous, mellow harmonies and energizing rhapsodies of jazz.  Experience Joyce DiDonato, Oleta Adams, Arturo Sandoval, The Moth Mainstage, and The Hot Sardines These life-changing moments allow imaginations to soar, expand horizons and perspectives, and connect us all through shared experiences and values.

Please Help the Folly Sustain!

We need your help to replenish our Building Maintenance Fund. With it now depleted, we're prevented from performing the necessary updates and general practices to keep the Grand Lady standing tall.

Your contribution of $10, $25, $50, or whatever you can spare, will make a tremendous difference! Thank you!
Become the first supporter
Your donation matters
Fundraising team: The Folly Staff (3)
James Maiden
Organizer
Kansas City, MO

Performing Arts Foundation of KC dba Folly Theater (Folly Theater)
Registered nonprofit
Donations are typically 100% tax deductible in the US.
Brian Williams
Team member