The Blacksmith of Rock
I first met Jim Donahue over 20 years ago through an email to Ibanez Guitars prying for stories behind the construction of the Ibanez Jem line of guitars and he was always kind enough to respond offering answers to all my questions. A master luthier, he wrote the
quintessential book on guitar repair and production
  as well as the
official history of Ibanez
 .  
Jim is too humble to say it but he is the Blacksmith of Rock. A master guitar builder, Jim has created some of the greatest guitars ever made played by some of the greatest guitarists who ever lived, like Steve Vai, Joe Satriani, George Benson, Paul Gilbert, John Petrucci, and many, many others.
After nearly two decades of helping craft the guitars that would define a new generation of Ibanez, Jim struck out on his own founding Noah James Guitars, a father son business creating the finest guitars for players all around the world. To create the necks and guitar bodies Jim depends on a CNC machine to mill the pieces to his exact specification. When Jim designed a guitar for Autism Awareness with his ASD-diagnosed son Noah, he used the CNC to carve each edge of the puzzles pieces that made up the top of the guitar.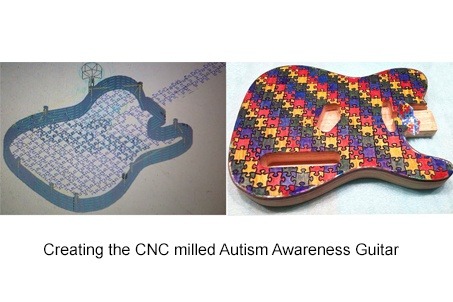 Recently Jim has had some setbacks; a divorce, a heart attack. Jim poured himself into his work creating amazing guitars, until his CNC machine broke down. It will cost nearly four thousand dollars to repair and with bills to pay Jim started taking various jobs outside of being a luthier, saving toward fixing his CNC machine as he works. He's now not doing what he loves.
With him having nearly 2000 friends on Facebook, I suggested he start a GoFundMe page to help get his CNC machine back up and running and Noah James Guitars back on its feet. If each friend donated $2, we would have him back in business in no time.
Too proud to want to ask others for help, he said he couldn't do it.
Well, I can, so I set this page up for him.
I hope you'll help Jim, his family, and those of us who admire the incredible gift he brings to music industry.  
Thanks,
Larry Larsen
The LNG Ibanez Jem Registry 
Facebook.com/GreenJem

Organizer and beneficiary
Larry Larsen 
Organizer
Bensalem Township, PA