Fight cancer with Andrea, Jamaican music elder
Andrea Lewis has been a vibrant force at the heart of the Reggae music industry for over 35 years.  She has been diagnosed with cancer and is facing enormous costs to get treatment.
 Without your support, one of the most impactful and positive forces in Jamaica stands no chance.
About Andrea:
All her life Andrea has been a mover and a shaker. A trained audio engineer and videographer turned artist manager and independent music executive, Andrea has been involved in crucial moments in Jamaican music history:
She took part in Sly and Robbie's Grammy album "Friends"; coordinated Simply Red's version of Gregory Isaac's "Night Nurse;"  orchestrated The Congos' reunion at respected music label Blood & Fire; and brought the beloved Silvertones out of retirement. She has also collaborated with Alton Ellis, Junior Delgado, Prince Allah, Yabby-U, I -Roy and Earl "Chinna" Smith. She has also worked with Beenie Man at Island Records, with Adrian Sherwood's U Sound and Pressure Sound, and facilitated the Red Bull Music Academy studio project in Kingston.
Andrea has mentored and supported countless artists, producers, deejays and other creative people as well as bringing positive attention to Jamaican culture through her Beat'N'Track Music tours.
Alongside her prolific career in music, Andrea's sports career has inspired a generation of young women athletes in Jamaica: she played professional field hockey and soccer for teams in Jamaica, UK, and USA, taking part in the Empire State Games, and earning a sports scholarship to the Washington State University. In 1990 Andrea started "the Wild Cats from Trench Town" soccer team together with Trench town's vocational center founder, the late Father Hugh Sherlock. This constructive program for Trench Town's women has inspired other inner-city communities and led to the foundation of the first women's soccer association in Jamaica. Last year the "Reggae Girls" made history when they became the first Caribbean team to qualify for FIFA's  2019 world cup in France.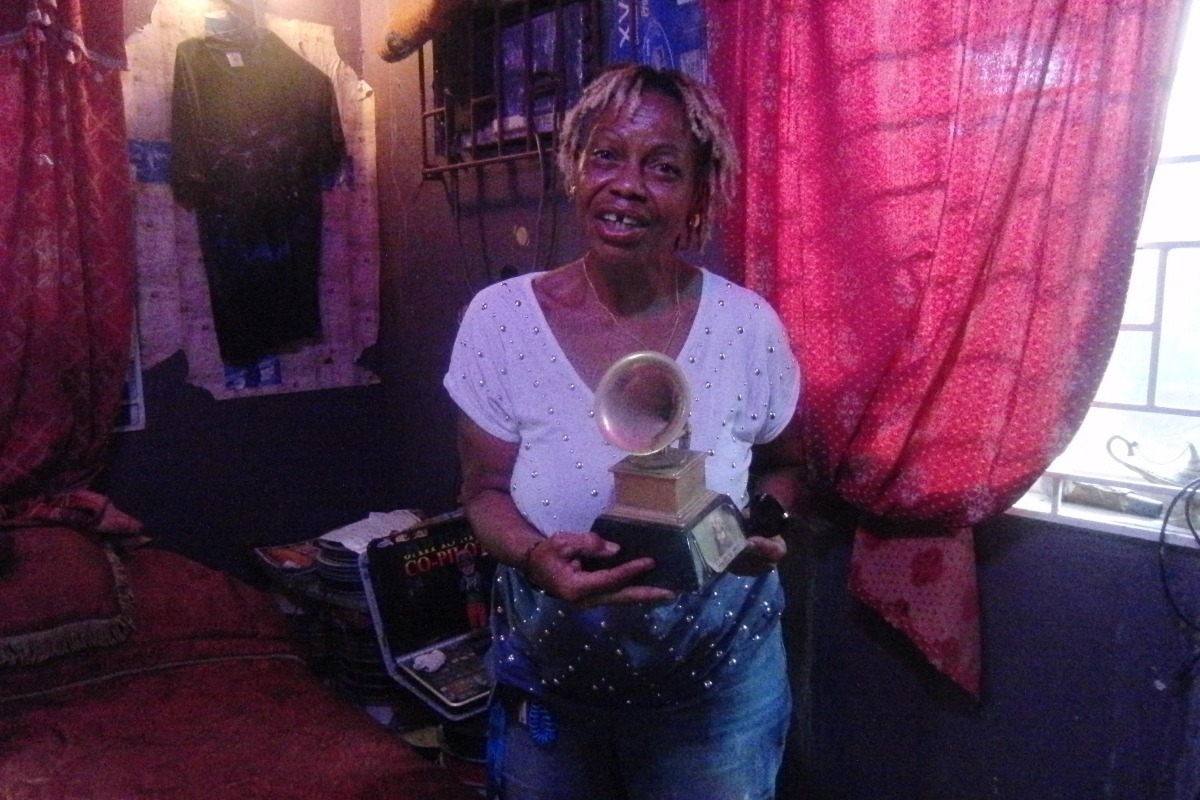 Andrea Lewis at Lee "Scratch Perry's studio, holding with his grammy.   
Why does she need your help: Andrea was diagnosed with bone cancer and is facing enormous costs to get treatment.
Her best option is to fly to Toronto where they offer the most advanced and proven treatment for her type of cancer - Multiple Myeloma.  This will require travel and housing as well as medical expenses.
Even the treatments she must start in Jamaica right away, such as chemotherapy, are costly and get up to 3600 CAD ($2,666 USD) a month. She won't be able to afford it without our support.
Where is the money going to:
We are hoping to raise 67,500 CAD (50,000 USD),  at least half of which will go to medical costs and the rest to associated expenses.
 While we raise the money, we will also try and cover at least some of her weekly treatment costs.
 Why give now?
Every dollar helps, every dollar can give Andrea more time.
Andrea's generosity and positive energy has improved the lives of hundreds if not thousands of people, from those she has taken into her home to those who have benefited from her wisdom and expertise professionally and creatively. Especially as a woman in the music industry she has carved a unique trajectory,  staying true to her values and supporting others big and small in countless ways. This uniqueness has left her with less formal support than many big names who have benefited from her efforts. We are hoping people will take the chance to give back, or just to support someone who has given so much to so many for so long.
Andrea Lewis with Beenie Man. 
Andrea Lewis with Gregory Isaac.
Andrea Lewis with Simply Red's Mick Hucknall.
Andrea Andrea Lewis with Jimmy Cliff at his studio in Kingston.
Andrea Lewis with The Blood & Fire crew -Yabby You, Jah Stitch, Ashanti Roy, Bob Harding, Dillinger, and others.
Andrea Lewis with Adrian Sherwood of On-U Sound.
Andrea Lewis with Prince Buster.
Andrea Lewis with Congos.
Andrea Lewis with Eral Chinna Smith. 
Andrea with Ronnie Jarett. At Wickie Wackie Entertaiment  
Andrea with drummer Horsemouth from Rockers movie.
Andrea with her Hockey team as a young athlete (center)  - Cecilia Hockey team 1972.
Fundraising team (2)
Jeff Waye
Organizer
Raised $1,964 from 20 donations
Montréal, QC
Larisa Mann
Team member
Raised $1,910 from 14 donations