Dream Center LE // HQ Restoration

UPDATE [12.23.19]: We are nearing the completion of our Downtown Headquarters and wanted to bring you a year-end update. Please consider making a 2019 gift before 12/31:
-Finish electrical ($1,200)
-Finish plumbing ($3,850)
-Concrete work ($3,675)
-Flooring ($5,588)
-Metalwork ($2,850)
-Doors & windows ($9,500)
-Painting ($2,350)
-Exterior finishes ($6,000)

Thank you so much for your incredible support!


UPDATE [1.11.19]: Oh happy day--the storefront windows are going in!!! Today we will finish the storefronts and the electrical is coming along well! Join us in raising the additional $12,000 for this project and/or come out and be a part of the excitement!


UPDATE [12.14.18]: Framing is done, rough-in electrical and plumbing in motion. HVAC is in progress! We have raised our budget to $105,000 from $73,000 in order to put in new beautiful storefront windows! Link up with us as we get closer to the fully realized restoration!


UPDATE [08.21.18]: Walls are going up and painting is underway. We're starting rough electrical, plumbing, and HVAC soon! Come out and serve alongside us and/or be a part of raising the remaining $5000 for this incredible restoration!


UPDATE [04.13.18]: 
Power washing is done and the building is ready to go! Be a part of the process... come volunteer and/or help raise the $9,000 to complete the project.


UPDATE [03.13.18]: 
The walls are down, the building is cleared out, and we are stepping into the rebuilding process.Partner with us by helping to raise the remaining $11,000 for the project. We will be working at the building every Saturday during Adopt-A-Block ...join us!



UPDATE [02.06.18]:
We are thrilled to now have a Construction Team & Project Manager to lead the charge as we break ground today on our Headquarters! Partner by helping us raise the remaining amount needed and by coming out to swing a hammer with us!


UPDATE [12.22.17]:
We have received our building permits and plan to start construction right after the 1st of the year. With an anticipated grand opening in Spring or Summer! Please consider making a year-end donation to help us meet our budget and fully fund this project for completion.
UPDATE [10.17.17]:
The Planning Commission of the City of Lake Elsinore unanimously approved our request to modify our Conditional Use Permit allowing for assembly gatherings of up to 149 max occupancy. Praise the Lord!

_________________________________
The Dream Center Lake Elsinore exists to
care for and build community in our beautiful, historic city!
We have been mobilizing volunteers to do just that since the summer of 2013 and have experienced so many incredible miracles and breakthroughs since that time! 
(Please feel free to visit our
website
to learn more about our mission, vision, and values... meet our leadership team... and to read some inspiring stories of changed lives)
We have been a very
grassroots movement
from the start as we would meet on the street corner to pray for our city before heading into the local parks and neighborhoods to
serve and make a difference!
Last summer we had reached a point where finding a facility to organize our efforts became a necessity.
We
needed a physical location
that could house all of our tools and equipment, be used for life-skills training classes during the week, serve as a safe place for neighborhood youth, and give our staff and volunteers a place to organize our expanding operations! 
As we began our search for a headquarters, we knew we needed to find
a historic property in need of some TLC
that could both serve our practical needs as well as
illustrate our heart to bring restoration into our community.
Last July we were able to secure an existing building right in the center of our adopted neighborhoods where we serve every weekend!
Earlier this year, after months of intensive planning and three public hearings,
we received unanimous approval of our Conditional Use Permit with the city!
Since then, we have been working with our own Construction Advisory Team to develop
an incredible plan for reviving this historic property!

Our restoration budget includes:
(click to view full blueprints)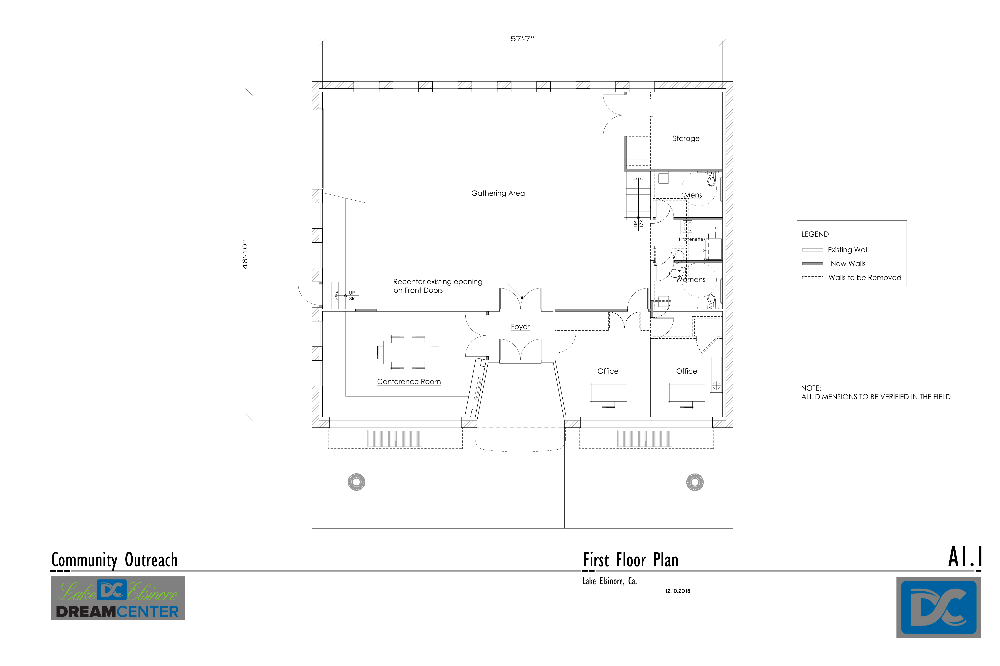 Once complete, this property will not only serve as a multi-purpose facility to
accelerate the mission
of the Dream Center Lake Elsinore but will also stand as
an inspiration to our local community
of the incredible potential to bring positive change from within! We ask you to prayerfully consider partnering with us by sponsoring part of this project as we work to
rehabilitate a historic property to be used for restoring lives that will revitalize our city. 
Thank you so much for your consideration and God bless you!!! 
Sincerely,
The DREAM Team
Phone:
(951) [phone redacted]
Email:
[email redacted]

Like us on Facebook!
Website:
www.DreamCenterLE.org
Address:
114 East Peck Street
Lake Elsinore, CA 92530


(click picture to view our location in Google maps)
Anonymous (multiple donors & donations) 
Organizer and beneficiary
Aubrey Green 
Organizer
Lake Elsinore, CA