Donate to Rescue Homeless Puppies in Anguilla
Saving and Rescuing Puppies.
Giving Puppies a Chance at Life.
This is the kinda stuff that makes the heart sing. 


Renee Rempert and Mike Greenfield (of Chicago and Anguilla) and Leigh Fazzina and David Straub (of Philadelphia) have a love for rescuing homeless puppies and dogs on the small Eastern Caribbean island of Anguilla (just 6 miles north of St. Martin).

In spring of 2019 Renee and Leigh founded the Anguilla Freedom Flyer Dog Rescue, an all-volunteer 501 (C) (3) non-profit organization with a mission to save all homeless puppies and dogs in Anguilla by matchmaking Anguilla vacationers with homeless puppies and dogs ready for adoption by forever-homes and dog rescues in the United States. The organization's Board of Directors includes both Renee and Leigh along with David Straub and Mike Greenfield, four puppy rescue lovers and regular Anguilla visitors. 

Renee, Leigh, Dave, Mike and their team of volunteer Rescue Rovers work hard at rescuing pups and making the pups' 'Freedom Flight' to the United States and Canada come to life.  
Since March 2019, 115 puppies have been rescued through the Anguilla Freedom Flyer Dog Rescue. 

The organization has been fully self-funded and self-supported since it was established. No outside financial support from individuals, corporations or private entities has been provided to the organization to assist it with getting off the ground. Additionally,  no monies have been received from the Anguilla Animal Rescue Foundation (AARF) as they are a separate entity. 

Now that the organization has taken off, financial support is needed now more than ever to sustain the puppy rescue work that the organization has been working hard at doing.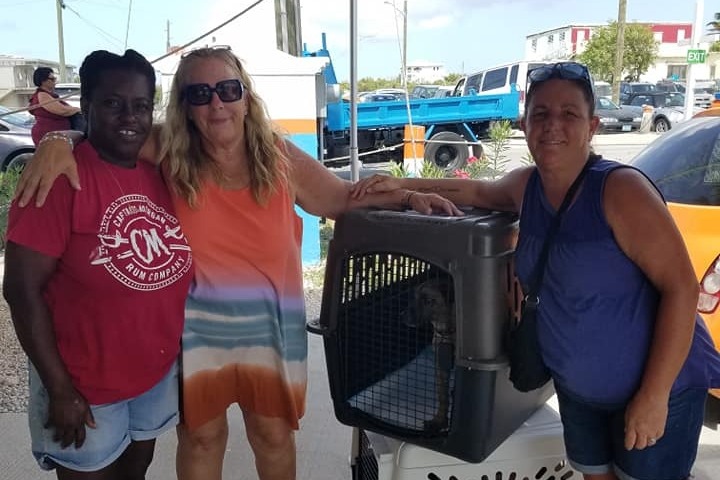 -- Above is Karla Rey Hughes, Renee Rempert and Debbie Osborn transporting 15 pups to the U.S.  Partner rescues in the U.S. include 1Love4Animals  in Philadelphia, Dogology and Mona's House in Connecticut-- 

To date, Renee, Leigh, Dave and Mike have been dedicating their free time, personal finances and resources, and professional experiences in the practices of law, public relations, engineering and sales, to puppy rescue efforts  in Anguilla and building up the Anguilla Freedom Flyer Dog Rescue. To date, thousands of personal dollars have been spent by Renee, Leigh, Dave and Mike on dog supplies (collars, leashes, pee pads, treats, food, water bowls, sanitary wipes, poopy bags, travel toys) airline tickets for puppies, adoption fees, health certificates medicines and much more to save the pups.

Renee, Leigh, Dave and Mike are currently seeking donations to help the Anguilla Freedom Flyer Dog Rescue sustain thier efforts and get into a position of strength so continued rescue work can occurr and so  that monies can be donated to further the spay and neuter efforts on Anguilla. 

-- Above are Gina and Jennie Verdi transporting five puppies to Take Me Home Pet Rescue  in Milton, New York-- 
All donations received via this campaign will go towards the following:

1).   Supplies for the puppies being transported to the U.S. on their 'Freedom Flights' such as soft crate puppy carriers, collars, leashes, pee pads, food, toys, sanitary wipes, poopy bags, hard crates and any other necessary supplies. 
 
2).  Medicines consisting of vaccines, heartworm and flea and tick medicine when needed. 
 
3).  Health certificates required by U.S. Customs and Livestock and Agricultural Departments for when a puppy is being transported and leaving Anguilla and St. Martin and entering the United States.  
 
4).  Spay and neuter for adult dogs living on Anguilla.  Leigh and Renee have laid out a spay and neuter plan with Dr. Swanston, head veterinarian on Anguilla and owner of Morlen's Veterinary Clinic, to promote and encourage a free spay and neuter for Anguillan dog owners. 

5).  Chartering an airplane to run large-size 'Freedom Flights' 2x a year directly from Anguilla to a major U.S. city  such as NYC, Newark, Philadelphia, Boston, Washington, D.C. , Atlanta, Miami, etc. carrying and transporting roughly 40+ puppies per flight. 

-- Above is Olivia Hastings, Grant Nyikshoa, and Leigh Fazzina who rescued Bear and Duke who are now Bostonians! -- 

WHY IS THIS CAMPAIGN NEEDED?

Each time we clean up, treat and help get a puppy ready for adoption the expense cost is $200 per puppy. Costs include the initial vaccination and de-worming, vet exam, the purchase of the health certificate required for U.S. customs, sometimes boarding costs while the puppy is awaiting transport, sometimes a second vaccination and rabies vaccination in addition to extra medical needs (when needed), flea/tick treatment, and other pet-specific services.

-- Above is Marisa Verdi-Liguori loving the pup she helped to rescue and transport to New York -- 

We also have to purchase soft crate travel carriers, collars and leashes, and pet travel supplies such as absorbent pee pads, foods and treats that go into the carriers when the puppies are traveling. 

If a puppy is too big to travel in the cabin of the plane under the passenger seat and needs to go in cargo, the cost of a plane ticket which can be nearly double of the cost of the puppy sitting under the seat in a soft crate carrier is another expense.  

While we are asking adopters to cover some of these costs for direct puppy adoptions, some adopters are not all able to cover all costs. So donations can help off-set what an adopter may not be able to afford.  

-- Above is Andrew Shaner transporting two pups to Buffalo --

CAMPAIGN GOAL AND DONOR BENEFITS

We are looking to raise $25,000 by October 31, 2019. Its aggressive, but we know we can do it with your help. 

This amount will get a lot of puppies rescued and adopted and it will also us to contribute to the spay and neuter program in Anguilla. 

Most importantly, these funds will prevent a lot of unwanted canine pregnancies on Anguilla, lessening the puppy population problem and diminishing the need for euthanasia. 


A TAX DEDUCTION FOR YOUR DONATION

We have good news for donors. Your donation is 100% tax deductible.  

The Anguilla Freedom Flyer Dog Rescue is a United States IRS-registered non-profit, 501(c)(3) certified charity organization. It was set up to provide tax deductions to U.S. donors.

GoFundMe will deposit the donations made from this campaign directly into the organization's non-profit bank account. Once you make a donation you will be provided with a digital receipt that includes the organization's EIN# for tax write-off purposes. 


SO WHATTAYA SAY? 

Does your heart sing like ours when puppies get rescued and are provided the opportunity to have a life?
Will you consider helping the Anguilla Freedom Flyer Dog Rescue get further off the ground and in a position of strength?

Will you make a donation today?

Any amount you give will be greatly appreciated.  All donations add up.

Your gift will truly make a difference.

You can make a donation as yourself or anonymously if you prefer.

-- Above is Dave Straub transporting Colt to his friend in Philadelphia who did a direct adoption --

JOIN US!

Join the Anguilla Freedom Flyer Dog Rescue closed Facebook Group where we are matchmaking transporters with puppies needing rescue, foster families and people who may want to do a direct adoption or can help in some other way in the future.  

Also follow us on Instagram at @anguillafreedomflyerdogrescue where we share lots of cute puppy pics and you can share yours. 

The Anguilla Freedom Flyer Dog Rescue website is under development but you can bookmark it and check back at www.anguillafreedomflyerdogrescue.org 


Puppies! Gotta Love them!

Below are the puppies we worked to get rescued and onto their Freedom Flights in Spring 2019. This is the kind of stuff that makes our hearts sing and keeps us going each day to rescue even more.

-- Brothers and sisters united! --


-- Island pups with their sweet sandy faces! --
Thank you for your interest in this fundraiser.
Bookmark this campaign and check back to see how the fundraiser efforts are doing as we march ahead. 
Organizer
Leigh Fazzina
Organizer
St. Charles, IL

Anguilla Freedom Flyer Dog Rescue
Registered nonprofit
Donations are typically 100% tax deductible in the US.