Dan Kirmer Medical/Rehab Fund
Dan Kirmer is a Park Ranger with Colorado Parks and Wildlife.  He is the Park Manager of John Martin State Park, a popular place for fishing, boating and camping in Lamar, CO.   Dan and his wife, Amandra, have two young children and a third little one coming in a few months.
On May 15, without any warning, Dan found himself in the Neuro-Trauma Intensive Care Unit in Pueblo (over two hours away from home).  He was diagnosed with Guillain-Barre syndrome, a rare disorder in which your body's immune system attacks your nerves.  There is no known cause and the symptoms can be quite severe, including paralysis.  People do recover, but it takes a very long time.
Dan's case set in quickly and was severe.  He and Amandra made it through a very challenging and frightening first week in ICU. He is doing much better now.  
We hope the worst is behind him, but the course and length of this syndrome is unknown.  Dan has a long rehabilitation period ahead of him to get back home to Lamar.  Once there he will continue to recover, enjoy the arrival of their third baby in August and finally get back to the park he works so hard managing.
Any serious illness that includes a long hospital stay is a financial strain on anybody.  Dan and Amandra are no different.   There are high insurance deductibles, ambulance bills and all the extra expenses Amandra has incurred with fuel, food, hotels and everything needed to live away from her home for weeks on end.   
One easy and instant way that you can make a significant impact on Dan's recovery is to help ease the strain of financial worries. 
Please consider donating to this great family.   The money you contribute will go directly to Dan and Amandra.  They will have instant access to this account and be able to pay the in-coming medical bills and handle any other expenses that come up.  What a relief that would be.
If you prefer to send a check directly, there is a fund set-up at a bank in Lamar.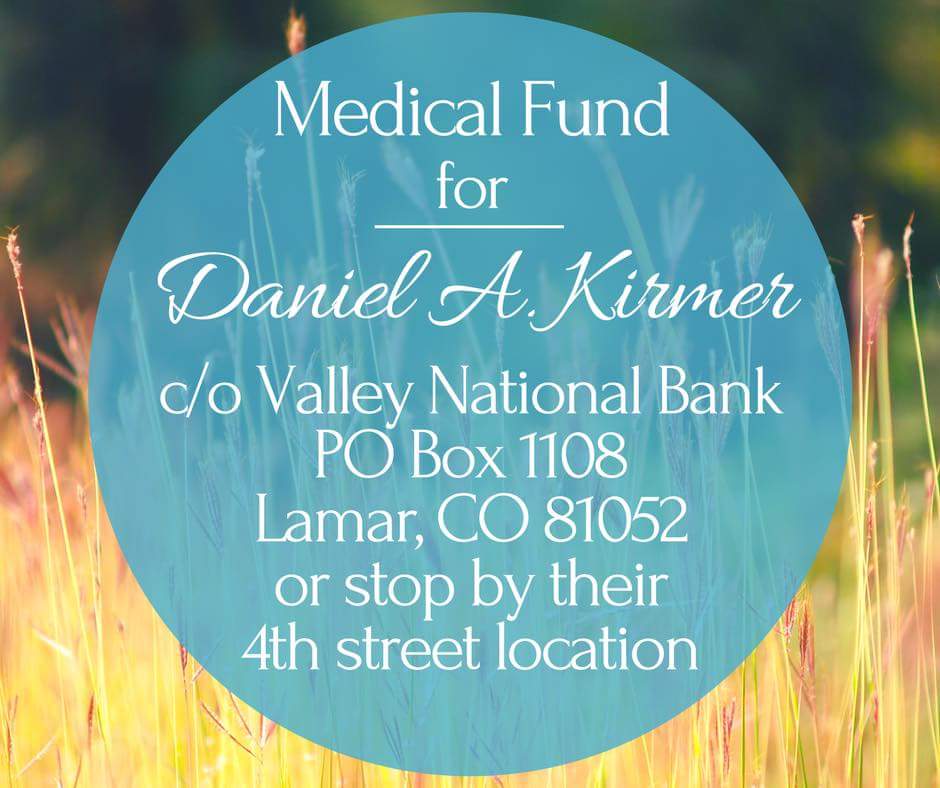 Thank you!  The Colorado Parks and Wildlife family is a tight group of loyal and caring people.  Dan Kirmer is one of their finest.  I know that Dan and Amandra appreciate your help, thoughts and prayers.