Adopted Dog's Much Needed Surgeries
October 25, 2017 Update:
After further research into the owner of The Barking Lot, I have uncovered that her business license has been suspended by the State of CA and she has been doing business and selling dogs under a Non-Profit status illegally.  I have also found many other people who have experienced a similar situation to mine with The Barking Lot.  I am now working with a lawyer and we are taking the owner of the shelter to court, potentially as a class action suit.  She continues to ignore all my and my lawyer's communications and attempts to settle this in a fair and reasonable manner.
Original Post:
Hi, I am a single mom with twin 11 year old boys.  For years my boys have asked for a dog, but I have waited until they were old enough to actually own and be responsible for a dog.  
After much research and going back and forth, we decided to go to a local (reputable) dog shelter in San Diego called The Barking Lot in early June '17.  
We arranged to see a handful of dogs, one of which was Dakota.  It was unanimous that Dakota (3 yr. old mix) was the one for us and so we took her home that day.
 A few hours after taking her home that same day, we noticed a limp in her left hind leg that wasn't at all apparent while meeting and adopting her at the shelter.  
After noticing the limp, I immediately picked up on other signs of an injury (i.e. cannot put weight on it, sits/lies down oddly to avoid pressure on the leg, refuses to jump and go in/out of cars, and goes down the stairs on only three legs).   Below is a video and picture of the day the boys, my friend and I first met Dakota and adopted her from the shelter.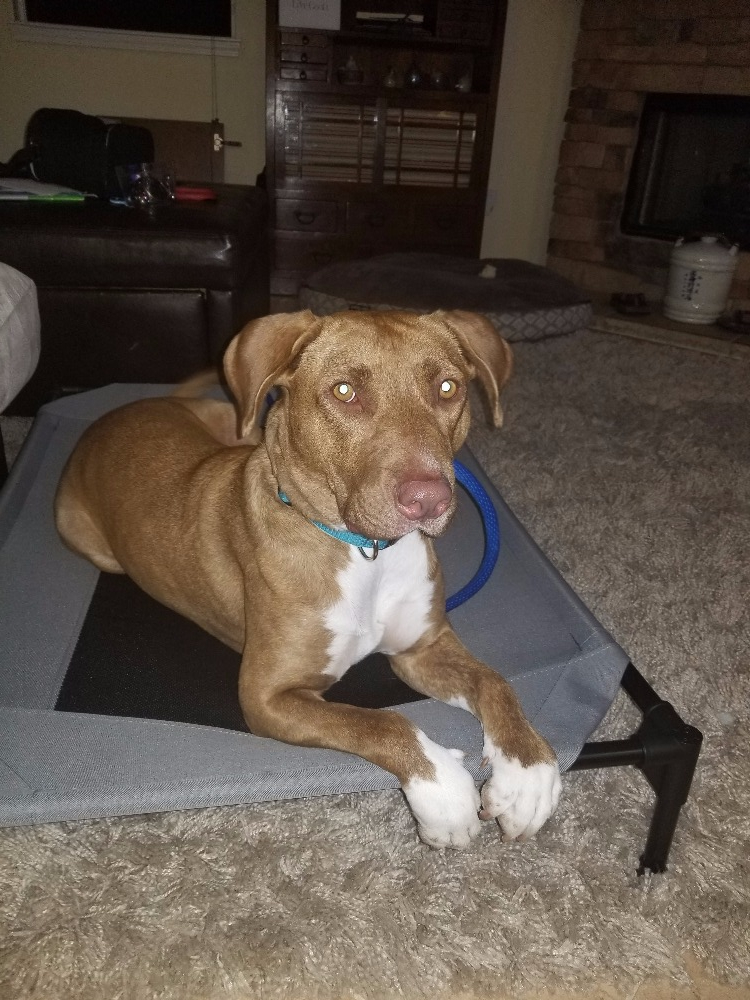 The owner of the Barking Lot processed the adoption of Dakota and at no time did she mention that Dakota had a current leg injury, nor was in need of any medical attention.
 The adoption agreement further states that Dakota had no known medical conditions at the time of adoption....however, with the obvious limping, one could only logically wonder if the shelter hid her injury was possibly hidden with pain medication at the time of adoption.
The next day I took Dakota to my vet and immediately she could see and identify the injury.  I handed the vet the paperwork that the Barking Lot had given me, which I was told were Dakota's shot records.  On one sheet, the vet saw medical notes from a previous vet visit (Dakota was aopted out for a year but brought back to the shelter for ambiguous reasons, as communicated to me by the shelter's owner).  The vet interpretted the below notes and explained to me that Dakota had been diagnosed back in Jan. 2016 (18 months ago!) with a "significant medial luxation of the patella" and that she indeed was in need of surgery.  
I now speculate that the previous owner of Dakota brought her back due to not being able to fund the surgery.  The Barking Lot did take her back  from the previous adoptee, but
did not provide Dakota the surgery that she needed and instead left her to limp and manage the pain of the injury on her own.  




Now that so much time has elapsed, her left leg has now gotten worse with the accumilation of scar tissue and a suspected additional ACL tear, as well.   The vet can also see lameness in her right leg, with the suspicion that Dakota will also now need surgery to her right leg, due to the damage that she has caused by constantly using and favoring her right leg to offset the pain and weekness to her left leg.  
The cost for each leg is $3,200.
 The medical procedure she needs is called a Tibial Plateau Levelling Osteotomy (TPLO).  Dakota will require two different surgeries with substantial recovery timeframes (2 months of home-sedation after each surjury to keep her off her leg in order to heal).  Below is a copy of my contract and a copy of the vet visit notes that wasn't disclosed  or explained to me at the time of adoption.
Upon deciding to adopt a dog, I in no way anticpated, nor was capabable of adopting a dog with significant medical needs.  I contacted The Barking Lot several times and my calls and emails have fallen on deaf ears, a part from they did offer to return her back to the shelter.  I communicated to the shelter that bringing Dakota back seems contrary to the mission of the shelter which is to find good homes for adopted dogs, which we have provided for Dakota.
 We have committed to adopting Dakota and therefore, returning her to a cage at the shelter is not an option.
 Not to mention, Dakota has already gone without proper medical care while under the shelter's care, so bringing her back is not seemingly at all in her best interest. However, I don't have the financial capability to provide for her needed surgeries....and so I am reaching out to my friends, family and the public for support.  
Dakota is a sweet young vizsla/pit bull terrior mix who really just wants a chance to be young, healthy and vibrant.  Giving her these surgeries would significantly improve her quality of life and allow her to jump, run and play like a dog her age should be capable of doing.  


We have had Dakota now for 3 weeks and my goal is to get her into surgery as soon as financially possible.  I still am not getting any replies from the shelter and so I have looked into this legally.  However, the legal part of this could take many many months and Dakota doesn't have that time to wait for her surgery....
So any little bit will help and is so appreciated!!!
 I've also attached some pictures and videos from home.  The videos show the soreness and injury in her leg.  
Organizer