A Daddy's Fight for his Baby Boy....
NEVER  HAD TO FIGHT SO HARD, to do the RIGHT thing,
When efforts from a Daddy to protect his child, are exhausted financially, 
his child has no hope-Daddy's voice is forced to go silent.     

My son is 26, and has EXCEEDED our expectations 100000% in the amazing Daddy he has become.  
He's the type of Daddy that any Mom would pray to have, for their child. 
  Thru the last year, in the effort to obtain "personal"  Parenting Rights to his new baby boy,  we have all watched him be put thru hell by his child's Mother, (they were not married-and the relationship ended before she found out she was pregnant).     
I'm a Grammy that will Beg, Borrow, Plead and Jump thru Fire, to protect my family - I'm not ashamed or embarassed to ask for help.
This is a story of a Mom  being  rewarded for her behavior
of creating conflict, infidelity, using her child, and not being made to be accountable for her actions.  She's been allowed to carry on and create a LEGAL PLUNDER.   My grandson has become a commodity for Lawyers, Judges, his own Mom, and her family.    
As is common, Daddy's are forced to pay exuberant amounts of Child Support during custody battles and after, which in turn, is AGAIN, rewarding the Mother for her behavior, allowing her to continue the game,  and pay for her Lawyer and Living Expenses to keep the game going, until they've exhausted all of the Dad's money.   Courts/Attorneys /Society  tend to ignore the fight of a non-custodial parent and the CRIMES that are perpetuated against them by, in the case, the Mother.  
My son's is dealing with a mom that displays "textbook"  obsessive behaviors, documented over the course of the last year and a half
... with every  trait, characteristic and behavioral pattern clearly displayed in the 3000 pages of documentations we've accumulated for court.     She's very secretive and has extreme fears of being exposed.   Her son has been her perfect Pawn used in
her game of   "If you want him,  you have to take me too --> and if not, you'll pay the price"   
The price being, his son. 
My son was forced to hire an attorney and take her to Court, because she would NOT give him even "basic" Personal Parenting Time.   He was court ordered to pay $1,269.00 / Month in Child Support until the final Trial date for his Custody order.  This is MORE than the total cost for his child to even be alive and breathing today....  He's now, to the point of possibly losing everything he's worked hard for: a home for his child, a safe vehicle for transporting his child, as well as transportation to work.       
 Mom Pays -0-, and is actually Profiting off her Son, 
as well as reaping all of the other rewards of having custody of your child.
The Court System has left this Daddy Paralyzed.  What are the Options??     The cost to fight for your child is HUGE, and if you have no money, your only option is to give up.   THIS is not about giving up the "fight"   :this is about
NOT giving up on his Son
.    However, how do you do that -->  Money is the only power in this case, it seems.
You would think these behaviors he's dealt with this last year, would tell the Courts something..... and we're hoping they do, but we have to get there, first.  These are just *a few* of the things he/we have had to endure:

--
In a fit of jealousy/rage, she broke into my son's home, assaulted him & destructed his property(
while 7mo pregnant
). 
Was she Prosecuted ?  No, it was allowed to quietly die.  A mom, 7 months pregnant--> and with her working "in" the court system, makes it a tough sell from an outsider, EVEN with pics.
--She had an affair & didn't know who her child's daddy was, with no plans of revealing it until she was exposed, which was "after" my son had given his heart to this unborn child "" My son, never wavered on that love and commitment, even knowing that little guy may not be his son
--In her efforts to buy time to "win" my son back, she consistently used their baby son as a Pawn,  keeping the control by constantly declining his requests for personal time.  He had to spend time with "her" in order to spend time with his son
--to further buy her time to re-gain a relationship with my son:   she accused him & our family of so many things-in order to keep the control of her pawn, their son-->  My son, as well as his family are still having to defend the air we breathe.  But, for her, all the while, consistently continued to send him Sexual Snapchats, Love Notes, make sexual advances privately and in public, invite him over for sleepovers, etc:. in an effort to win him back with sex & flirtation 
--
She consistently denied/declined Child Support from my son
""  What mom would do that??      Later, we found she chose to draw WIC instead  ??  Bizarre as she was living in a very nice home with her parents, AND declining CHILD SUPPORT,  not sure how she would have qualified ??
--In her frequent bouts of jealousy/rage, she would "delete" pictures of their son that she took, instead of sending them to Daddy.  It was Daddy's punishment for making her jealous.  
--She called the Police on me(Grammy)  when I asked for a picture of my grandson, while at a local restaurant (it had been 4 months & I hadn't seen or got to hold my Grandson) "" She accused me of assaulting her, AND her parents were with her and supported the behavior.     Tk God for the 20 witnesses.  
--We,  as parents, and former friends of her parents,
tried to get information to her parents, thinking "surely" they would help their daughter...  because that's what parents do
- whether your child is 1 or 51.     But no,
we were accused of Harassment
instead.  This little boy needs his Mom and his Dad....but he needs a mentally and physically healthy Mom and Dad.   
Now the behavior of their daughter was making sense...  how do you know to help your child, when you never got from your own parents?    
--We, the Paternal family didn't get to have Personal Family time with lil guy until my son was forced to take her to court JUST to get basic time:he was 8mo old by then.  We were lucky to get that,  
as she also committed perjury on the stand, making & presenting false accusations against him and his family
--My son
missed having personal parenting time
with his son for
his "1st Father's Day",
as well as every other Family Events and Birthday last year ....My son had to spend ALL special events last year with her, or he didn't get to see his son
--When their son recently needed urgent Medical care, she declined the need and threatened that if he took him, she'd call the Police.    
My Son TOOK his son to the ER for medical care, she DID call the Police. 
 My Grandson 
had an extremely low oxygen count because he couldn't breathe, ear infections, hives and had to have the mucous sucked out of his head, and be put on 10 days of antibiotics
.   She, still to this day *with ER papers in her hand* says  "He was fine..there was nothing wrong with him, and I'm NOT paying the bill"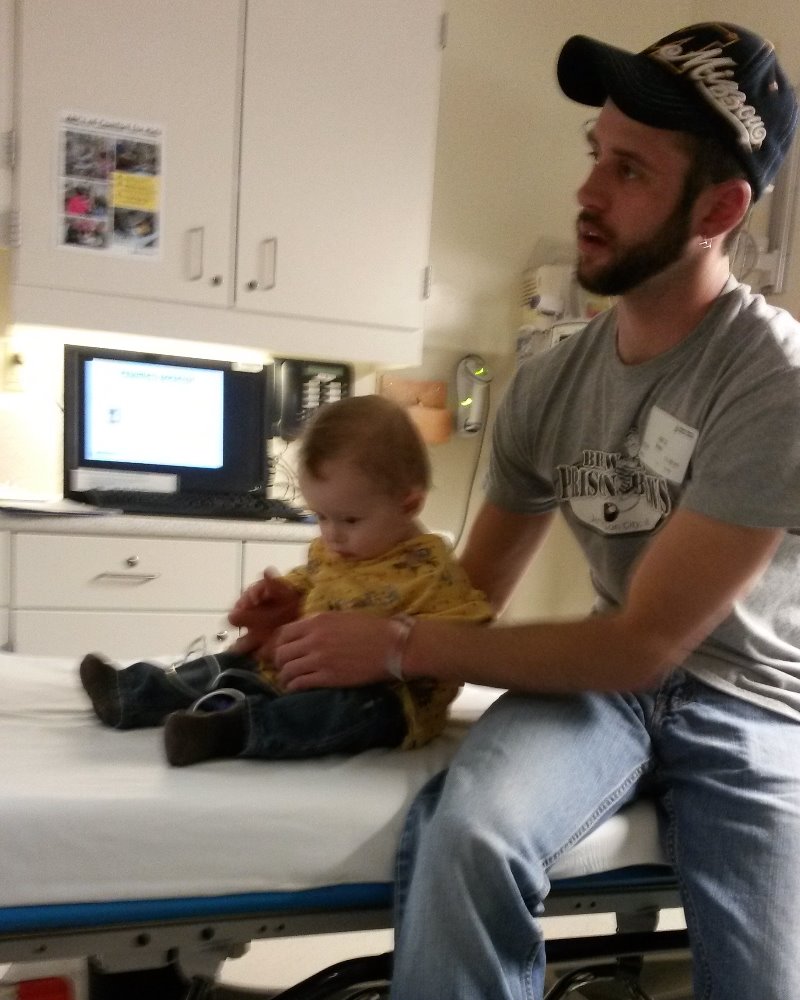 --She's used my grandson's ability to eat, from the time he was born,  as a game:.as she didn't allow him to take a bottle in an effort to keep my son from obtaining "personal" parenting time. Her game was "He needs mommy to eat, so you cannot take him"  her way of keeping that control and making sure my son had to go to "her" to see his son.   Not sure how the babysitter fed him @ 2mo old,  while Mom was at work.
 --She was breastfeeding while drinking alcohol and defended it.  She wouldn't let him use a bottle, as part of her game - so no way of drinking clean breastmilk either.   
--She's NOW entered into a new romantic relationship and as of the same day she did, she had already introduced my grandson into this relationship.  He's also now being included in "overnights" with her and this gentleman.   
--She has a history of failed relationships due to her Obsessive & Controlling behavior that is consistent with what my Son just experienced over the last 2 yrs.   If my son doesn't get control of this situation....we fear how many more of these "relationships" his son will be introduced in to.  That scares the hell out of us
--She has stalked him, and accused my son of so much, that he's been forced to install a Security Camera System on his home to record 24/7, recorders on his phone,  and video cameras inside his home,  JUST to be able to defend himself in Court. 
--and NOW, she's NOT sending a diaper bag anymore as of yesterday - for time with Daddy.  Her statement "you're mom's begging for money for court.... you can supply whatever he needs"   CLASSIC MOM !     No diapers, no food, no meds, no clothes, no ins card.... The agmt they had when he was given the order to pay $1269/mo is that should would use that and make sure his bag was supplied.  AGAIN, she's getting MORE in Child Support than the $900/mo it cost to even have their son alive and breathing.
--------- Who was she hurting here?   No one, but their SON. 
LET a DADDY try to get away with all this, and he would NEVER see his child again, and would have been prosecuted a  long time ago.
Anything he tries to initiate legally regarding these behaviors, requires him to pay more money, pay for evaluations, pay for other attorneys, etc.... and threatens to put the whole case in a pending status.  It's constantly a Catch 22
Child Abuse is not solely defined by bruises
.... 
Emotional and Verbal Abuse are something that stay with a person forever.
  Parental Alientation and using your child as pawn... as bait,  IS child abuse.    How is this OK??   Why is my son having to FIGHT the system to protect his child ??
Unfortunately in this case, as in many others, the Courts and Attorneys allow the behavior by the Mom, and the child(ren) are the ones that pay the price.   
My Grandson is only a year old
now, and young enough to NOT be effected emotionally or mentally right now, but
before long, it will be too late
.
I'M A GRAMMY that is not ashamed to beg, borrow, plead, and lose everything I have to HELP MY SON fight
to save his baby boy
from growing up emotionally scarred by the same mental/verbal abuse & games that my son, and our family  have endured over the last year by this "Mom", who's behavior was also supported by her family.     
I  WILL NOT  stop fighting for my son, and his efforts to fight for "his son", until I have exhausted every option, OR am no longer breathing.  
God willing, this little man will be lucky enough to be allowed to be a "positive" statistic due to his Daddy's efforts, as well as the efforts and support of his Family and Friends.
There is Power and Strength in NUMBERS, and it's going to take alot to get thru this Court battle..... whether it be
ONE Dollar
or 
ONE Prayer, ONE Share of our story, 
we will take it, as well as being so humbled and appreciative.
Thank you for taking the time to read our story. 
Dedicated to our lil man....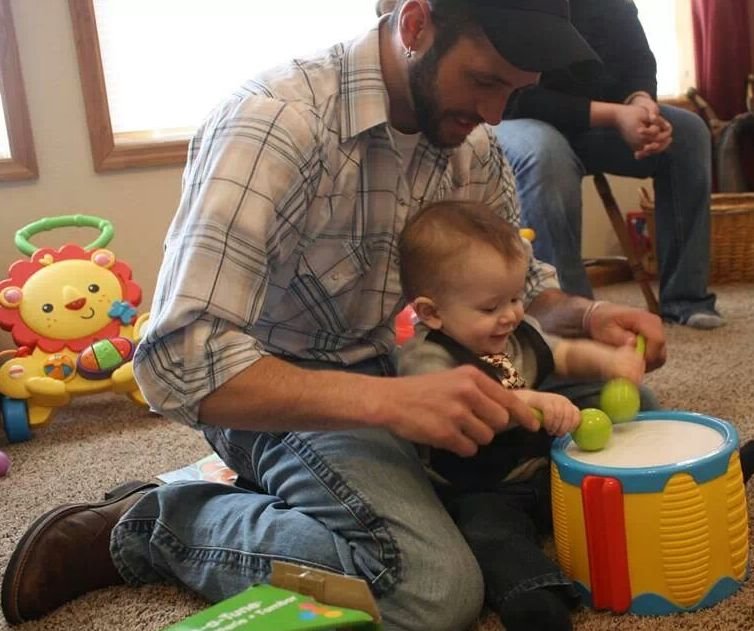 Friend from Grammy's School Days 
Organizer
Becky Patton Albright 
Organizer
Harrisonville, MO
#1 fundraising platform

More people start fundraisers on GoFundMe than on any other platform. Learn more

GoFundMe Guarantee

In the rare case something isn't right, we will work with you to determine if misuse occurred. Learn more

Expert advice

Contact us with your questions and we'll answer, day or night. Learn more