Cycling Mallorca (400k) in 24h to support refugees
⬇️Español abajo!

Cycling
400 kilometers around the island of Mallorca within 24 hours
 to raise money for the organisation
Open Cultural Center
, an NGO that works towards the
inclusion of refugees through educational and cultural projects
. The funds raised through this campaign will be used to support the projects of OCC in both
Spain and Greece
, which can be found on the official website
here
.
The route
I will be cycling can be found
here
. Starting at the small village of Fornalutx, I will cycle along
the entire coast of Mallorca
, passing  by
mountains, countryside and long coastal roads
, ending at night near the (in)famous climb '
Sa Calobra
'. The goal is to do the 400 kilometers within 24 hours without sleeping,
starting on the 14th or 15th of September
, depending on the weather conditions.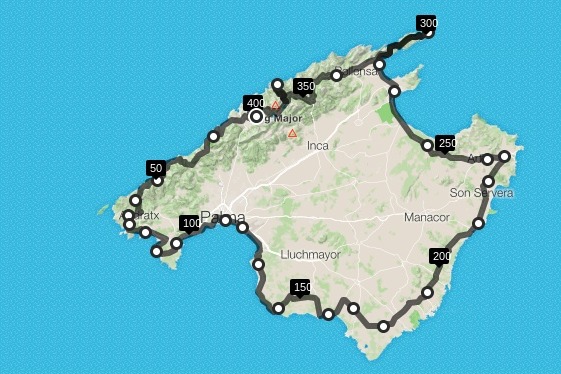 As I work at OCC, the raised money will go
directly to OCC
without any stops in between, so no money will be wasted. Find more about how OCC uses her donations
here
.
This is the bike that will be my main support to bring me around Mallorca, together with my dad who will support me from a scooter with food and other supplies.
Will you support me as well? Thanks a million in advance.The goal is to finish without sleeping in between, but in case of any difficulties that prevent me from completing, I will take one sleepover and try to finish right afterwards. In case of any situation that prevent me from starting (weather conditions, injuries, etc.), I will reschedule the plan. 


RECORRIENDO MALLORCA EN BICICLETA (400K) POR 24H EN APOYO A LOS REFUGIADOS
Recorrido de 400 kilómetros en bicicleta por la isla de Mallorca en 24 horas para recaudar fondos para la organización Open Cultural Center, una ONG que trabaja para la inclusión de los refugiados a través de proyectos educativos y culturales. Los fondos recaudados a través de esta campaña serán destinados a los proyectos de dicha organización operados tanto en España como Grecia. Para más información sobre los proyectos visita el sitio web oficial aquí presente.
La ruta que voy a recorrer en bicicleta se puede encontrar aquí. Comenzando en el pequeño pueblo de Fornalutx, haré un un recorrido a lo largo de toda la costa de Mallorca, pasando por montañas, campos y largos caminos costeros y finalizando por la noche cerca de la famosa subida 'Sa Calobra'. El objetivo es recorrer los 400 kilómetros en 24 horas sin dormir, comenzando el 14 o 15 de septiembre, dependiendo de las condiciones climáticas.
Como actualmente trabajo en OCC, el dinero recaudado irá directamente a esta organización sin ningún tipo de paradas intermedias, por lo que no se desperdiciará dinero. Encuentre más sobre cómo OCC usa sus donaciones aquí.
Arriba puedes ver la bicicleta que será mi principal medio para llevarme por Mallorca, junto con mi padre que me apoyará desde un scooter / automóvil con comida y otros suministros. ¿Me apoyarás tú también? Un millón de gracias por adelantado.
El objetivo es terminar sin dormir en el transcurso del recorrido, pero en caso de cualquier dificultad que me impida completar, tendré que pernoctar en algún sitio e intentar terminar luego. En caso de cualquier situación fuera de mis manos que me impida comenzar (condiciones climáticas, lesiones, etc.), reprogramaré el plan.


Organizer
Vincent van Grondelle
Organizer
Palma