Hello! We are FIRST Tech Challenge team #11212 The Clueless. Because the outbreak of COVID-19 continues to get worse and the protective supplies for the doctors, healthcare providers, and essential workers are still in shortage, we encourage everyone to contribute their time and expertise to produce face shields at home. Our team has started to utilize our own 3D printers (we have eight of them) to print face shield frames. However, there are several materials we will need to purchase. We decided to run a GoFundMe campaign on 3/28 and hoped to raise $500 to build 100 face shields. In two days, we raised over $1250, so we increased our target to 200 face shields by April 10th. Thanks to all the generous donors, the total funding reached $2580 in one week. We had to pause the fundraising so we could focus on delivering the shields. So far, we have shipped over 500 shields to Kaiser Permanente, UCSD, Sharp, Tri-City Medical Center, Palomar Health, Alvarado Hospital, and Scripps Hospital. We have also shipped PPE packages to hospitals in cities outside of San Diego such as the Ronald Reagan UCLA Medical Center, USC Keck, and the New York-Presbyterian Hospital.
Our project has generated great interest among our community. We give massive thanks to Torrey Hill Technologies for donating two 3D printers, to 3D Systems for donating 3D printed parts, and to FOX 5 and NBC 7 for reporting our story. More requests came to us through the news and social media. We have opened our fundraiser again so we can purchase materials for another 600 face shields. We are exploring new PET materials and foam designs to further improve the quality and ease of use of the current design. After shipping the first 600 face shields by this Saturday (4/11), our goal is to deliver another 600 shields in two weeks (4/25). 
Thank you for your generous donation to our healthcare heroes. Together, we will win this battle! 
Nicholas Liu
On behalf of FIRST Tech Challenge Team #11212
The Clueless
4/10/2020
Resources if you would like to print and assemble your own face shields:
https://drive.google.com/file/d/1R9G0E6cgU9MNSm_p7VagufBqOEzVV_MH/view?usp=sharing
Additionally, if you or anybody you know might be in need of PPE or has the ability to make PPE, please refer them to 
printforthecure.com
Face Shield Recipients:
[03/31/20] 5 pieces to Kaiser Permanente ICU & Zion Medical Center. (H.Y.)
[03/31/20] 5 pieces to Dept. of Pediatrics, Kaiser Permanente, 4405 Vendever (A.J.)
[04/01/20] 3 pieces to UCSD Inpatient hospital (Cheng)
[04/01/20] 3 pieces to Sharp ER (Helen)
[04/01/20] 3 pieces to Kaiser Inpatient hospital (Xu)
[04/01/20] 3 pieces to UCSD Inpatient hospital (Ann)
[04/01/20] 3 pieces to Tri-City Medical Center (Zhao)
[04/02/20] 5 pieces to UCLA (A. Wang)
[04/02/20] 2 pieces to San Diego Sheriff's Medical Services (R. Arce)
[04/02/20] 5 pieces to Dept of Pediatrics, Kaiser Permanente, 4405 Vendever (A.J.)
[04/03/20] 2 pieces to a grocery store (K. Snew)
[04/03/20] 2 pieces to Genentech, Clinical Trial Treatment for COVID-19 (A.R.)
[04/03/20] 1 piece to San Diego Sheriff's Medical Services (R. Arce)
[04/03/20] 10 pieces to University of Washington Medical Center (H.E.)
[04/03/20] 20 pieces to Hartford Hospital Emergency Room (M.J.)
[04/04/20] 5 pieces to UC Medical Center, Internal Medicine Residency (L.H.)
[04/04/20] 15 pieces to Kaiser Permanente ICU (L.J./H.J.)
[04/04/20] 3 pieces to Westview Optometry (W.D.)
[04/04/20] 50 pieces to Ronald Reagan UCLA Medical Center (S.P.)
[04/05/20] 10 pieces to Sharp Rees-Stealy, Rancho Bernardo, ER (Z.T.)
[04/05/20] 20 pieces to Scripps Clinic Chula Vista (D.M.)
[04/05/20] 20 pieces to Whittier Hospital, acute hemodialysis (S.W)
[04/05/20] 20 pieces to Mayo Clinic (H.Y)
[04/05/20] 20 pieces to Westchester Medical Center, Dept. of Rehab Medicine (T.K)
[04/05/20] 15 pieces to USC Keck Hospital (W. A.)
[04/05/20] 10 pieces to Kaiser Permanente (T.J.)
[04/05/20] 10 pieces to Scripps Encinitas (L.C.)
[04/05/20] 2 pieces to Alta Dena Milk Company (B.G.)
[04/05/20] 10 pieces to Froedtert Health Clinic (F.M.)
[04/05/20]  12 pieces to Jamaica Hospital Medical Center (Z.P)
[04/05/20] 10 pieces to LA Medical Clinic (H.J)
[04/05/20] 20 pieces to Kaiser Permanente, ICU (S.)
[04/05/20] 50 pieces to San Diego Sheriff's Medical Services (R. Arce)
[04/06/20] 5 pieces to UCSD Health (B.G.)
[04/06/20] 5 pieces to Scripps Clinic Mission Valley (X.R.)
[04/07/20] 10 pieces to Mount Sinai Hospital (R.A.)
[04/07/20] 9 pieces to Sharp (Y.C)
[04/07/20] 20 pieces to Palomar Health (L.)
[04/07/20] 20 pieces to Sharp Laboratory Services (D.M.)
[04/07/20] 13 piece to Alvarado Hospital (D.E)
[04/07/20] 4 pieces to seniors in San Diego (J.A.)
[04/07/20] 3 pieces to Reo Vista Healthcare Center (P.M.)
[04/08/20] 20 pieces to LA Ambulance Care Service (C.H.)
[04/08/20] 2 pieces to Rady Children's Hospital, Orthopedics (E.E.)
[04/09/20] 25 pieces to SUNY Downstate Medical Center (C.L.)
[04/09/20] 3 pieces to New York-Presbyterian Hospital, Columbia Oncology Clinic (D.R.)
[04/10/20] 20 pieces to Alvarado Hospital (J.)
[04/10/20] 50 pieces to Kaiser Permanente Walnut Creek Medical Center (B.R.)
[04/10/20] 20 pieces to San Diego Sheriff's Medical Services (R. Arce)
[04/10/20] 15 pieces to Rochester General Hospital (P.D.)
[04/10/20] 5 pieces to Sharp (M.C.)
[04/11/20] 25 pieces to Sharp Grossmont Hospital (C.J.)
[04/11/20] 25 pieces to Sharp Grossmont Hospital (B.C.)
[04/11/20] 10 pieces to Weill Cornell ICU (P.D.)
[04/11/20] 1 piece to Sharp Memorial (C.J.)
[04/11/20] 20 pieces to Sharp Grossmont Hospital (D.A.)
[04/13/20] 160 pieces to Palomar Health (L.)
[04/13/20] 30 pieces to Alvarado Hospital Medical Center (L.)
[04/13/20] 4 pieces to Westview Optometry (W.D.)
[04/14/20] 76 pieces to Kingsbrook Jewish Medical Center (Y.N.)
[04/14/20] 10 pieces to San Diego Digestive Disease Consultants (L.D.)
[04/15/20] 30 pieces to Sharp HealthCare (Z.T.)
[04/15/20] 10 pieces to Sharp Rees-Stealy Sorrento Mesa (Z.T.)
[04/15/20] 11 pieces to Alvarado Hospital Medical Center (L.)
[04/15/20] 40 pieces to NYU Langone Health (Z.V.)
[04/16/20] 20 pieces to Closter Internal Medicine (L.S.)
[04/16/20] 20 pieces to Cedars-Sinai Medical Center (A.P.)
[04/17/20] 50 pieces to BronxCare Health System's Department of Medicine (K.A.)
[04/17/20] 5 pieces to New York-Presbyterian Hospital-Columbia and Cornell (L.S.)
[04/17/20] 5 pieces to Crystal Run Healthcare (S.A.)
[04/17/20] 5 pieces to Nuvance Health (J.P.)
[04/17/20] 5 pieces to Cititots Preschool and After School Care (V.G.)
[04/17/20] 30 pieces to Alvarado Hospital Medical Center (L.)
[04/17/20] 30 pieces to Palomar Health (L.)
[04/17/20] 20 pieces to Mount Sinai Hospitals
[04/18/20] 40 pieces to Sharp (H.L.)
[04/18/20] 20 pieces to UCSD Internal Medicine Residency Program (J.)
[04/19/20] 20 pieces to Kaiser Permanente Baldwin Park Medical Center (H.M.)
[04/19/20] 10 pieces to San Diego Digestive Disease Consultants (L.D.)
[04/19/20] 10 pieces to Lemon Grove Care & Rehabilitation Center
[04/19/20] 6 pieces to Frontier Nursing University (C.N.)
[04/21/20] 5 pieces to Kaiser Permanente (L.C.)
[04/24/20] 40 pieces to Froedtert Health Clinic (F.M.)
[04/24/20] 80 pieces to Penn State Health (S.K.)
[04/24/20] 20 pieces to Coney Island Hospital (S.M.)
[04/24/20] 20 pieces to Hackensack Meridian Health Mountainside Medical Center (H.R.)
[04/24/20] 40 pieces to HealthCare Partners Pasadena (P.E.)
[04/24/20] 30 pieces to Scripps Hospital (T.)
[04/25/20] 33 pieces to a local nursing home 
[04/25/20] 150 pieces to ACCEF
[04/26/20] 32 pieces to a local nursing home
[04/26/20] 4 pieces to Scripps Encinitas
[04/27/20] 4 pieces to senior individuals (P.D.)
[04/27/20] 50 pieces to NYC Health + Hospitals/Jacobi (H.J.)
[04/27/20] 40 pieces to Morristown Medical Center (C.G.)
[04/27/20] 50 pieces to Manhattan Urology Associates (S.A.)
[04/27/20] 50 pieces to New York-Presbyterian Hospital-Columbia and Cornell (L.S.)
[05/03/20] 700 pieces to ACCEF (X.L. / Z.Y.)
[05/03/20] 300 pieces to Tijuana, Mexico
[05/03/20] 100 pieces to a local nursing home
Total Face Shields Donated: 3,021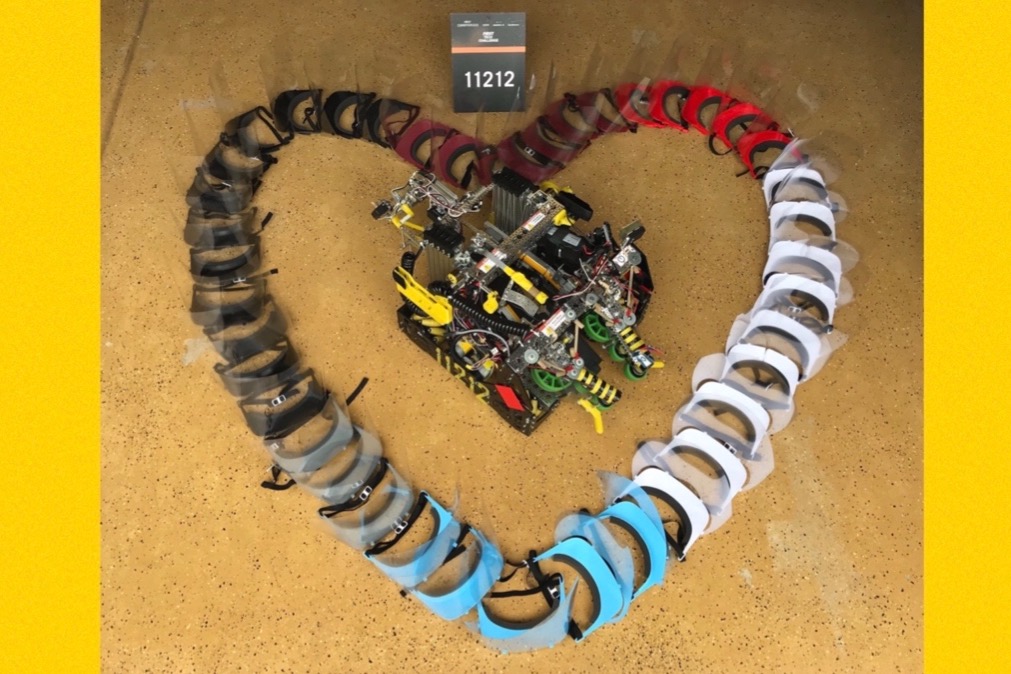 San Diego Alumni Fudan University 

Fundraising team: The Clueless #11212 (12)
FTC Team #11212 The Clueless 
See all