Corona Challenge (Closed)
This fundraising has been closed. THANK YOU FOR ALL THE DONATIONS! 
The world is in the middle of a serious emergency health crisis following the spread of Corona virus and a rapidly increasing number of cases of illness and deaths worldwide. Nobody knows when our everyday lives will be back to normal. This will most likely not happen until a vaccine has been developed.
As two elite athletes, our everyday lives are affected by not having any races scheduled in the foreseeable future. We train our asses off to be 100 % ready once we can return to the start line, but we miss racing A LOT. At the same, we would love to support the fight against Corona, and for those two reasons we have arranged a charity event named Corona Challenge on May 9th.
Mads is a double World champion in marathon kayak, and Line is an age group European champion in Ironman. The aim of the Corona Challenge is to be the first athlete to cover 70 km from Silkeborg to Randers, which are two Danish cities connected by the longest river in Denmark as well as a newly renovated pathway. Mads will kayak the full distance, and Line will swim, bike and run.
We will be live streaming the Corona Challenge where you have the chance to vote on the winner, listen to two speakers interviewing special guests, and most importantly donate money to fund the development of a Corona vaccine to avoid another wave of the epidemic. If you donate money, you also have the chance to win fantastic prices from e.g. Fusion, Parajumpers, Woodee, Madselskabet, and many more. The receiver of the donation is a group of leading Danish researchers from Aarhus University.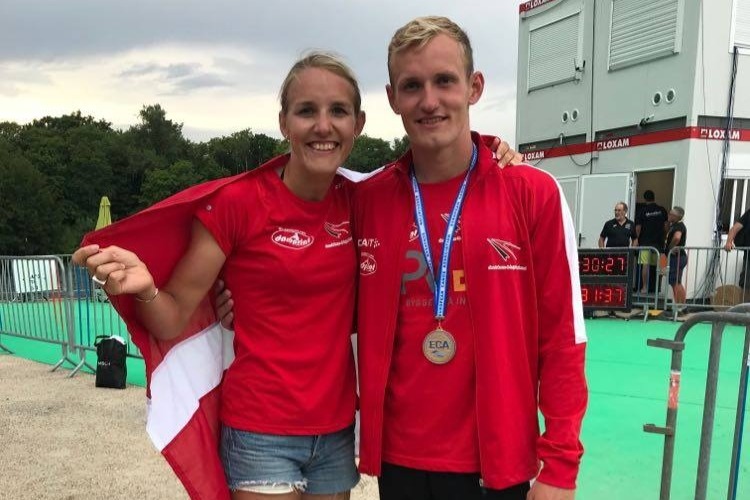 Fundraising team: Corona Challenge (3)