Help 6 Year Old Author Donate Books to Preschools
We are on a mission to give 300 books to preschools without Title One Funding.  
6 Year old author and daughter, Ka'Maya Shanelle,  created a coloring and tracing book series entitled I Love Myself to help children love themselves and then love others. We learned that some preschools do not receive Title One Funding, she asked, Mommy can we just give them the books?
I explained to her that right now Mommy does not have the money to buy that many books to donate, so here we are asking you all to help spread the blessing of I Love Myself A Coloring and Activity Book with Self-Love Affirmations. 
We are on a mission to give 300 books to preschools without Title One Funding. 
If we go over our goal please contact us at www.ColorWithMaya.com to tell us which school or daycare you think could use the books. We have identified 2 in Camden, NJ and 1 Philadelphia, PA
Please spread this message.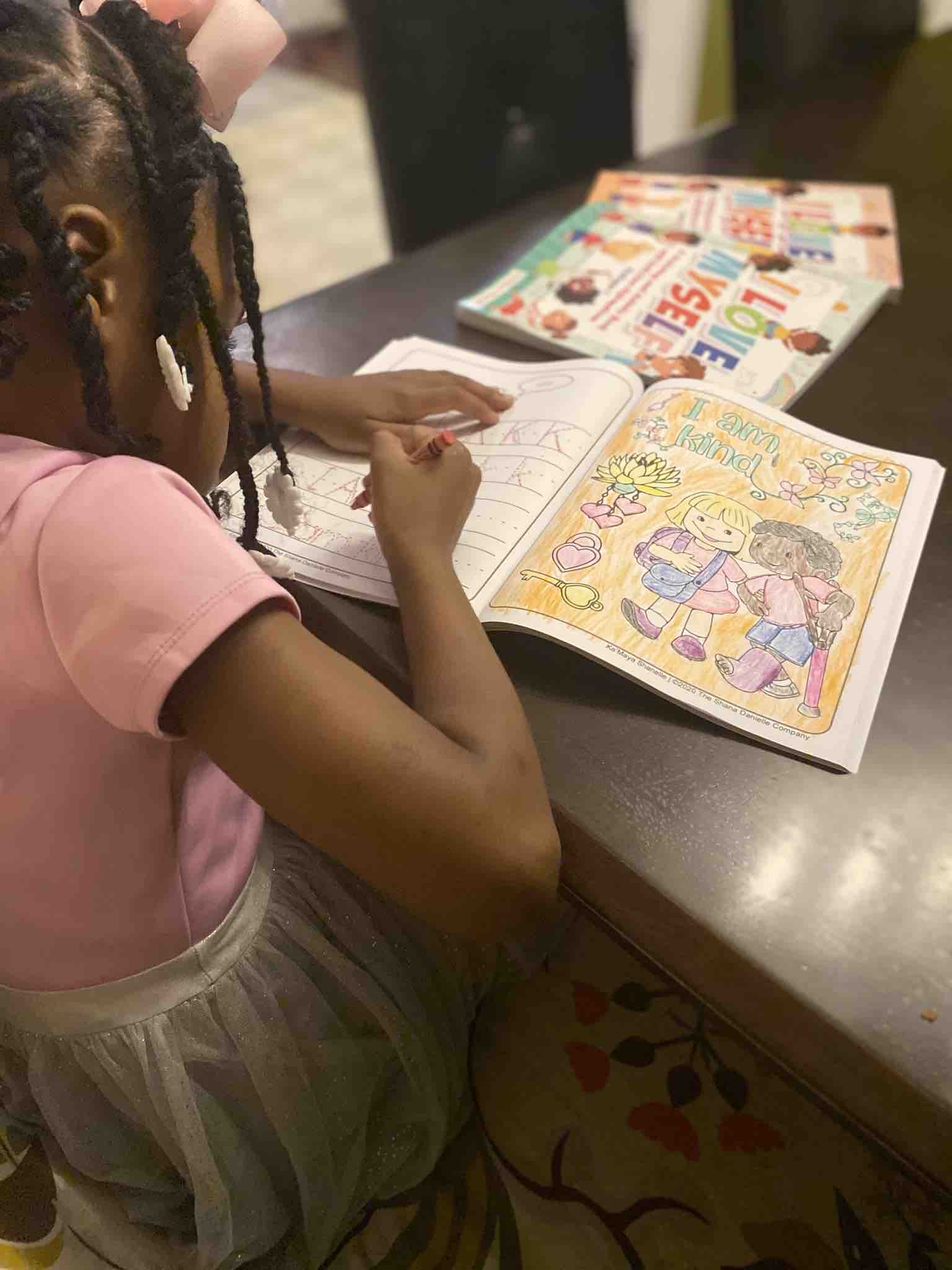 The Problem

We live at a time when screens have become more than just a way to connect with the outside world; they have become an addiction and the turn-to when things get tough, ugly, and unbearable in the outside world.
This practice has been mirrored by our own children who have also found solace in cartoons, movies, games, and tablets. Families are no longer spending physical time together with everyone busy either with work or their entertainment choice of the moment. And the effects are evident: direct communication has lost its charm! People no longer have the time.
Sadly, our children are also feeling the negative repercussions of such lifestyle choices. Knowing how cruel the world can be out there, how prepared is your child in dealing with the meanness of others?
Have you talked to them and prepared them psychologically? Because making friends in today's  society can be challenging and adversity is commonplace. Yet, messages as simple as Love Yourself and Appreciate Others go a long way towards assuring them of their worth, value, and uniqueness while inspiring them to be more accepting of others.
At just 6 years old, my daughter Ka'Maya understands the strength that it requires to love and be kind to yourself even when others are unkind. Having faced adversity in her own young life when trying to make friends, I always impart on her the importance of loving herself first and being true to who she is; a beautiful and creative girl who loves dancing, playing sports, and learning new instruments. And as the kind selfless soul that she is, it didn't take long for her to decide to share this invaluable lesson with other children. 

Celebrating the things that make us special and choosing to love those things is what Ka'Maya shares in her coloring book I Love Myself. Inspired by her mother, Shana Danielle, who is also a successful author, this young author desires to motivate and empower children to never stop believing in their ability to achieve greatness. 

Color with MAYA



I Love Myself is an Inspirational Coloring and Tracing Book that aims to nurture young children's creativity and confidence. Full of self-love affirmations, each page is filled with fun and creative activities that have been specially designed to empower children to feel and believe that they are smart, beautiful, confident, and much more by exploring concepts such as bravery, beauty, strength, creativity, independence, and compassion.
Featuring children of all backgrounds, the ready-to-color book is a true reflection of diversity with the hopes that kids will not only see themselves, but also see how all children can be amazing. Perfect for children ages 4 and older, they will definitely enjoy writing, coloring, doodling, and expressing themselves using crayons, colored pencils, watercolors, and most markers.
Truth is, representation matters. Contrary to the superficial meaning it has been given, representation is more than simply including images of people of color. It also means promoting thoughts, stories and adventures created from the imaginations of people of color with the aim of achieving actual inclusivity. This is one such effort by a young African American six-year-old girl to pursue her dream of seeing all children represented in literatures and assignments for the entire world to see. By supporting this cause, you will definitely be helping her realize this vision.

How Can You Help?
Ka'Maya needs your assistance so that she can be able to donate I Love Myself to preschools and daycares in disenfranchised neighborhoods that do not have access to Title One Funding. To start with, we have chosen 3 schools between Camden, NJ and Philadelphia, PA where each school will get roughly 100 books.
The cost of one book is $10, we hope to raise $3000 USD for this project. If we go over our goal we will find more schools and daycare to donate I Love Myself to. If you know a school that does not receive Title One Funding if we go over our goal please contact us at
[email redacted] so we can get that daycare or preschool books. 
What we found...
Many daycares and preschools schools took a major hit due to COVID-19 and all of their funds have been going to ensure the teachers can continue to work and not be laid off.  We just want the kids to have a special way to occupy themselves despite what is currently going on in the world.
Kindly support Ka'Maya in her journey to encourage and empower children. We invite you to also share this campaign with others to help spread the word.

Many Thanks.
Organizer
Shana Davis-Parker 
Organizer
Merchantville, NJ