Cian's Journey to Recovery
Fundraiser towards Cian's Recovery from Childhood Stroke


Cian Conway is a 7-year-old boy who suffered a severe stroke when he was just 6 years old.
Against all odds, Cian has had a remarkable response to surgery, medical treatment, and initial rehabilitation therapies.  His strong, fighting spirit has won battles in the critical early days and he continues to do so daily, leading many medics along the way to call him a Miracle.
Cian is now at a stage where he needs extensive rehabilitation therapy to regain mobility, motor skills and speech.  This will enable him to experience life to the fullest as every child should; being able to play the games he loved and communicating with his family and friends.
At his most recent discharge from the National Rehabilitation Hospital (NRH), in November 2020, it was advised that Cian needs weekly intensive Physiotherapy, Occupational Therapy, and Speech & Language Therapy to enable his recovery and optimise his potential for success.  His Temple St. Consultant also identified these therapies as critical needs for Cian to enable him to achieve the best possible outcomes. He will continue to need these services for many years to come with estimated costs in the region of €15-20k per annum.
Cian and his family have come so far but still have a long and arduous road ahead. This fundraising page has been set up to ask for your help, to get Cian these crucial therapies. 
From the bottom of our hearts we thank you for your support in helping Cian continue his journey of recovery from Stroke.



Cian's Story:
Cian is a mischievous, fun-loving, sensitive, strong, independent 7-year-old boy.  He is third in a family of 4 siblings, cherished by their parents, Mike & Olivia.
On the morning of May 6th, 2019 his parents struggled to wake him and rushed him to Limerick A&E, where they were told that Cian was after having a stroke. He was 6 years old.  It was the day their world changed forever.
Later they learned it was caused by a reaction to the Chicken Pox virus, which happens to 1 in 100,000 children.  Cian hadn't shown any visible signs of Chicken Pox and wasn't sick, he hadn't missed a day of Junior Infants up to this. 
From Limerick A&E, Cian was transferred to Crumlin Hospital but due to multiple clots his condition deteriorated on route and when he reached Crumlin, he was rushed into emergency surgery. The Surgeon explained the severity of the situation. He had never carried out this procedure on a child of Cian's age before and his medical devices were sized for adults. Cian was given a 20% chance of survival.
Following his surgery, Cian was kept in an Induced Coma in the hope that the swelling to his brain would reduce. On Thursday night Cian was taken for an emergency brain scan and then came news that no parent ever wants to hear, Cian was given hours to live. It was only a matter of time before the swelling would cut off his oxygen.  It was advised to get all his siblings to see him; Siύn (10 years), Michael (9 years), and Tadhg (9 months).
The only option was craniotomy surgery to remove the left side of Cian's skull bone in the hope that the extra space would reduce pressure on his brain.  The removed piece of skull bone would be placed in his stomach for safekeeping with the hope of reinserting it safely at a later date.  Even with this option, his parents were advised that he would most likely still have serious brain damage.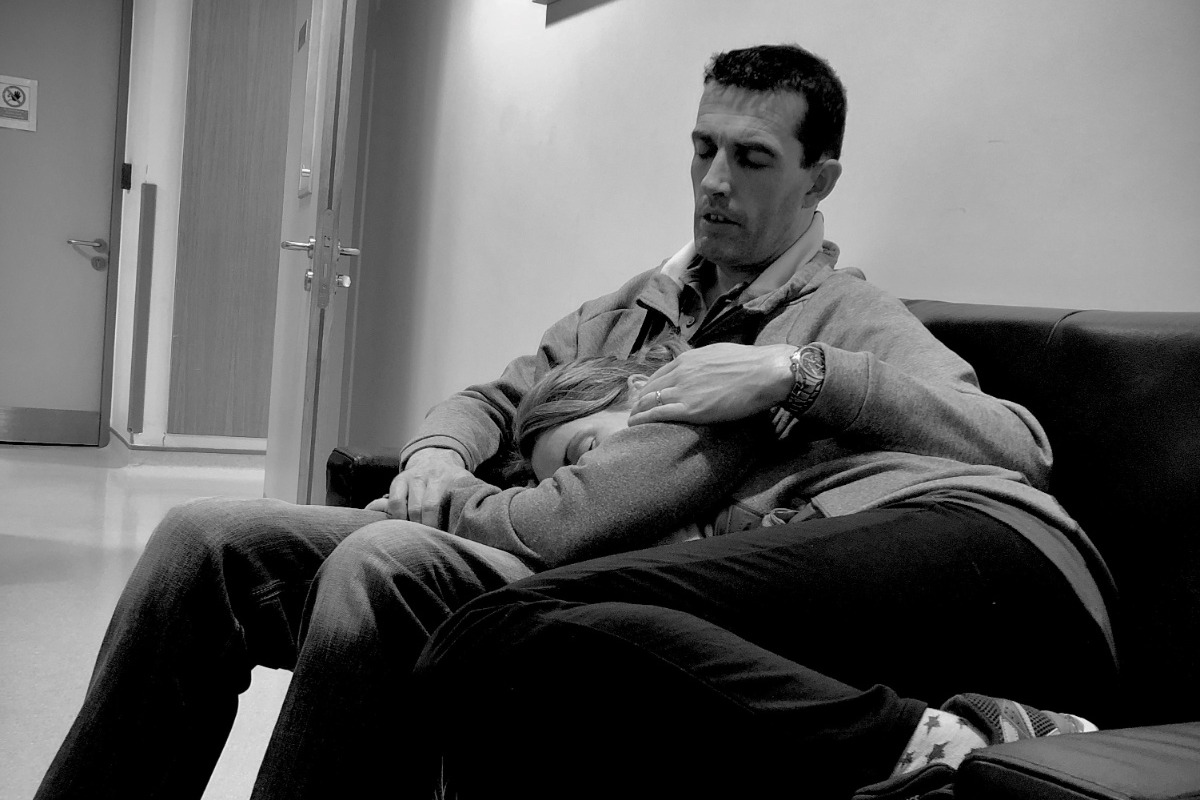 The surgery felt like an eternity. Afterwards, the surgeon remarked "the ball is in Cian's court" and with that, we knew in our hearts that Cian would fight for every inch. His strong, stubborn, competitiveness, and fighting spirit took over, and against the odds, he pulled through.
After a critical week in Crumlin's Intensive Care Unit (ICU), Cian was transferred across the city to the ICU in Temple St. Hospital. The move was a positive one, with Cian showing slow but steady signs of improvement; coming off the ventilator and breathing for himself.  During those early days, the flicker of an eyelid, twitch of a muscle and squeeze of a finger were all much-cherished experiences.
Cian was moved to St. Gabriel's Ward, where he was gradually weaned off medication and when he woke up, he was unable to speak, move, or do anything for himself. He would have to re-learn everything.
Very early the decision was made by Cian's family that he would not be left alone and would have someone with him 24/7.  With the amazing support of family, friends, employers, and Hugh's House (accommodation for parents of long-term patients), his parents stayed by his side. 
His parents advocated on his behalf, communicated for him, and performed all his care needs.  They turned him every 3 hours in bed, fed him by an NG tube, used a hoist to lift him, bathed him, and did anything else he needed. They also learned and experienced how much a person can communicate with their eyes alone. Together, they all began the slow journey of rehabilitation. 
After a month, Cian had further neurosurgery, where his skull bone flap was successfully reinserted.  He had a left-side brain injury which resulted in right-side body weakness.  He was still unable to speak and was now a wheelchair user, with new daily struggles and challenges.
With the help of Bumbleance (Children's Ambulance Service), Cian made his first weekend trip home to Tipperary at the end of July. 
He started to stay in hospital Monday-Friday for rehabilitation therapies and get home at weekends to his family, where he continued to make gains.  It was at home (the day Tipp won the All-Ireland) that Cian took his first steps, once again moving the goalposts and surprising medical staff, some admitting they never anticipated this happening. The good news was Cian was now too well to be a patient in a clinical hospital setting such as Temple St.  The bad news was a bed was still unavailable in the National Rehabilitation Hospital (NRH), which was where Cian needed to be.
In mid-September, after 5 months, Cian was discharged home from St. Gabriel's Ward, Temple Street,  to continue his rehabilitation journey with Local services, while waiting on the NRH.  None of Cian's journey has been easy but unfortunately, this was when Cian's family experienced first-hand what others had forewarned them; Children's Disability Services in North Tipperary are under-resourced and unable to meet Cian's needs.
During his time at Temple Street, Cian had been receiving 10-15 therapies weekly, including daily Physiotherapy, Occupational Therapy (OT) and Speech & Language Therapy (SLT).  At discharge, Doctors advised that he needed to continue to receive this level of therapy.
Although Local Services categorised Cian as a Priority 1, they could only offer one weekly therapy (a tenth of his requirement to progress).
The following months saw Cian at home in the care of his parents, amid much anguish, despair, and frustration at the lack of services available. At the end of November, he was admitted to the NRH for intensive rehabilitation. He responded very well to therapies and made progress.
In February, Cian was discharged home from the NRH to continue his rehabilitation with local services and with a plan to return to the NRH in April/May.  Then COVID struck and local public children's disability services stopped operating. 
While back in Tipperary, between February and October 2020, Cian met with a Physiotherapist three times and once with a Speech and Language Therapist.
Due to COVID, Cian's re-admission to the NRH was delayed until October.  By then his range of movement had deteriorated since his discharge in February due to lack of therapeutic intervention.  Thankfully, Cian responded again during his four weeks there, proving the benefits of regular and consistent rehabilitation therapies.
At his most recent discharge from the Paediatric Daisy Unit of the NRH, on 7th November 2020, it was advised that Cian needs weekly intensive Physiotherapy, Occupational Therapy, and Speech & Language Therapy to enable his recovery and optimise his potential for success.  He will continue to need these services for many years to come. On 24th November 2020, his Temple St. Consultant also identified these therapies as critical needs for Cian to enable him to achieve the best possible outcomes in everyday life.
There is no way of knowing to what level Cian will recover but his best potential for success is with regular rehabilitation therapies.  As one Consultant advised, the rehabilitation journey is a marathon and not a sprint.
Cian is now 19 months post Stroke and continues to be as strong, resilient, and mischievous as ever.  He is a "character" with a great sense of humour and a very social child.  He loves being with his friends and having fun.  Some of his favourite characters are "Mr. Bean", "The Simpson's", "Denis the Menace" and he loves a good prank.  He is also a Pokémon fanatic.
Cian has an Acquired Brain Injury, which is often an "invisible" injury.  Fatigue has a huge impact, and he needs to work so much harder to concentrate and participate in daily activities we all take for granted, including everyday games and interaction with his friends and siblings.
Although some speech has returned, Cian now has acquired language learning difficulties.  Though he knows and understands what he wants to say, sometimes he cannot say what he wants to say or the wrong word will come out.  Other times speech will be slurred and unclear.  This can cause great frustration for him in everyday activities and communication.  However, this can be helped with regular Speech and Language therapy.
He continues to have a right-side weakness but has regained mobility and can be seen playing with his siblings and friends.  However, he struggles to climb, and it can be a challenge to get into different vehicles, get into a bath, or use some playground equipment.  Prior to Stroke, Cian was a very active child.  Some of the activities he enjoyed were climbing, cycling, playing soccer, hurling and rugby with local clubs.  He had also started swimming lessons.  He can no longer do all the things he could before his Stroke.  Cian always had and continues to have high energy levels.  He can experience frustration due to his current physical limitations.  This can be helped with regular Physiotherapy and Occupational Therapy.
For his first 6 years, Cian was right-handed but he now has a forced change of hand dominance and is re-learning to do things with his left hand.  He currently has no functional grasp in his right fingers or at the wrist. Cian needs assistance with dressing, feeding, opening things, carrying things and his daily care, although his attitude of "I do it myself" serves him well.  He needs the professional intervention of Occupational Therapy to help learn, where possible to do everyday tasks in a new way and regain his independence.  He also needs intensive OT to continue rehabilitation with his right arm and hand.
Cian was in Junior Infants at the time of his Stroke and was only starting to learn to read and write, which he now has to relearn with new challenges.  He missed a considerable amount of time in school due to hospitalisation and returning to school on reduced hours due to fatigue.  He is now in 1st class in Lissenhall NS. Co. Tipperary and is blessed to be part of an amazing school community.  He always loved school before his illness and continues to do so now. Cian faces increased challenges at school educationally, as a result of his Stroke and this will only become more evident in years to come.
There have been many battles fought and tears shed, but more importantly, there have been many successes celebrated as Cian continues to improve and inspire us all.  He has an amazing strength of character and despite the odds not always in his favour, he continues to move goalposts and surpass expectations. He is our real-life Superhero who shows us every day that life is for living.
None of this journey has been easy and there is still a long road ahead for Cian and his family, with new challenges to face.  We have received amazing support from friends, family, employers and community along the way, for which we will be forever grateful.
We are forever indebted to the wonderful medical and rehabilitation staff who have brought Cian this far.  
Thank You for taking the time to read Cian's story. We know that his Journey to Recovery is being made possible with your continued support.
Siobhan Egan LittleSwans Pre-school Pyjama morning 
Organizer and beneficiary
#1 fundraising platform

More people start fundraisers on GoFundMe than on any other platform. Learn more

GoFundMe Guarantee

In the rare case something isn't right, we will work with you to determine if misuse occurred. Learn more

Expert advice, 24/7

Contact us with your questions and we'll answer, day or night. Learn more