Christopher Newman's Medical Bills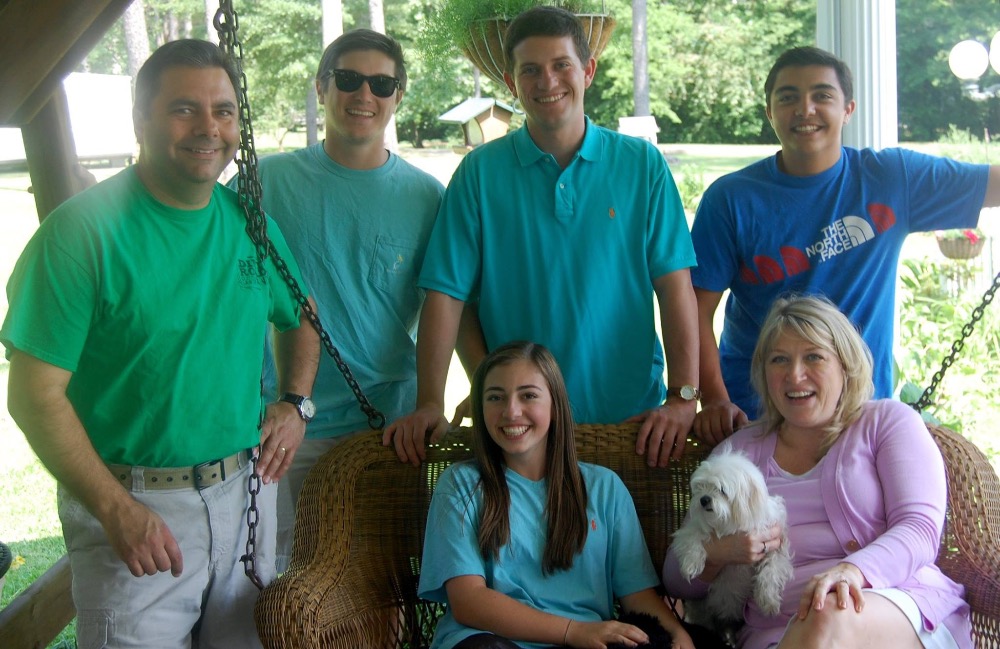 Imagine this.
You're 23 years old.  You've just graduated college.  You're starting your first "adult" job.  You're a middle school English teacher and the head coach of two 7th grade basketball teams, the boys' and the girls'.  You love your family more than anything in the entire world, and you let them know that every single day, usually with calls that end with "
I was just calling to check in on you...I love you!
"
And then, on September 29th, 2015--all of this, all you've worked for and acheived--
is ripped away from you.
His name is
Christopher Newman
, and this is his story.
Christopher was diagnosed with a tectal plate glioma (a type of brain tumor) back when he was in 9th grade.  The tumor caused a blockage in his brain that forced spinal fluid to build up in his skull and create pressure on his brain (a condition known as hydrocephalus).  The doctors operated on Christopher and essentially created a "rain gutter" from his brain to drain the fluid normally in a procedure known as a ventriculostomy.  Christopher grew up like any other kid.
He was a shortstop and 3rd baseman on his high school team, the Central Academy Vikings, based in Macon, MS.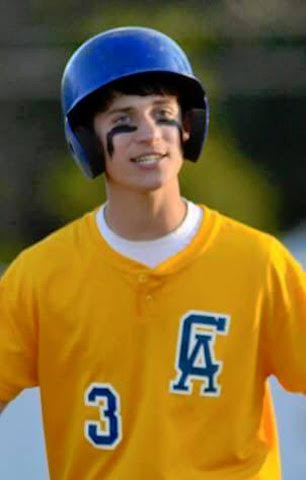 He went on to graduate from
Ole Miss
, his daddy's (Tol VanDevender) alma mater.  His mama, Mrs. Sheila, made sure to grab a photo whenever they went to visit their son--which was often!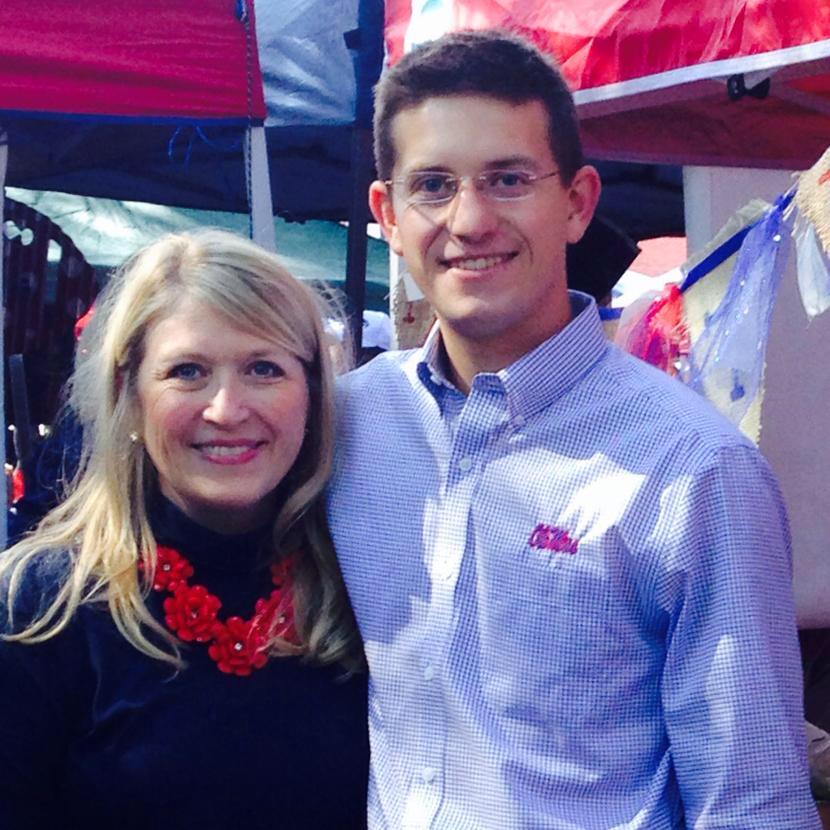 He then took a job as a
middle school teacher
and coach at Parklane Academy in McComb, MS.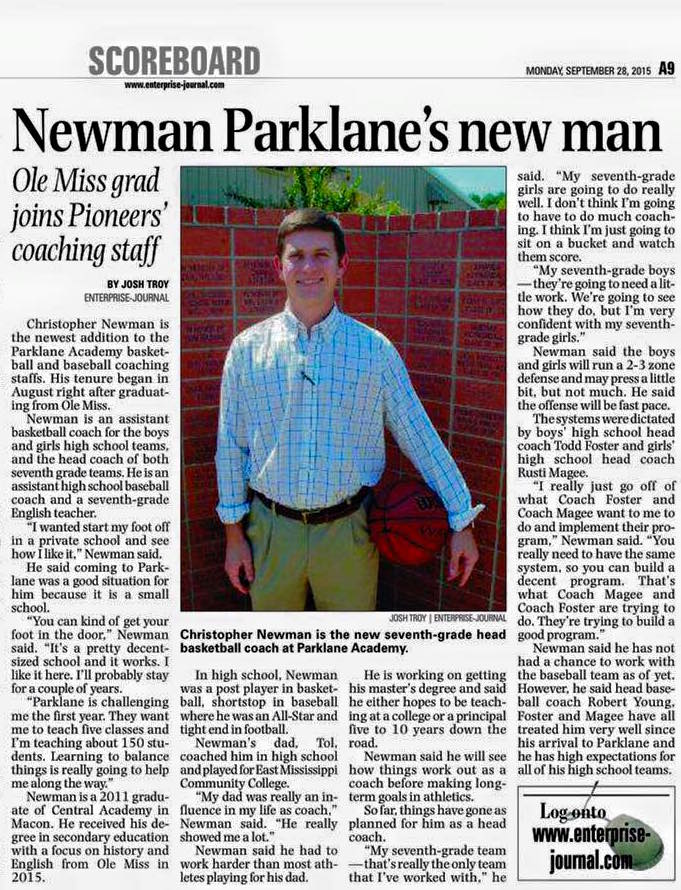 This news article was printed on September 29, 2015--the day
Christopher had a seizure and fell into a coma.
 He hasn't woken up yet. 
Christopher was initially airlifted to St. Dominic's Hospital in Jackson, MS.  Afterward, he was transferred to Methodist Specialty Care Center in Flowood, MS, and then to TIRR Memorial Hermann in Houston, TX.  Since September 29th, a family member has been by Christopher's side nearly 24 hours a day.


Christopher has progressed
, little by little, since then.  However, after
seven months
in a coma, his family wants to
bring him home
.
  Bringing Christopher home, because he is still in his coma, means he will need 
round-the-clock
care.  Christopher has to be fed every 4 hours and turned in his bed every 2 hours.  He can sit in his wheelchair for 3 hours a day now, which is
extremely
exciting for us!  Christopher has begun tracking motion with his eyes, as well as responding to simple commands.  
We believe that the love and attention he will receive at home will further his progress even

more

.
The funds raised in this campaign will go directly to
Christopher's medical bills
in an effort to help this loving, Christian family care for their firstborn son.  Christopher has always been a homebody--on May 11th, 2016, he will once again enter the doors of the home he loves so much.  
Each prayer, word of encouragement, and donation we have received uplifts our spirits and brings us to tears.  We will
never
forget the kindnesses that this world is capable of, and
we thank you and appreciate you
more than you will ever understand. 
Thank you, everyone, for everything you have done.  It means the world to us.  We love you!
We will be posting updates about Christopher and his progress throughout this battle, especially after we have him home for the first time in seven months!
If you want to know more about Christopher's journey through this, please feel free to view the links below.
--An article from our hometown newspaper, The Macon Beacon:  
Hope for a Christmas Miracle
.
--A television segment from our local news, WCBI:  
Man Fights for His Life through Faith
Matthew 19:26 says, "But Jesus looked at them and said to them, 'With men this is impossible, but with God all things are possible.'"
Jeremiah 17:14 says, "Heal me, O Lord, and I will be healed; save me and I will be saved, for you are the one I praise."
Organizer and beneficiary