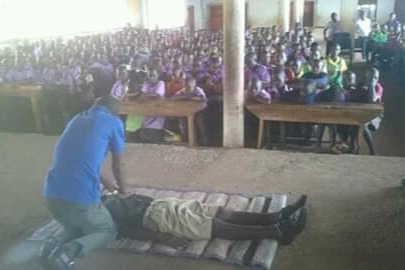 Swim Safe Uganda needs your support to train local teachers to teach swimming lessons. The Swim Global Project is a proud sponsor of the Swim Safe Uganda program, lead by Moses Kalanzi.
Swim Safe Uganda (SSU) is a member-led Non-Governmental Organisation of swimming Professionals that is legally registered as a local NGO with a mandate of promoting water safety practices in Uganda. Its activities include;
1. Promoting collaborations and partnerships for better water safety legislation. ∙
2. Carrying out community-based outreaches and school-based learning for increased community awareness.
3. Provision of survival swimming, lifeguard training, and community responder training to individuals.
4. Carrying out situational analysis for research-based interventions related to drowning prevention and water safety.
A community needs assessment was carried out in the Kalangala district by a team from the Rotary Club of Kampala Ssese Islands and SwimSafeUganda. Two important conclusions were determined to be a priority (Phase 1)
1. Teach local teachers a water safety curriculum and promote drowning prevention education.
2. Access to lifejackets as a mandatory layer of protection.
3. Teach 3000 children to swim in the first year.
Drowning has continued to be one of the leading causes of injury deaths in the great lakes of Uganda. According to the latest WHO data published in 2018 Drownings Deaths in Uganda reached 3,160 or 1.22% of total deaths. Data collection methods are very limited, and it is estimated that those numbers are in actual fact much higher.
The Swim Global Project understands the importance of teaching swimming and lifesaving skills to communities that need it most. A region like Uganda has very limited resources therefore monies raised in
Phase 1
will support a community-led program in the Kalangala District.
Organizer
Nathalie Vallieres
Organizer
Orléans, ON