Chennai Rains Relief Fund (Nanmai)
Heavy rains have battered many parts of Tamil Nadu and Pondicherry, including worst affected cities like Chennai and Cuddalore. Flood water has drowned many homes in multiples areas in the cities and villages. Lots and lots of people have been affected by these floods and we are witnessing plenty of stories of selfless acts by many heroes rising up to the occasion helping each other get through this disaster.
My name is Jude Prakash currently in the USA, originally from Chennai, India. I'm trying to raise money to help those good souls who are actually doing the ground work in Chennai and Cuddalore. The funds raised will be given to aid the relief work across all rain affected locations in Tamil Nadu.
Who will receive the funds?
www.nanmai.org
 will be receiving the funds and will be distributing relief packages/food to the affected in chennai. 
Facebook Group
 - Latest updates from Nanmai
Contacts in USA

Jude / Arun Thilak / Ashok R
Please let us know if you have any questions by leaving a comment below.
!!!!! Nanmai Updates from the field !!!!! Dec 6 ,2015
Food/Water :

- Provided 2000 food packets in Soolai pallam, Nesapakkam, Ramavaram, Jafferkhanpet, Virugambakkam areas
- Over 1000 food packets prepared and distributed  in Thiruverkadu  
- Over 500 food packets prepared & distributed various places in Chennai. 
- Over 200 food packets received from vivakananda trust  and distributed in various place Choolai medu, Arumbakkam, Koyambedu Kovam river area and Annanagar Kovam river area &  to  people staying in Antony church.
- Provided 500 biscuit packets and bread in Nandhambakkam, little mount, Saidapet areas
- Purchased lots of biscuits, water,  bottles, medicines , mosquito mats etc and distributed  in KK nagar, Thiruverkadu, Mudichur, Choolai medu etc. 
- In Tambaram Mudichur, distributed food, biscuits, water for over 145 people
- Food distributed around Maduravoil, vengayamamdi stop and nearby areas. 
Clothes:
- Distributed Clothes  in Tambaram, Mudichur, Mugalivakkam, Thiruvettriur, KK Nagar area.
- Purchased over 200 bedsheets and distributed in Tambaram, Mudichur, Mugalivakkam, Thiruvettriur area.
Medicines/Blood Donations:
- Over 380 bottles of cough syrup and medicines collected from various parts of chennai and distributed to people. 
- Purchased basic first aid medicines and distributed to people in Thiruverkadu, Mudichur and all above places food distributed. 
Accommodation/Coordination:
- Coordinated and arranged accommodation for several people across Chenani. 
- Coordinating with other parts of Tamilnadu to purchase things/collect releif materials.
Here are some pictures from the field:
December 6, 2015
(Packing medicines to be delivered)
Kolapakkam Old Age home
- benefits 25 people, issued blankets, biscuits, bread, clothes, medicines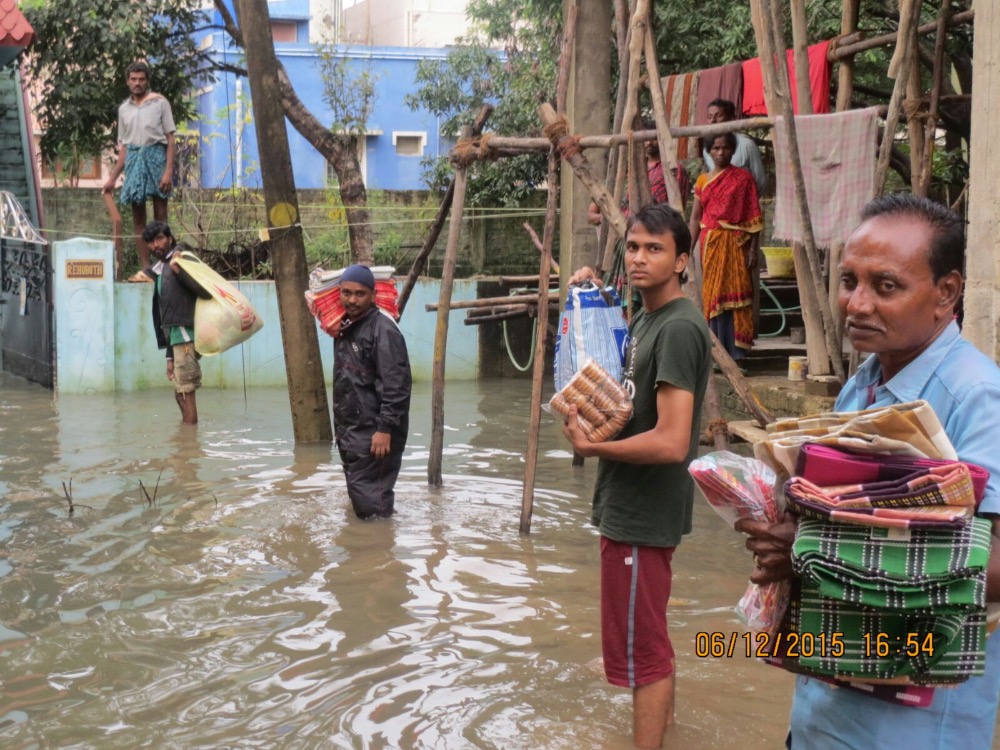 Dec 5, 2015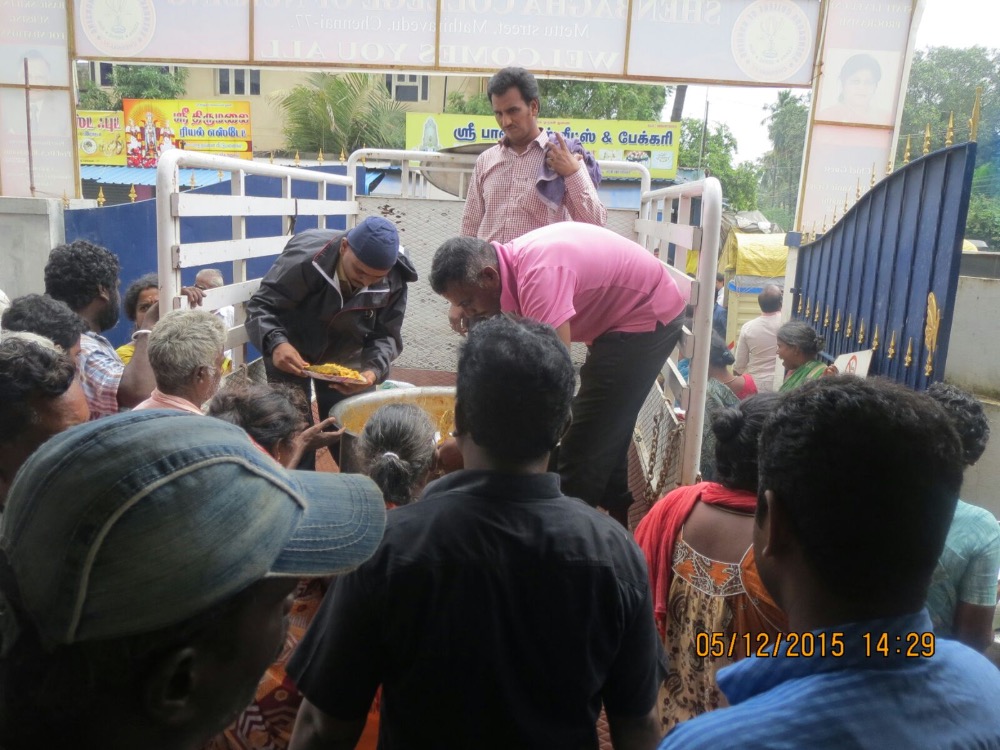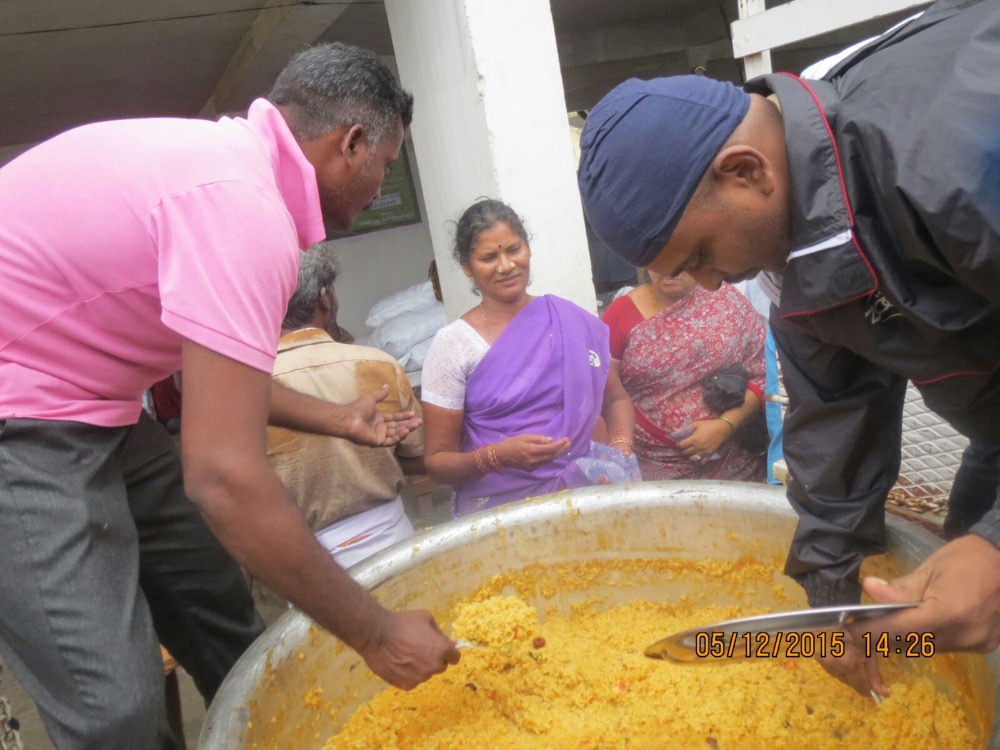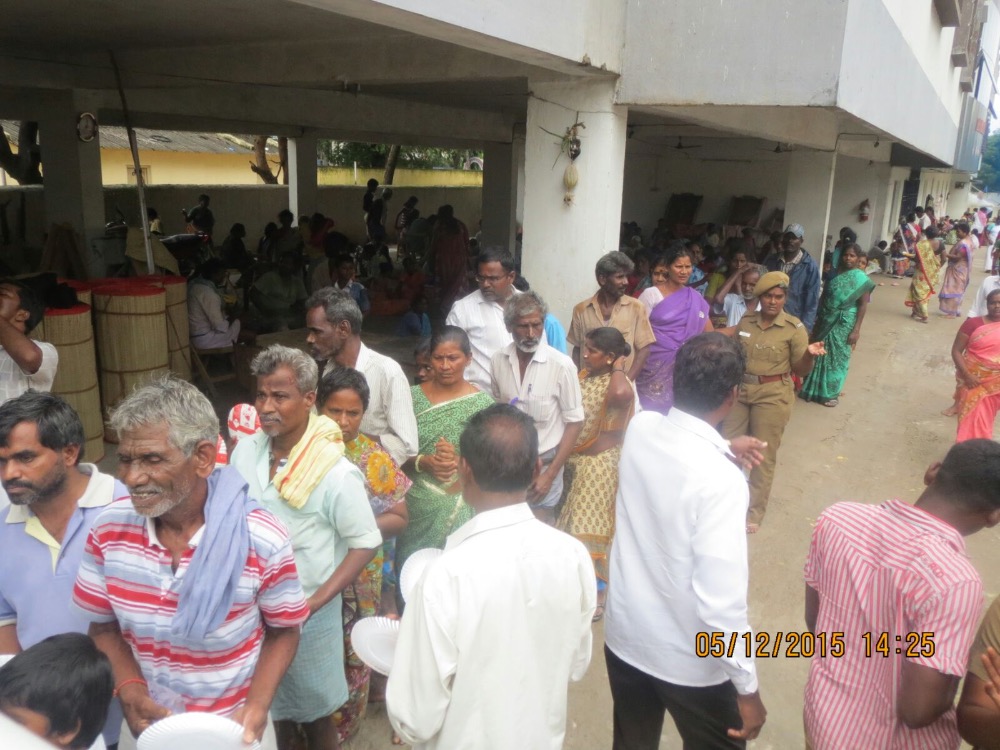 Thank you Team Nanmai volunteers, for all your hardwork and sacrifices.  
Donors, please continue to donate. Thanks once again for your support. Every little penny can help. 
--> Resources/Help
http://google.org/crisisresponse/2015-chennai-flooding
http://chennairains.org
https://www.facebook.com/ChennaiRainRelief2015
--> 9 Ways You Can Help Victims in Chennai
http://www.buzzfeed.com/regajha/chennai-rains-help
--> Order food packets online -
RJ Balaji & Team will be picking them up. Or, try and reach out to your contacts in Hotels in Chennai.
Thanks again!!!
Follow this link here to view a few pictures. 
http://www.buzzfeed.com/regajha/namma-chennai