US Contra War veterans Fundraiser
USContraWar.com veterans' FUNDRAISER
Central America War (1979 - 1992)
OUR MISSION
Achieve official U.S. Government recognition of the Central America War through campaigning and persuading the U.S. Congress or the Executive Branch into forming a bipartisan commission to investigate and determine if U.S. military deployments to Central America, and specifically Honduras, from 1979 to 1992 deserve reclassification as combat.
PLEASE DONATE TODAY
Your donation will help create a national veterans' campaign to request the U.S. Congress and the U.S. President reclassify our military deployments as combat and combat support.  Currently, the U.S. Pentagon considers these deployments to Central America as noncombat due to the political environment during the Iran-Contra Affair period and the 1980's in general.  
Some facts:
-More than 300 American service members died
-More than 100 U.S. troops were wounded in action
-Hundreds of U.S. troops were injured
-A National Emergency was declared against Nicaragua
-More than 300,000 U.S. troops were deployed
-Two civil wars were ongoing
-Guerrilla warfare was rampant throughout
-Hundreds of terrorist attacks occurred
-Most VA combat benefits are denied
-Many killed are misclassified or unknown
-Families of killed & wounded are unrecognized
-Combat medals & Gold Stars are not authorized
Most of these American troops were deployed to Honduras into combat support missions and combat that are misclassified as training and war games.
Some examples of what happened and why this must be done.
The U.S. Government claims that 46 American troops were killed in Honduras when research has proven that 63 were killed in Honduras.
Classified combat missions were launched from Honduras into Nicaragua and El Salvador killing and wounding U.S. troops.
On January 2, 1991, LTC David Pickett, helicopter pilot Daniel Scott and door gunner PFC Earnest Dawson were shot down, crash landed near Lolotique, El Salvador.  Scott was killed by small arms fire while piloting.  Pickett and Dawson were taken Prisoner of War and later executed.  Pickett was awarded the POW medal.  Dawson has not.  All were based in Honduras and their mission is classified as training.  There deaths are considered accidents during peacetime.
On January 11, 1984, helicopter pilot CWO2 Jeff Schwab departed San Lorenzo Air Base, Honduras with two U.S. military passengers.  Schwab's helicopter was shot down along the Nicaraguan border by Nicaraguan army troops and he was subsequently shot and killed on the ground.  Schwab earned the Purple Heart for being killed in action, yet the U.S. Army has his death officially classified as killed by terrorists and not in combat.
On January 22, 1985 an American U.S. Air Force C-130 crashed in the waters off the northern coast of Honduras after flying over Nicaragua.  All 21 U.S. military members onboard died.  However, U.S. Pentagon official records only show that 13 died.
Operating in Honduras, at least 7 U.S. military members received the Purple Heart Medal, yet 70 American military members died and more than 100 were wounded in action.  Additionally, some military members received Hostile Fire pay.
The Pentagon has these deployments cassified as training and wargames.
U.S. military forces based in Honduras carried live ammunition during these alleged 'training and war games.'
Most of this occurred during a Presidentially declared National State of Emergency against Nicaragua (1985-1990).
Your donation will be used to launch a national campaign to: help bring other C.A. War veterans forward, to request that Congress or the Executive Branch form a bipartisan commission to determine the validity of these requests for reclassification which will lead to improved morale for the veterans, to improve VA benefits for the 300,000 or more U.S. troops and their families.  Many Central America combat veterans and their families have been denied recognition and entitlements due to the misclassification of these deployments.  Many American deaths have been misclassified.
Your donation is desperately needed today so this important national veterans' issue can be resolved in favor of the vetern and their family. 
 THANK YOU!

OUR FACEBOOK GROUP

Please read the following records-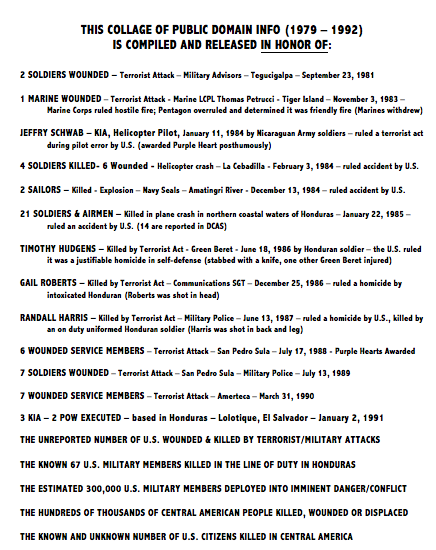 PLEASE HELP US GET RECOGNITION!




MISCLASSIFIED AS TRAINING & WAR GAMES!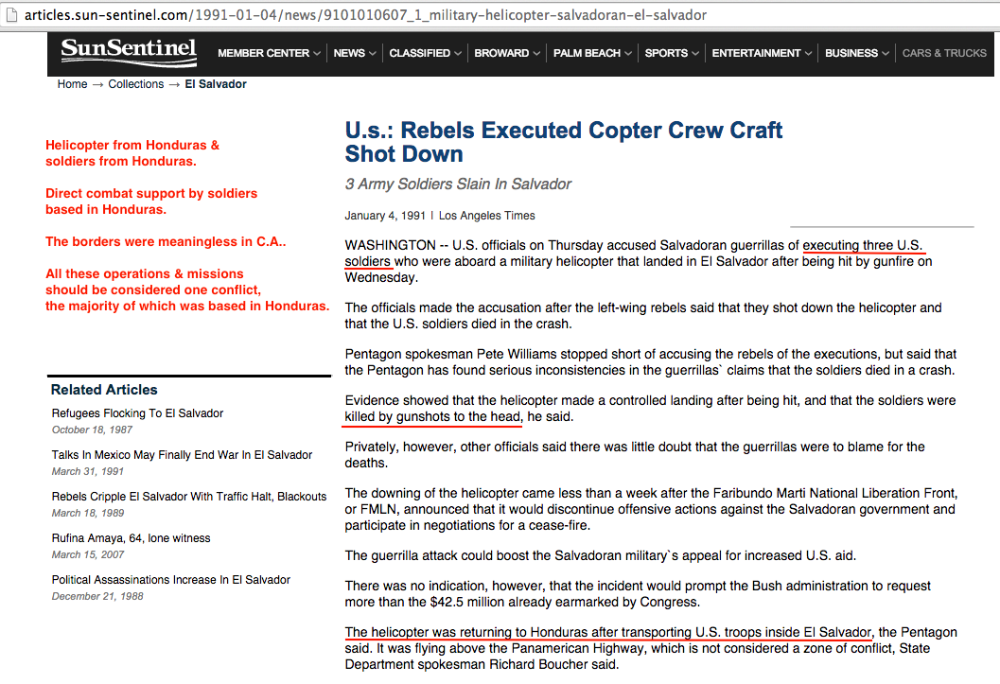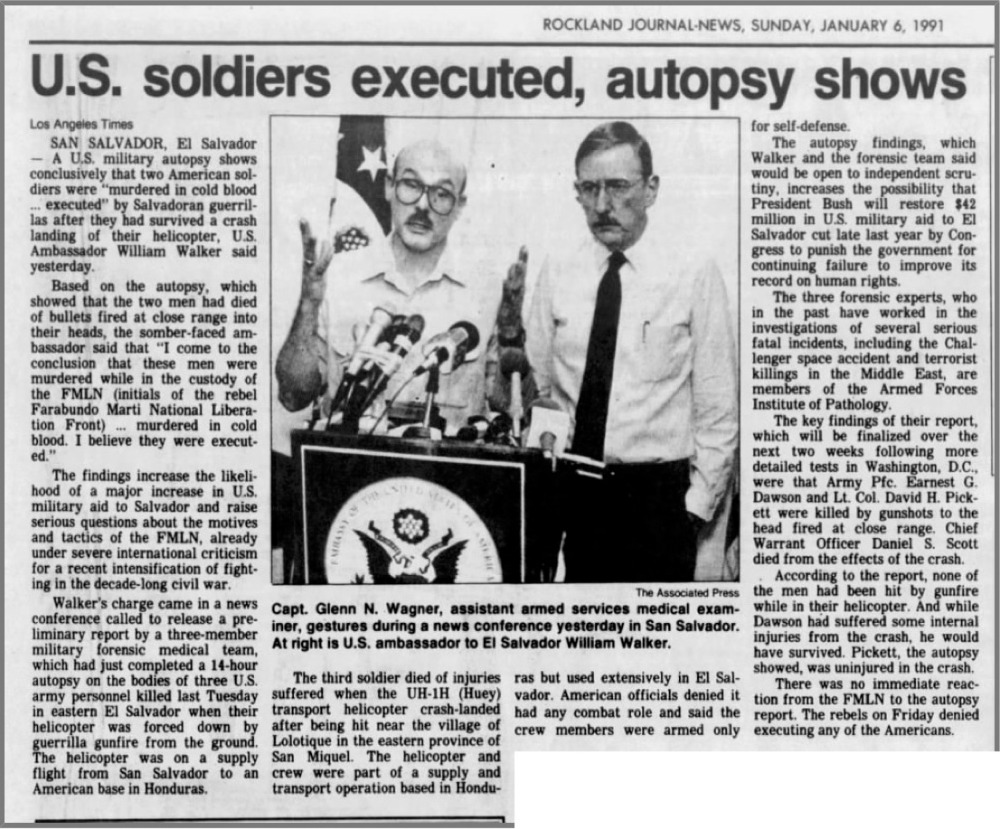 ALL 3 BASED IN HONDURAS!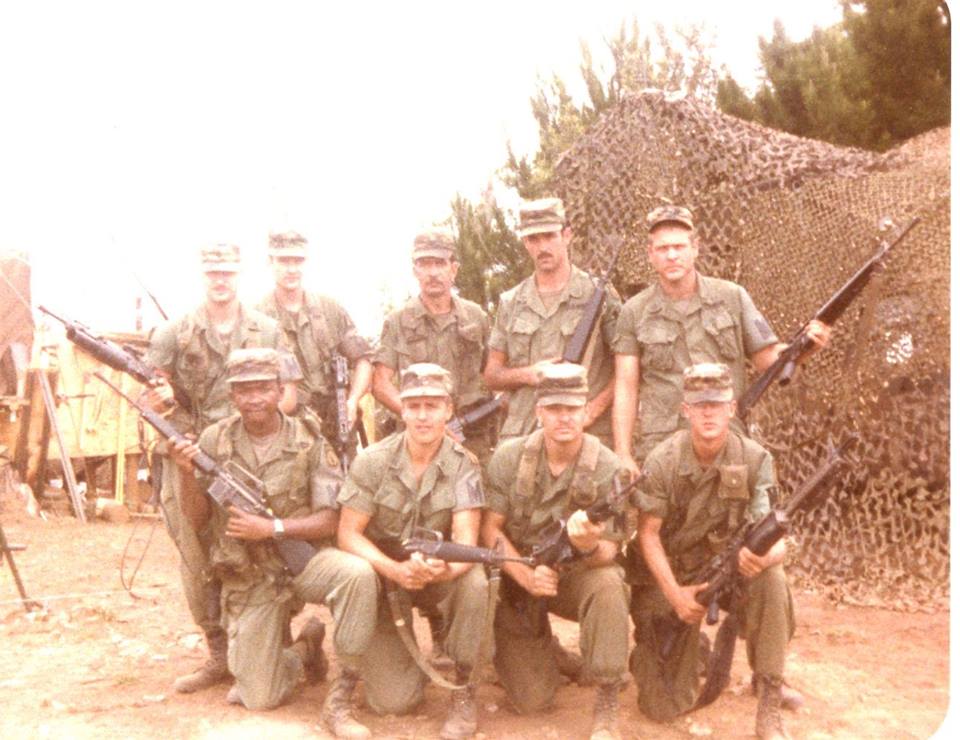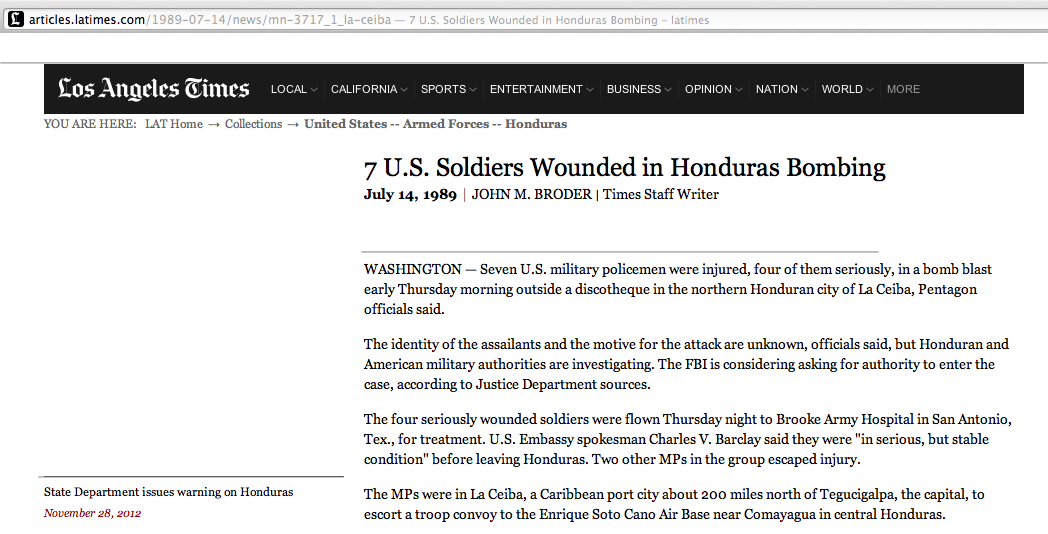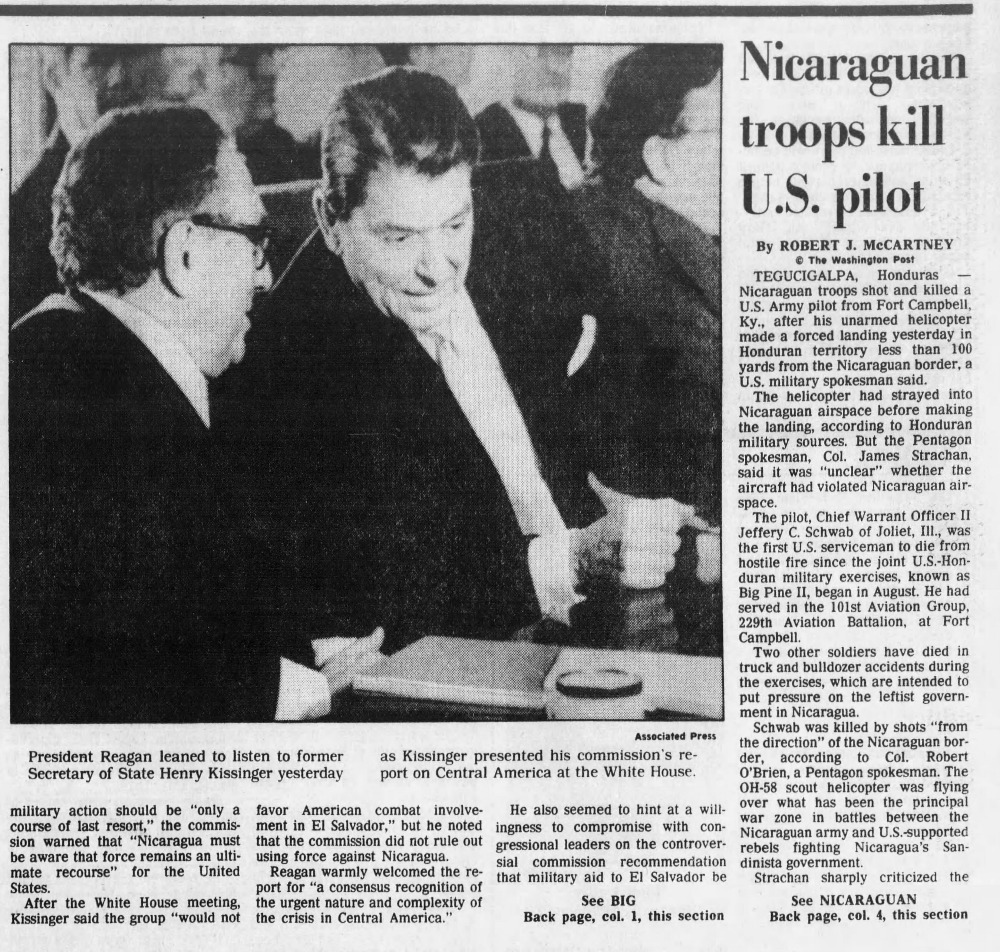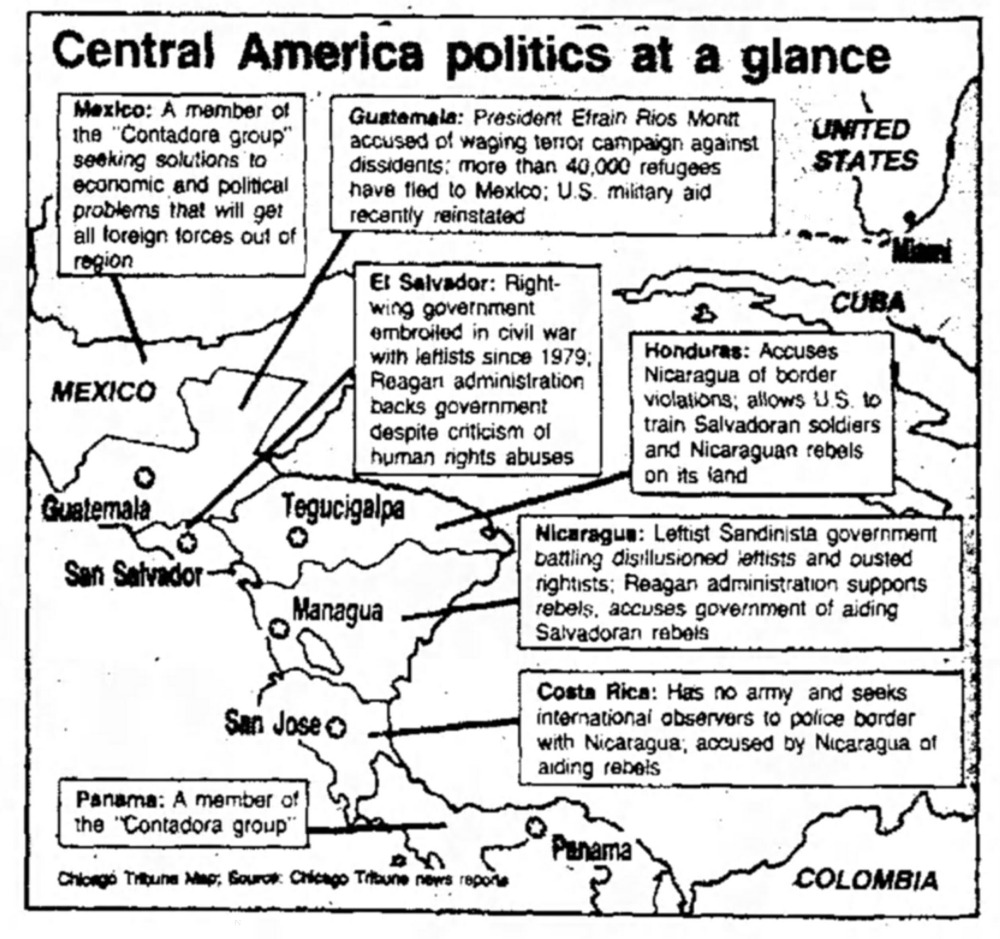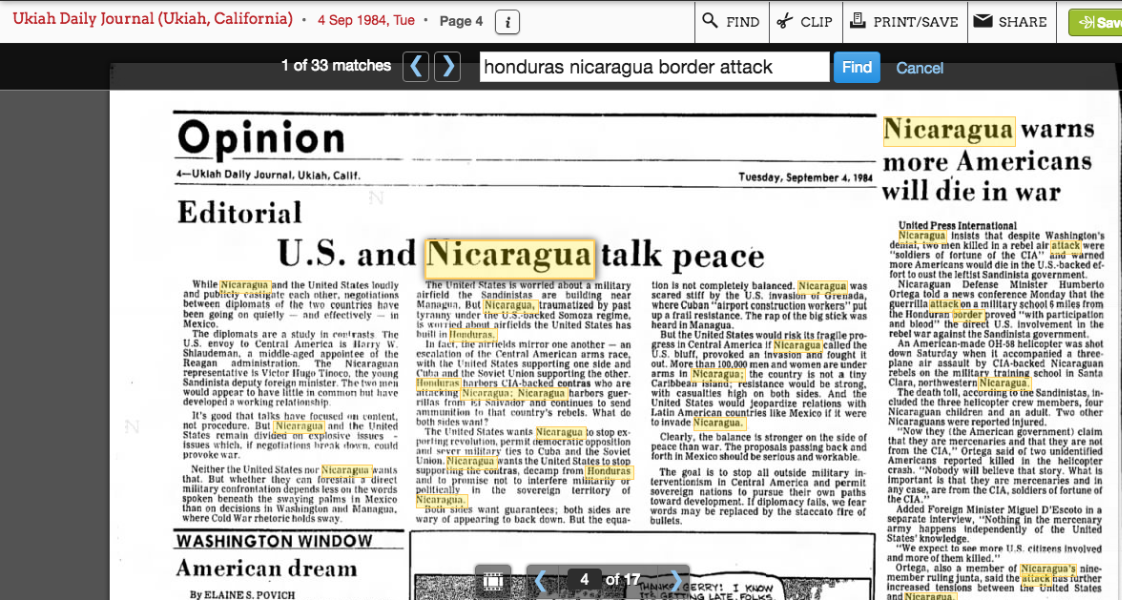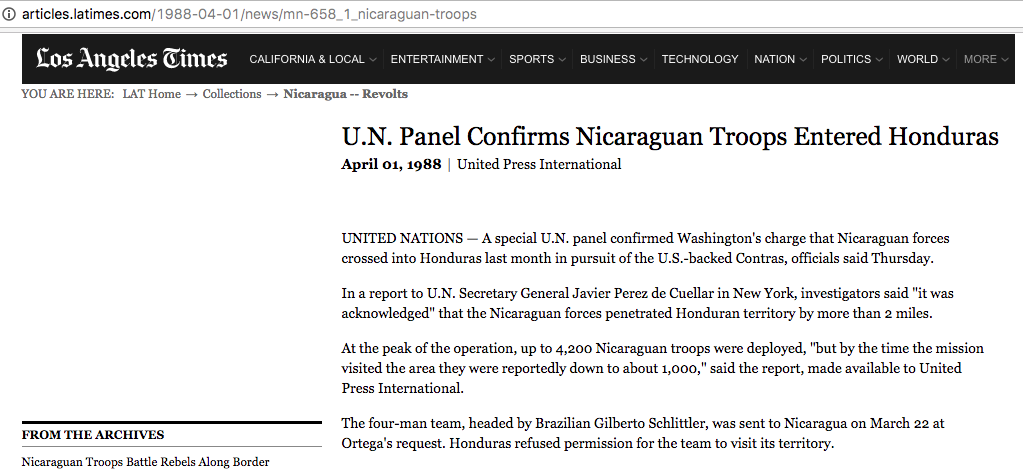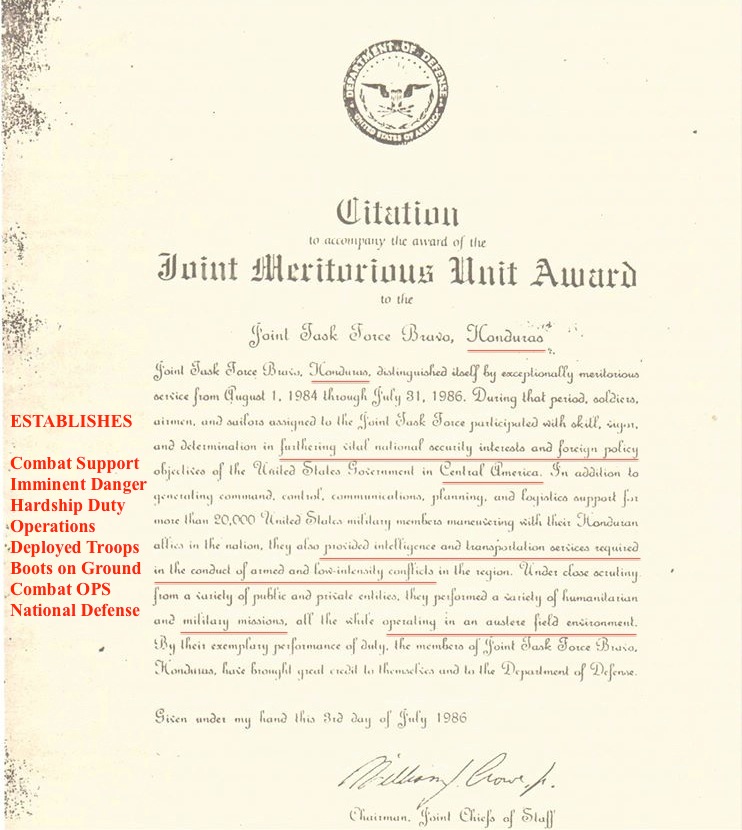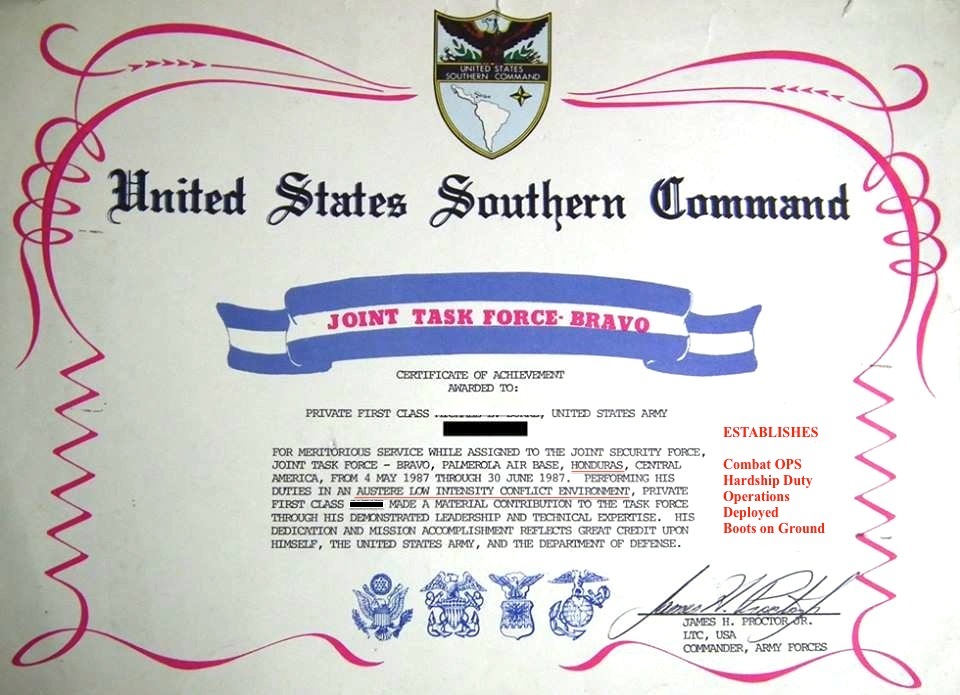 ALL MISCLASSIFIED AS TRAINING & WAR GAMES!
USContraWar.com
PLEASE DONATE TODAYTHANK YOU!
Organizer