Catharsis: 2066 | A new Scifi Series!
•What Is Catharsis:2066?


Facbook Group: https://www.facebook.com/Catharsis2066
Twitter: https://twitter.com/Catharsis2066

------------

Free 4 Chapter Demo!
PDF: http://bit.ly/Catharsis2066_ch1-4-PDF
Audio: (Coming Soon!)
YouTube Audio: https://youtu.be/-qRtzdRQJnA

Hello everyone! I'd like to thank you in advance for all of the love and support I've received thus far on my road to the release of Catharsis: 2066! So far more than I could have imagined has been accomplished. For starters I finished my first book! I can't wait to show you what I'm trying to do with the series so if you've made it this far, I hope you read just a bit further!
Catharsis: 2066 is the first novel in a series of three. It is a Science Fiction thriller series that has been in the works for the past two years and the time has finally come to show you guys what's been going on.
My goal is to create an immersive world not just within the pages of the book itself, but outside of it as well. Featuring custom artwork, the audio book portion, the custom music to go along with it, and much much more! Becoming a full time writer/author is something I've wanted for a long time now and this will get me one step closer to achieving that.

My Ultimate Goal is to turn this book into something much more than just a book. My dream is for it to become a series that everyone can enjoy, and remember. (Shout out to NETFLIX and anyone else who diggs it!)

To learn more about what the book is about, hit the play button on the trailer that is linked above!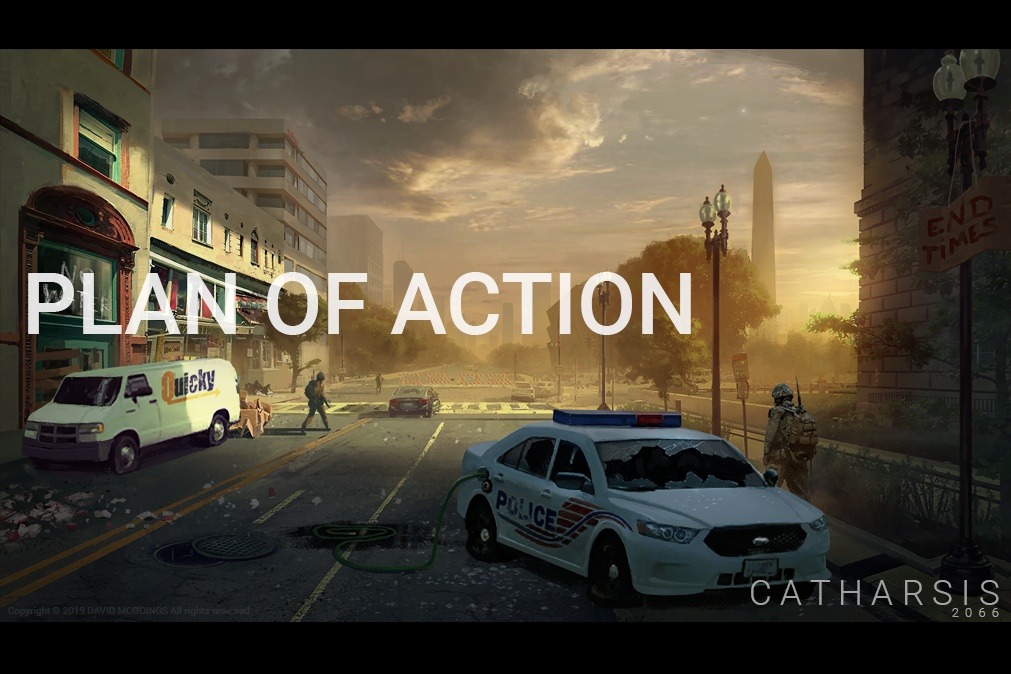 •The Mission:
-Complete the editing process. (Currently 70%)
-Find a Publisher
-Finding additional Funding for current production
-Bonus Trailer (live action)
-(If no publisher/Producer is found)
 Move to recording YouTube Series / Self Publishing and Print

•Stretch Goals:

$1 - $8,000 :: Continue as planned

$8,000 - $15,000 :: Self Publish / YouTube Series
(If no publisher is found then this will extend to additional production and advertising efforts)

$20,000+ :: Self Publish and push for animated series/Other. (details to come)

$50,000+ :: Full time writer. Books 2 and 3 funded!


The juicy bit now.

As of right now, I am unable to afford the scope of the project. Everything so far has been paid for out of pocket for the past 2 years aside from a few humble donations from friends and family.  So far the cost of all that you've seen, and including the editing , recording, music licensing, video/audio editing, and artwork, are a product of my dedication to the story, and the world surrounding it. I pray that it shows, and that it allows you to place your faith in my ability.
The funding for this campaign will go directly toward the production of the YouTube Series, self publishing process(if it is not traditionally published), and recording costs that come along with a release of this size.  Which includes advertising, artwork, editing costs, and music licensing.
--Publishers do little to no advertising for your book. This falls on the author to do him/her/themselves.--

The reason your support is so valuable to me personally, is that it is directly contributing to helping me succeed in my life long dream of creating a science fiction series.


Each asset has gone through various stages of conceptual design.



A few of the key characters have also been completed!
So far I have had the pleasure of recording live and in person with Star Trek's Robert Picardo for the special addition Audio Book 4-Chapter Teaser!  The character Dr.Burke was made in his image as a tribute to one of my favorite actors growing up.  I now have the pleasure of calling him a friend!
(This version of the Audio Book Teaser is still being edited. Release Date TBD!)

Audio Book 4-Chapter Teaser by Greg Tremblay! Available now!
His Website: https://gregtremblay.com/
His Twitter: http://bit.ly/2LvOBsR


About Greg:
Trained in vocal and stage performance, Greg Tremblay brings a passion for storytelling to every aspect of his life and work.

Critically-recognized and listener-beloved, Greg's work has been praised by Audiofile Magazine's "Earphone" award, numerous blogs, and is the recipient of the GoodReads Reader's Choice award for Best Narrator – 2016 in M/M Romance.

Greg also maintains a curated collection of uniquely and delightfully spicy boudoir treats branded under the "Greg Boudreaux" narration name.

ART WORK!
ALL ARTWORK WAS DONE BY THE INCREDIBLE ROB JOSEPH!

Website:
https://www.rob-joseph.com/


•How it began
When I hit the age of 16 someone asked me a question no one ever had before. It was a simple question... "So, what's on your bucket list?". At the time I had never heard of a 'bucket list' before and as a result I had very little to say in response. But a few days later, I'd done it! I made a bucket list! The first thing on that list was to graduate from college. The second was to become a video game artist. And the third was to write a book by the time I turned 30... A bucket list meant that no matter how hard or far fetched the item was on that list, you had to do it no matter what. It was a promise you had to keep to yourself. I graduated from college in 2009 studying Computer Animation, and then I became a video game artist soon after.
As a die hard scifi nerd I was quite literally living the life.

And at 1:31 am on July 25th 2018 sitting in my apartment in Northern Virginia I put the final period on the final sentence of my first book. Catharsis:2066 was completed after a year and a half of writing.
LAST BUT NOT LEAST!
Thank you!!!!!!! Thank you so much for your support and kind words. Every donation will be put to good use.  Also, thank GoFundMe for everything that they do literally everyday for millions of people like me! They provide an outstanding platform for not only those in need, but for creatives and artists alike. 
Thank you
Thank you
Thank you!!!!!



Organizer
David McGoings 
Organizer
Bailey s Crossroads, VA