Go Laadli - Lead Like a Girl
Go Laadli believes in the vitality and dynamic potential of our girls and is committed to empowering them to become problem solvers, leaders and change makers. We do that through investing in their education, by providing life-changing leadership opportunities and catalyzing changes in social attitudes.
It has become abundantly clear through our interactions with girls that they have the thirst, the drive and the passion to get into the reeds and identify pertinent issues, design solutions and create change within their communities.  
Without opportunities like ours their potential remains untapped, they remain invisible and their voices remain subdued -
let's give them a chance to raise their voice, to be visible and to be active agents of change; let's provide them access to support and tools for succeeding and to become change makers and leaders that they are meant to be.
Provided the right opportunities, what they can achieve is truly limitless.               
Go Laadli is the start of a movement of women problem solvers, change makers and leaders - a movement that will create systemic change, shift mindsets and tip the culture towards greater women leadership and we cannot do it without you. 
Support Go Laadli. Together, we can reshape the future for women and girl leaders - one strong, visible girl leader at a time.
Donate:
For every $10000 we raise, girls all over India get a chance to raise their voice and be visible and to engage in their communities in creating change. Top contestants get access to mentorship, life changing leadership opportunities and a chance to fulfill their college dreams
Tell Your Friends:
Please share this Campaign on Facebook, Twitter, email, company mailing lists—whatever you can do to help us get the word out!
The 2018 Go Laadli - Lead Like a Girl Challenge Winners!
 Help us empower more young women to be agents of change!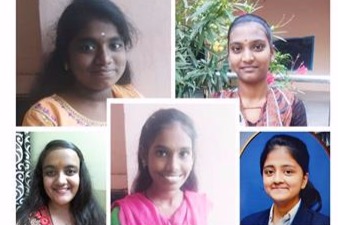 "I raise up my voice - not so I can shout but so that those without a voice can be heard...we cannot succeed when half of us are held back."
― Malala Yousafzai
Join the movement!
Fundraising team: Go Laadli Runners (10)
Heera Sharma 
Organizer
Raised $900 from 15 donations
Dublin, CA

Registered nonprofit
Donations are typically 100% tax deductible in the US.
Charanya Ravikumar 
Team member
Raised $1,025 from 13 donations
Sneha Pitre 
Team member
Raised $155 from 7 donations
Chinmayee Mohapatra 
Team member
Raised $135 from 3 donations
Partha Deb 
Team member
Raised $120 from 3 donations
See all