Caleb's Medical & Essentials Fund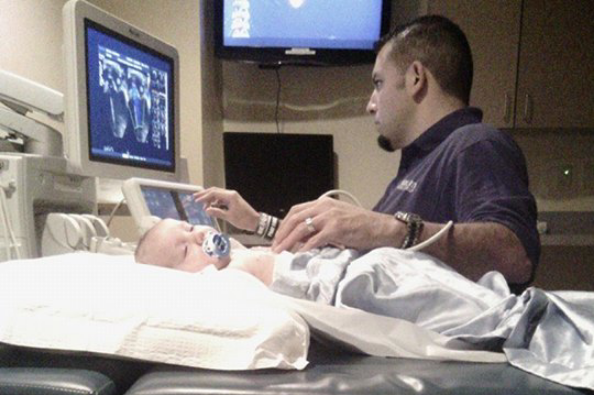 This is Caleb and he is currently 9 months old (as of 8/14/15) and is the youngest of 5 children.  He was born with a plethora of issues. He was diagnosed with bilateral clubbed feet, a cleft mitral valve (heart), nystagmus (eyes), low muscle tone due to a neuromuscular disease called Mitochondrial Enchephalomyopathy (final diagnosis on 06/01/15), has an average so far of 2 to 3 seizures (started as of 5/17) a day due to the neuromuscular disease, Gastroesophageal Reflux Disease (aka GERD), playgiocephaly (head) due to torticollis (neck), and much more. When he was born in November, he spent 5 weeks and 4 days in NICU. While in NICU, on December 12, 2014 at 1 1/2 months old, he had surgery to have a g-tube put in, nessin wrap to prevent his extreme GERD, which has come back due to the retching of trying to get the mucus plugs up. He also had a muscle biopsy to determine why he had low muscle tone.
Since being home, he has home health nursing that has now been upped from 84 to 116 hours a week, 3 therapists (OT, PT, and speech); So, we have a nurse from 7am to 3pm and also 11pm to 7 am (9pm to 7am on Saturdays and Sundays). I am the nurse during the 3 pm to 11pm. Caleb has a total of 13 doctors. He is strictly tube fed, which is also referred to as NPO. We have many medical machines at home for him for his daily life. Because of his breathing issues we now have 3 respiratory machines, which are his IPV (below is a pic and video of his IPV treatment), cough assist, and Trilogy vent/bi-pap (sleep apnea) machine. On top of these 3, he has feeding pump to feed him through his G-tube, pulse-ox to read his heart rate and oxygen percentage level, and suction machine for his thick secretions
As of Tuesday, March 31st, he had the last set of casts removed that were helping correct his clubbed feet and prep him more for when it came to surgery time. His orthopedic doctor said when he is better respiratory wise, and then we can start talking about scheduling the surgery. What he will do is cut the Achilles tendon the feet and then put casts on Caleb. During the 6 weeks that Caleb will wear the casts, his Achilles tendon will grow the length it needs to be. Once the casts come off he will then resume wearing his special shoes (Dennis Brown bar with shoes).We did have a set back because the last 2 hospital stays, he didn't get to wear his shoes at all. Like I said, they had really no hope of his surviving. Dr. Stefko told us that if the pulmonary doctor could give permission that respiratory wise that he would allow Caleb to have his feet casted then he would go along with fixing his feet. If not, the Caleb will be wheelchair bound. I have confidence that we can do the casting, but it will be another few months of that. Until the pulmonary and orthopedic appointments and the end of next month, I was told that we are to aggressively work on stretching out his feet and the muscles. I hate that he will be in pain, but I want to give him the best chance he has to walk. If he isn't able to walk, then so be it, but I want to know we tried all we could.
So through all this, he has been sick off and on. We are currently on our 6th hospital stay since March 19th. All three times have been for respiratory and also now seizures. March 19th to April's 1st visit was due to rhinovirus, bronchitis, and pneumonia. May 9th thru May 13th was due to rhinovirus and bronchitis. May 19th through May 29th was first due to seizures, which he had never had before. While he as there, he had gotten rhinovirus again that has now grown pseudomonas in his lungs.
Sadly we were only out around a week and a half and he was back in the hospital again. He went in June 8th to July 16th for respiratory distress. This one was our hardest visit. He was in and out between PICU and PIMC. While there they did EEGs and an MRI. We had a meeting with doctors for the results and they were grim. We found out that from the December 2014 MRI to the June 2015 MRI that is brain was starting to deteriorate and die. They were not very optimistic with him because of this. They didn't think he was going to make it. They went ahead and released him on July 16th and he came home by ambulance. Since he had been home he did a complete 180. He was very active and continuing to learn. He has even gotten his very own personality.
As of yesterday (08/13/15), we had to take Caleb back to the ER. They went ahead and admitted him back in to PIMC for respiratory distress. The chest X-ray came back showing he was junky and we are still waiting for the mucous sample. I have a feeling we are looking at rhinovirus again. I hope not, but I just have that feeling. They wanted to keep him overnight as a precaution since he is a chronic respiratory child, which I totally understand. Hopefully at the latest, Monday he will be out.
Each one of these visits has taken a toll not only on Caleb, but on our financials. Because Caleb is so unpredictable and has so many doctors' appointments each week, I am not able to work. His dad is the only one working to support myself and the kids. This GoFundMe is to help us be able to get Caleb anything he needs. Some of this may include diapers, wipes, help cover the electricity because he is 24 hour oxygen and for his other medical equipment, and medical supplies or equipment that he may need.  You hear all the time how hard it is to raise a disabled child; Well, I can personally tell you how true it is. It takes a toll on everything and everyone in the family from bills to other financial obligations related to Caleb to everyone's' emotions to stress levels. We the multiple hospital stays, we have taken a huge knock in all of those areas. However, I am very proud of the 4 older kids for as well as they are keeping it together.
I am sure I have forgotten some information, but a lot is going on with him that it gets hard to remember all at once. We are just taking it day to day and praying our hardest.
Any and all donations and prayers are appreciated. GoFundMe does automatically receive 5% of whatever is donated as agreed and WePay receives 2% plus $0.33 per donation made, but after that he will receive 100% of what is left.   Any little bit helps...even if it's as simple as just passing along his story and the link to here. The more we pass this along, the more we have a chance of meeting the goal to help him.  If possible let's make this viral. Thank you all and God bless.

Organizer
#1 fundraising platform

More people start fundraisers on GoFundMe than on any other platform. Learn more

GoFundMe Guarantee

In the rare case something isn't right, we will work with you to determine if misuse occurred. Learn more

Expert advice, 24/7

Contact us with your questions and we'll answer, day or night. Learn more