Hi,

My name is Maria, and the little beauty in the campaign cover photo is Bella, our almost 8-year-old Shih-tzu.
Her favourite place is the beach and her favourite foods are cheese and cucumber. She likes to go for walks with our other little shih-tzu - her brother Len (photo of both below) and she loves to play with squeaky toys! 



Bella was born with weak hind legs, and has suffered through her life with multiple breaks, tears, muscle and joint pain, and just general problems with her two back legs.
Despite this, she is such a happy, loving, gentle girl. She's always smiling with her little crooked teeth!



In July this year, Bella ruptured her left cruciate ligament and injured her left patella in the process. She has had three surgeries since 2017 (pictures below) so we were really worried that another one would be too much for her, but we booked her in, hoping that it would be the last time she would need it done. 



I've just had a total hysterectomy, after years of suffering with tumours and endometriosis, so I've had to come out of work for a while, to recover and try and get my own health back on track.
All this, of course, has been a massive strain financially, and in all honesty, we've had to spend our wedding fund to pay for Bella's last three surgeries, and to help with living expenses while both her and I are in recovery, which has been really difficult and stressful. Although, I have to say, she is the best recovery buddy that I could ask for!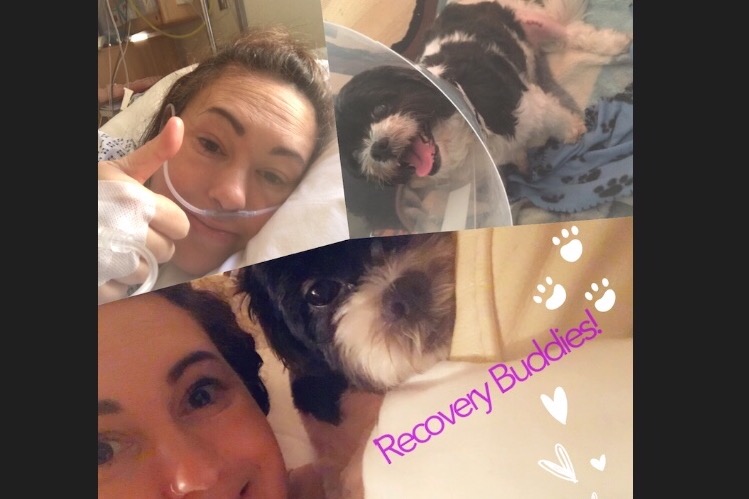 Pet Insurance won't pay out for anything to do with Bella's legs, so we've had to get the money together ourselves for each X-Ray, surgery, vet bill, physio session, hydrotherapy session and pain medication. And we've done what we've had to do, but it's been tough.

Two days before Bella's surgery date in July, she jumped off the sofa and completely ruptured her right cruciate ligament and badly injured her right patella (you can see the pattern here...)
She was taken in for emergency surgery on her right leg, and has been in recovery since. 

This meant that her left leg wasn't able to be operated on, because the vet needed to prioritise the leg with the most damage, which at that time, was her right one.
Unfortunately, because the right cruciate was so bad, the operation hasn't worked, and poor Bella was completely lame on her right side - unable to even toe-tap on the floor. She can walk now, but still can't put weight on her right leg, and in the meantime, the left side is just getting worse. She has a lot of arthritis through her body, so we knew that we needed a better long-term solution than the ones the vets have tried up to now. 

Today, the vet has said that the only options we have left are...

Option 1:
To get very specific surgery on those two hind legs, by a specialist vet in Bristol, who is a top orthopaedic surgeon for small animals. 
The surgery will include new metal knees, and a new special kind of ligament replacement for the cruciate, which is apparently up to ten times stronger than the replacements they've used in the past. 
The surgery is risky, and the recovery will require a lot of physio, hydrotherapy and a lot of medication, but the vet says that the specialist hospital comes highly recommended and in his words, "if anyone can fix Bella, they can."
The cost of all this runs into the thousands again, and then with all the hydrotherapy sessions each week, and the pain medications, we're looking at roughly £4000 per leg, and then around £1000-£1500 for aftercare treatment after each operation.
So, that's an overall cost of up to £11,000.

Option 2: 
Try our best to make Bella as comfortable and pain-free as possible, until we're ready to set a date to go to option 3...

Option 3:
Put Bella to sleep.

As I cried to the vet, I went over and over it all, and as much as I hate the idea of my little girl going under anaesthetic again, and having major surgery again, I just can't bring myself to say yes to having her put down.
If there's a chance here with this specialist surgery... If there's a chance... I want to give it one last shot.
If this specialist orthopaedic surgeon can do this for Bella, and if she can spend her remaining years being able to actually run and play on this planet, then I want that so much for her!

And this is why I'm reaching out. We can't do this without your help. Our consultation appointment and CT scan alone is around  £500. *Update - appointment turned out to be £778.00 - receipt is attached in the photos from the update of that appointment*
Once we've had that done, we will know for sure if Bella's body is strong enough to survive and recover from the surgery.
If the specialist says that she is strong enough, then it's all systems go!
It will be roughly a five-month recovery timeline per leg, and in that time, she will be having physiotherapy and hydrotherapy at roughly £100 per week (*Update - the cost of physio is £147.50 per session)

I've never ran a fundraising campaign before. It feels strange to reach out to the world for financial support - you don't realise how much pride you have, until you have to swallow it! And of course I'm scared that we won't make it, but honestly, it's worth the risk, and every penny counts.
You would not only be making a huge difference to Bella's life, but also to the life of our little family, because as any pet owner knows -  our pets really are part of our family. And we don't give up on family.

Thank you so much for any help at all,

Much love,

Maria & Bella xx