Autism is one of the fastest-growing developmental disorders in the U.S and currently affects 1 in 68 children with boys being 4 times more likely to get autism. There is no "cure" or medical detection currently available for autism, but there are various treatments available that have shown great results. On average, a family with an autistic child cost an additional $60,000 a year. 
I run a mixed martial arts event company that has helped with multiple charity groups across the state of Florida and after working with Autism Society of Greater Orlando, I have been intrigued with helping in any way possible. I had no idea how many people were affected by autism until I began posting about it on social media and wearing my "Autism Awareness" shirt around town. I had complete strangers saying they liked my shirt or that they had an autistic family member.  
In addition to running the mixed martial arts events across the state of Florida, I am a professional fighter as well.  I have become fairly well known for my beard around the state and as most of my friends and family know, I absolutely love my beard.  I have decided to put it on the "shaving block" to raise  money and awareness for autism. Everyone that donates a minimum of $5 will be able to weigh in on the fate of my beard.  The only stiuplation is that we have to raise the $3,000 before we check the vote count, which I believe is more than doable with the MMA community behind it.
My beard has nearly tripled in size since this picture. 
For every $5 donated you will also be entered into a drawing to win some awesome prizes that have been donated by various companies across Florida. We currently have donations from Macho Blades, California Pizza Kitchen, Fight Sports Photography, The Lodge, Ninja Grappling Spats, Combat Night, UFC Gym Winter Springs, 4th Street Bar and Grill, Fat Boy Jiu Jitsu, CrossFit Tough As Nails, Graffiti Junktion, Juice'd Orlando, Repairs on a Dime, Yogurtland, Nothing Bundt Cakes, Burrito Border, Avenue GastroBar Orlando and more to come!
Anyone that donates $25 or more will also get a custom design "Fighting For Autism Awareness" Shirt designed by Chase over at ToughPrints in Las Vegas. (Be sure to include your size in the message or email it to me after) Photo will be posted soon (Please leave shirt size in comment) 
If you own a company and would like to donate an item, email me at, [email redacted]. For more information about autism, please visit,
http://www.cdc.gov/ncbddd/autism/facts.html
Last but not least, don't forget, #TeamBEARD or #TeamShave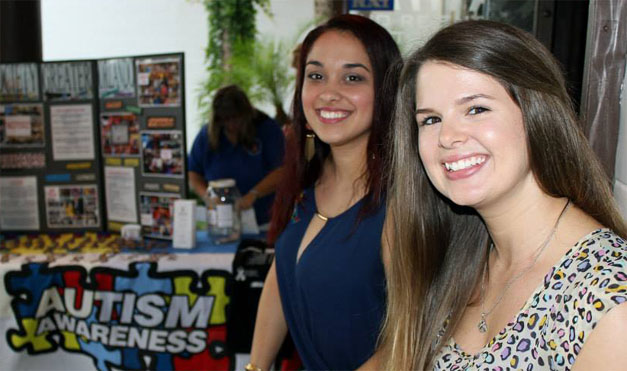 The beautiful Brandi Spivey and Melisa Alers supporting autism awareness.

Organizer